Hindustan Times via Getty Images
In the game against Bangladesh last night, MS Dhoni produced a stumping for the ages -- and that is applause-worthy. He also kept his head in the final ball of the game when, with the batsman attempting to scramble a single to tie the game, he judged his pace against that of the onrushing non-striker, and ran him out with space to spare. For that, too, he deserves kudos.
But his response to the first question of the post-match press conference (watch from 23.15) is totally uncalled for. It is also a surprisingly cheap shot from someone who has, for the most part, epitomised level-headedness and grace both on and off the pitch.
The journalist's question is inaudible, but other reports filed by those who were there suggest that the question was: How content was he when, in a match where India needed to up its run-rate in order to improve its chances of qualifying for the semifinals, the team managed to eke out a one-run win.
Dhoni's response:
Mujhe pata hai ki aapko kushi nahin hui ki India jeet gaya. Nahin, suniye, baat suniye. Aapki awaz se, aapki tone se, aapki sawaal se aisa lag raha hai ki aapko khushi nahi aaye ki India jeet gaya aaj. Theek hai? Aur jahan thak cricket ki match ki baat hai tho script nahin hota hai. It is not about the script. Aapko analyse karna padtha hai ki toss harne ke baad jis wicket pe humne batting ki thi, kya karan tha ki hum zyaada run nahin bana paye. Agar aap saari cheezen bahar baitke analyse nahin kar rahe hain, tho you shouldn't ask these questions.
Firstly, that is a non-responsive response. The question is, how content are you with the outcome of the match? One of his usual say-nothing waffles would have done the trick: Well, of course, we are happy we won but of course, we could have batted a bit better and of course... the sort of thing that every captain says at every press conference. The venom of this response is both uncalled for -- from anyone, really -- and unexpected from someone like Dhoni.
Second, that bit about reading the questioner's tone is a surprisingly cheap attempt at draping himself in the national flag, and playing the man rather than the question. I, for one, am happy India won -- but that does not blind me to the fact that for large swathes of the game, my team played shite. And judging admittedly on anecdotal evidence, I am not the only one who felt that way.
What of it? Does that make me an anti-national or something?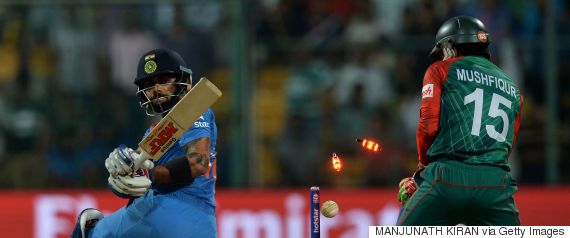 You want an analysis? Ok then:
The powerplay overs were sub-optimal: 27 runs at the end of five. One opener -- Shikhar Dhawan, whose form through this tournament thus far has been patchy at best -- took the oxygen out of the innings as early as the second over, when against Shuvagata Hom's off-spin he bracketed one four with five dot balls and seemed incapable of even turning the strike over. Not a single one of those deliveries turned or bounced inordinately -- in fact, Ashwin, bowling the corresponding over in the Bangladesh chase, got more turn and bounce off the wicket than his counterpart did against India.
Having got off to a slow start, the innings stuttered again in overs 7-9 (Shakib, Mashrafe, Shuvagata), when 18 deliveries produced a total of 10 runs. The impact of that inexplicable slow-down? India and Bangladesh were more or less level at the end of six overs (India 42/1; BD 45/1). By the end of the 9th over, Bangladesh had pulled well ahead on the chase (India 52/2; BD 67/2).
Even more inexplicably, between overs 16, 17 and 18, India (with Dhoni at the crease) managed a mere 11 runs in 18 deliveries. Again, this slump in the Indian innings allowed Bangladesh back into the game in the chase: at the end of 15, Bangladesh was 104/5 against India's 112/3; by the end of 18, Bangladesh had pulled away to 130/6 against India's 123/6. What gremlins in the pitch caused that slump at the business end of a T-20?
The analysis? On a pitch that played on the slower side but showed no sign of seam and swing or of the inordinate turn of an Eden Gardens or even a Nagpur, and against bowling that was thoughtful without ever being lethal, the Indian batsmen collectively fell into the trap of trying to muscle their way to a target, without adapting to the conditions and taking the sort of singles-first approach that had given them an easy win against Pakistan.
The proof of the pudding: 1/3 of the deliveries India faced -- 45 balls out of 120, actually -- was not scored off. This, while setting a target in a must-win game against a side known for batting depth. What particular devil in the wicket caused this?
So hell, yeah: again, as an Indian fan I am happy my team won -- BHARAT MATA KI JAI -- but I think our play was shite. (And I am not even getting into the Bangladesh chase, when we made some bizarre bowling decisions and dropped four catches, at least three of which would have been held at the school level, and repeatedly let the opposition off the hook).
So what of it? And what is this "script" Dhoni was talking about, apropos of nothing more than his own misdirected anger?
At a press conference after a particularly bad outing, a Pakistan reporter once stood up and asked Inzamam a long, involved question: Could you not have bowled this guy instead of that, and set the field this way instead of that, and when batting could you not have sent X ahead of Y, and so on.
Inzi listened patiently to the question and when the reporter ended it with "Aapne yeh sab kyun nahin kiya?", replied with the deadest of dead pans: "Aapne match ke pehle mujhe yeh sab kyun nahin bataya?"
So yeah, often there are things out there in the middle that we, who watch from home, can't see. We get that. But for Dhoni to suggest that a perfectly valid question stems from some antipathy towards India is not merely non-responsive -- and, no other word for it, cheap -- it evades the issue entirely. And that evasion -- so surprising, so unexpected from such a source -- makes us wonder what exactly is going on with the team.
Like Us On Facebook |

Follow Us On Twitter |

Contact HuffPost India

Also see on HuffPost: