Pratiksha Thanki
It is difficult to understand the concept of a cuttlefish risotto after growing up in a vegetarian Gujarati Brahmin family. Growing up, my staple diet of romantic movies and books led to a fantasy of living in Europe, but I never realised that being a vegetarian would limit my experiences on the continent.
When I settled down in Germany - after travels to Paris, Rome, Milan, Athens, Amsterdam, London, the lot - I was starry eyed. But after a while, just the sights were not enough to get me excited anymore. I was still struggling with the food after half a decade. It had to change somehow!
It is definitely possible to be a successful vegetarian in Europe - it's always about freedom of choice. I am aware of the groups that travel with theplas in their luggage. As a matter of fact, I have also unashamedly packed suki bhaji and puris. I ate them on my first evening in Rome and vowed never to do it again!
In the quest to stay a vegetarian some amazing and horrible Indian restaurants were tried that often reminded me of Amitabh Bachchan in Cheeni Kum. Italian cuisine often came to the rescue. Thanks to the variety of Italian vegetarian food, almost every other trip ended up in Italy. Yet, after Cinque Terre, the Ligurian coast and even Sicily, we were running out of Italian destinations.
A personal question was still haunting me. What about tasting the culture of every city of Europe? What was stopping me? Was it my own mind?
In Germany, a couple of Catholic missionaries landed at my doorstep. I politely informed them that I respected every religion in the world, but that I was not into labels. I would pretentiously tell the whole world or whoever would listen that I worshipped literature, movies, music, art, architecture and 'food'. There! I wasn't satisfied with that last bit. I wanted to experience more.
I indulged in some proxy tasting at first through my omnivorous husband. Curry wurst in Berlin, goulash in Budapest, meaty pies in London, seafood paella in the Canary Islands. Wherever we travelled, I would taste something from the husband's order. His concept is clear, you are either a vegetarian, or you are not. Thankfully, unlike Joey (apologies for a stale Friends reference), he does share food. I was a chicken who refused to order a non-vegetarian meal on my own. Doesn't being a "part-time vegetarian" sound cool?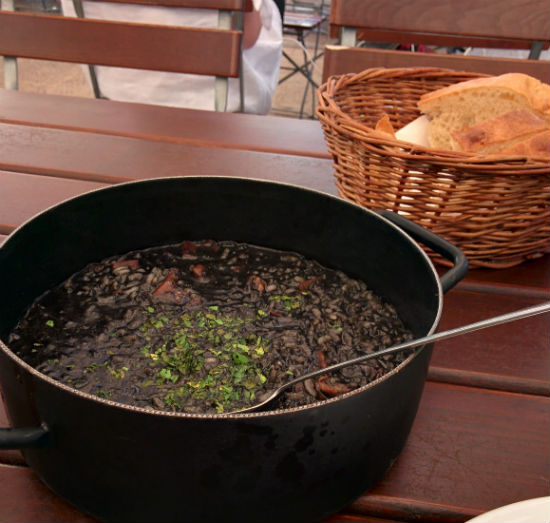 Finally, all bets were off in Croatia, Dubrovnik to be precise, while following the trail of Game of Thrones locations. That series can make you really insensitive, I tell you! We sat down by the promenade. "I must order something local" were the words on my mind. Aloud I said, "I will have a cuttlefish risotto," and the order was placed. When the dish arrived, I was aghast. It was black and some quick googling told me the squid ink makes it so. I was not turned off. I was brave. I had just seen the tower where the Khaleesi screamed "Where are my dragons?" I was high on the enthusiasm that only a relaxing trip can bring. My first spoonful of that risotto and I had turned into a fan of Croatian cuisine. There was no turning back after that.
No food item on the menu is off limits now. I don't plan to turn into an unhealthy carnivorous monster ever, but I feel much more enthusiastic about what the locals are serving. Eating a balanced meal, keeping it organic, ethical and as local as possible is still a priority. But if I'm out experiencing something new in an unfamiliar town, I'm all game for any kind of adventurous cuisine.
Now when I think of Dubrovnik, I don't just remember the panorama or how the colour of the sea reflects on the ancient stones. I also recall the taste of cuttlefish risotto.