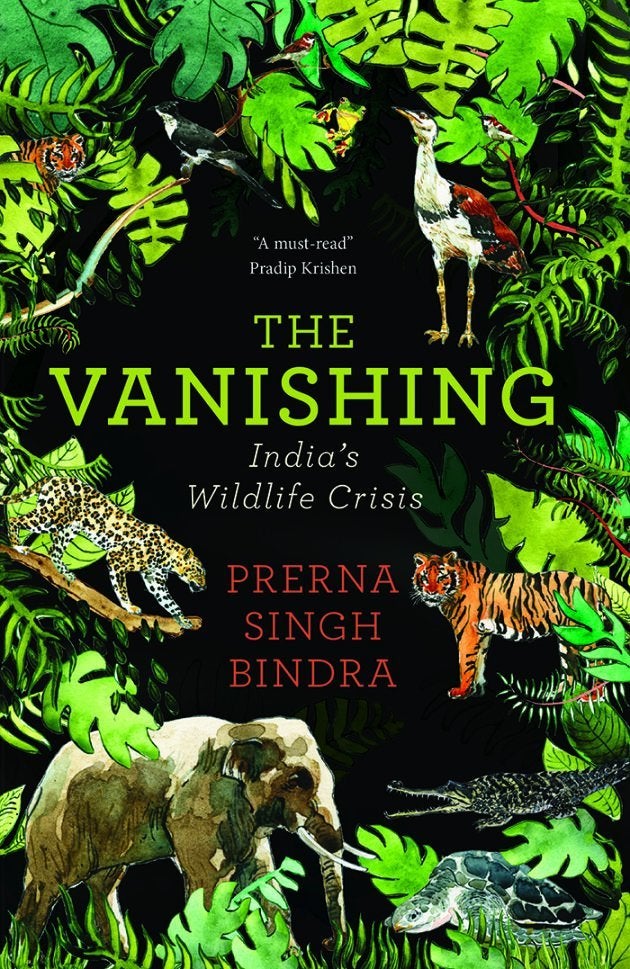 So what is development? Who does it benefit? And what is the cost we are willing to pay for it? Every generation needs to ask these questions afresh as Prerna Singh Bindra reminds us in her impassioned new book The Vanishing: India's Wildlife Crisis. It's a must-read for all who care about India's seriously wounded environment, its fast disappearing flora and fauna—yes, including the tiger—and its growing number of climate refugees.
Bindra says locals benefit little from projects that displace them, causing growing dissatisfaction in the hinterland while the country pays a tremendous environmental price.
Bindra is a leading conservation journalist who has served on several environment boards including the National (she calls it "Notional") Board of Wildlife. Her book throws alarming new light on just how precarious our few remaining natural habitats really are under the burgeoning pressures of "development" projects and the failure of those trusted with preserving them.
The deceptions of development
Development presents a dilemma: India has the world's largest population of the poor according to the World Bank so clearly we need more "development". Smart cities, clean nuclear energy, geography-defying plans to link rivers, turning our coastline into a "Sagarmala" of tourist resorts and major ports...yes, all this constitutes development. But what of "the three states that recently held elections—Punjab, Uttar Pradesh and Uttarakhand— (which) have nine of the most polluted cities in the world?" asks Bindra. She cites a study showing 1.1 million Indians die from air pollution-related causes every year i.e. two every minute. Yet pollution was not even an election issue. Let's not get into toxic food chains, the sanitation crisis, the trashing of the oceans and mountains, the submerging of Pacific islands under tons of consumer debris carried by the ocean. That is the ugly emerging face of "development."
Calling development the "largest cause of population displacements in the country," Bindra says locals benefit little from projects that displace them, causing growing dissatisfaction in the hinterland while the country pays a tremendous environmental price.
"[Saving the forests] is crucial for the economy —India's forests serve as a carbon sink tank, neutralising over 11 per cent of India's total greenhouse gas emissions. If we were to put a monetary value, this 'ecosystem service' would amount to Rs. 6,00,000 crores. Yet, we continue to clear—at a conservative estimate—no less than 135 hectares of forests a day, diverting it for various projects such as highways, mines and cement factories."
Bindra warns this "ecocide is redefining India, irrevocably altering its geography, its physical entity, striking at its ecological and economic security. When we ravage nature, we are despoiling our culture, threatening our future." According to a World Bank report, this environmental damage already accounts for 5.7 % loss of India's GDP annually. Ironic, isn't it?
Saving tigers to drown them
In a poignant passage in the book Bindra tells us how on 23 August, 2016, the Wildlife Board sanctioned the Ken-Betwa river link project, which will drown 58 sq km of critical tiger habitat in the Panna Tiger Reserve, including its tigers. The irony is that Panna's tigers owe their existence to a groundbreaking government-supported program that brought tigers back to the park after they had been declared extinct here in 2005. Now they are facing extinction once more. There are several such accounts of forests being plundered for mines, the Barazan plateau in Goa, a major water resource, being turned into an airport, the polluting infrastructure of renewable energy plants etc which throw new light on some of India's biggest development projects.
Facing extinction
Clearly, the paradigm we have chosen for progress has serious consequences—not least for our fellow creatures. "Our planet is in the midst of the Sixth Great Extinction of plants and animals," warns Bindra, corroborating previous scientific reports.
"As a natural phenomenon, extinction occurs at a background rate of one to five species per year; what we are losing now is between 1,000 to 10,000 species a year. It's the worst spate of die-offs since the giant meteorite that hit earth some 65 million years ago wiping out the dinosaurs...The statistics are frightening, numbing and real... Global populations of fish, birds, mammals, amphibians and reptiles have declined by an astounding 58 per cent in the four decades spanning1970 - 2012. One in five species faces extinction. A tenth of the world's wilderness has been destroyed since the 1990s, and we are in real danger of losing it all by 2050. What it signifies is that there will be no untouched wilderness..."
Do you remember when vultures disappeared? I used to see them every evening while jogging in Delhi's diplomatic area in Nehru Park in the mid '90s. We poisoned their carrion with Diclofenac, a popular anti-inflammatory painkiller used by vets. It was the fastest decline of a bird population anywhere in the world. Does it matter if they died? Yes it does—vultures cleaned animal carcasses of potentially lethal bacteria and fungi.
A tenth of the world's wilderness has been destroyed since the 1990s, and we are in real danger of losing it all by 2050. Prerna Singh Bindra
Or take the case of the Great Indian Bustard, hunted to near extinction but fighting for a comeback thanks to the efforts of conservationists and a certain doctor Pramod Patil, obsessed with its fate. Bindra's book introduces us to some amazing, unsung heroes who deserve to be lauded for the stellar role they are playing in conserving endangered habitats and species. Like Odisha's Athgarh Elephant-conflict Mitigation Squad, "a rag-tag group of daily wagers" led by Panchanan Nayak, who steer 25 wild elephants safely across highways and fields simply by talking to them. Or the case of the 150 million old Oliver Ridley turtles who found their natural habitat turned into a missile testing range overnight.
The book ends on a poignant note, describing the sounds of silence in a land where sparrows once chirped, bees buzzed and the monsoon bird, the papeeha, sang the arrival of the rains. Or, as the writer John Vidal wrote:
"A great silence is spreading over the natural world even as the sound of man is becoming deafening. Little by little the vast orchestra of life, the chorus of the natural world, is in the process of being quietened."