Pim Lemmers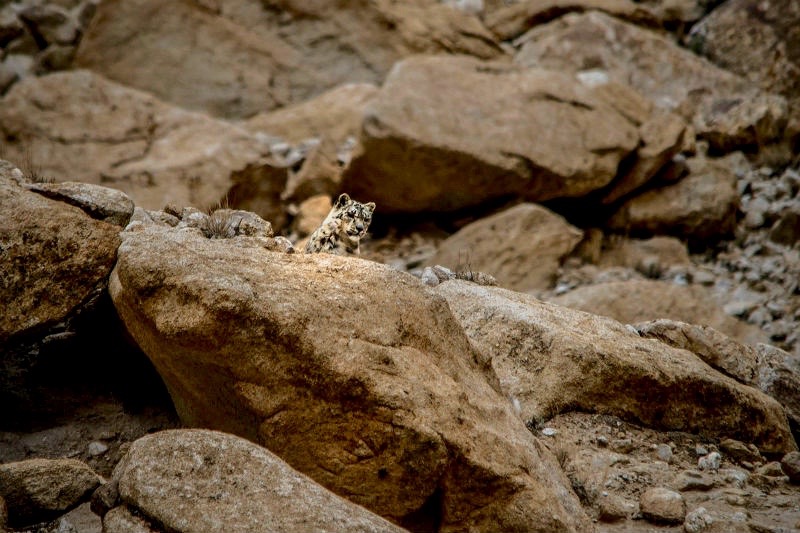 In the Ladakh Himalayas, there exists a creature that quietly roams the high peaks and snowy ridges. One could say, she's a watchful guardian. For she is the apex predator and in her gaze thrive the fascinating mountain creatures of Ladakh.
By the foothills of the mountains she prowls, a dedicated bunch of Ladakhis work passionately, to ensure her kingdom remains sacred. To the romantics and the poets and the seekers, she goes by various names: Queen of the Hills, the Ghost Cat, Grey Ghost of the Mountains -- because she is perhaps the most elusive cat there is in the wild. To them, she is simply "Shan" -- Ladakhi for snow leopard. They, those who work to protect her, are the Snow Leopard Conservancy India Trust (SLCIT), an independent organisation based in Leh, striving to conserve the wildlife of Ladakh while integrating locals into this effort by educating and offering them employment and income opportunities.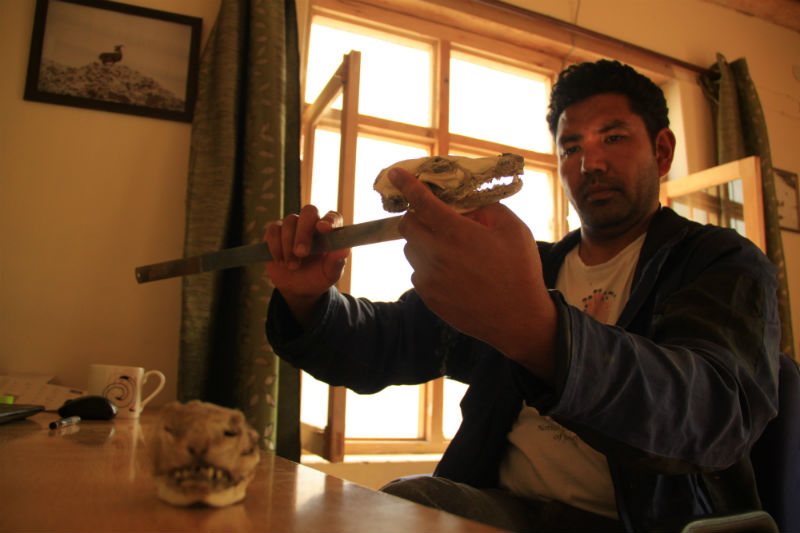 "Look after the apex predator and the rest of the food chain looks after itself," says Dr. Tsewang Namgail, senior scientist and director at SLCIT. He explains that a healthy population of the snow leopard indicates a virile ecosystem.
SIGN UP FOR THE DAILY BRIEF FROM HUFFPOST INDIA
Get our top news delivered to your inbox every morning, Monday to Friday. Newsletters may offer personalized content or advertisements. Learn more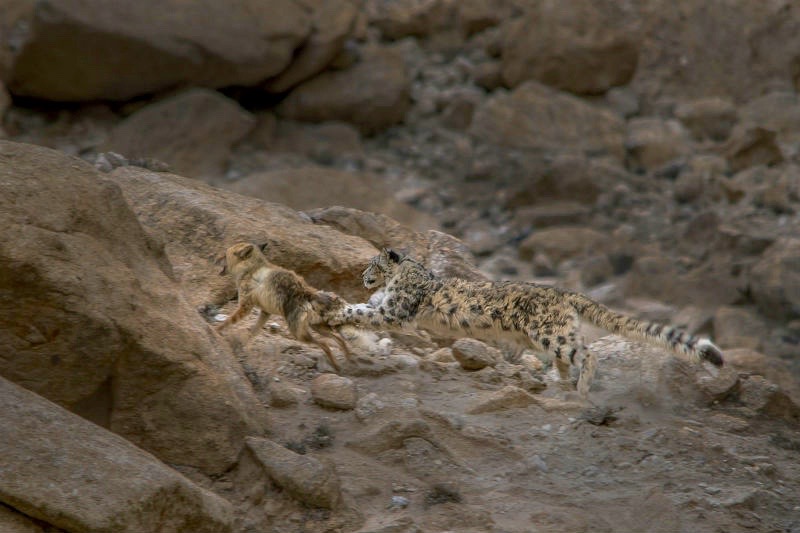 Owing to loss of habitat and a decline in prey population, a snow leopard sometimes strays into livestock enclosures in the dead of night to prey on helpless cattle. The damage provokes the locals to resort to practices like setting up deep stone pits to trap snow leopards and sometimes even leaving poisoned meat to be consumed by the cat.
To change this, the SLCIT educates people on the importance of a balanced ecosystem and why no animals must be harmed. Besides this, Tsewang and his team tell locals how the presence of a snow leopard in their mountains could actually benefit them.
Incentives for change
The organisation's approach to conservation is unique, with a focus on education and income generation opportunities. The Himalayan Homestay program is a fantastic example.
Owners are encouraged by the team to convert their houses into homestays for travelers who hike up to far-flung villages to glimpse the ghost cat. They are also trained to become nature guides who accompany visitors on small treks around their village for wildlife sightings.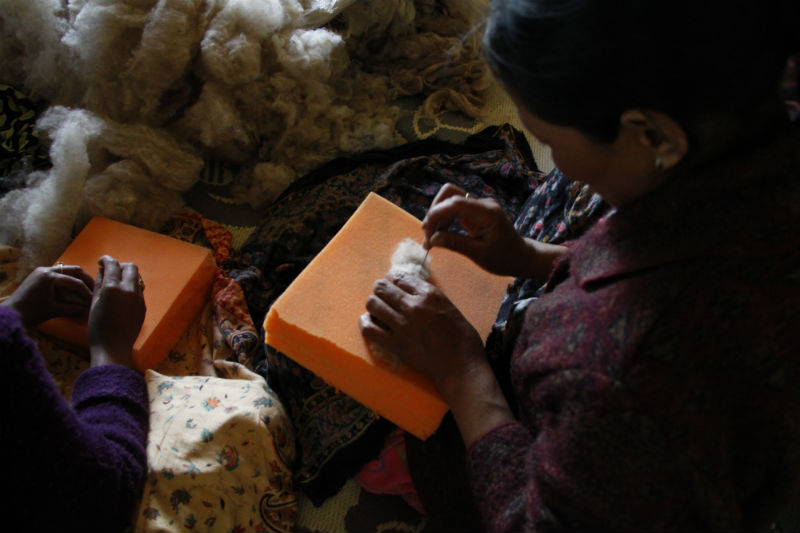 Many villagers across Ladakh have signed up for the homestay program and have generated substantial income. Another fascinating initiative is the handicrafts program; the SLCIT staff visits many villages to conduct needle felting workshops. Men and women are taught to make dolls of snow leopards, bears, yaks, ibex, blue sheep and other ungulates and birds found in their region. Wool from their own cattle is used and needles are provided by the conservancy. What is special about these adorable dolls is that each is unique to its maker. Not two dolls are exactly the same. These dolls are a favorite purchase of travellers.
To directly address snow leopard, wolf and bear attacks in livestock enclosures, SLCIT carries out various predator proofing activities. Livestock corals are roofed securely, blinking lights that scare the predators are installed, electrical fences are set up -- assistance is provided in terms of finances and labour.
Insurance if the ghost strikes
There is another ingenious initiative for times when predation does somehow occur. Herders can insure their livestock against animal attacks. When sheep and yak are killed, the SLCIT staff is notified. On assessing damage, the livestock owners are paid for their losses. By doing so, "revenge killings" of snow leopards have been nearly nullified. The number of herders signing up for the program increases every month.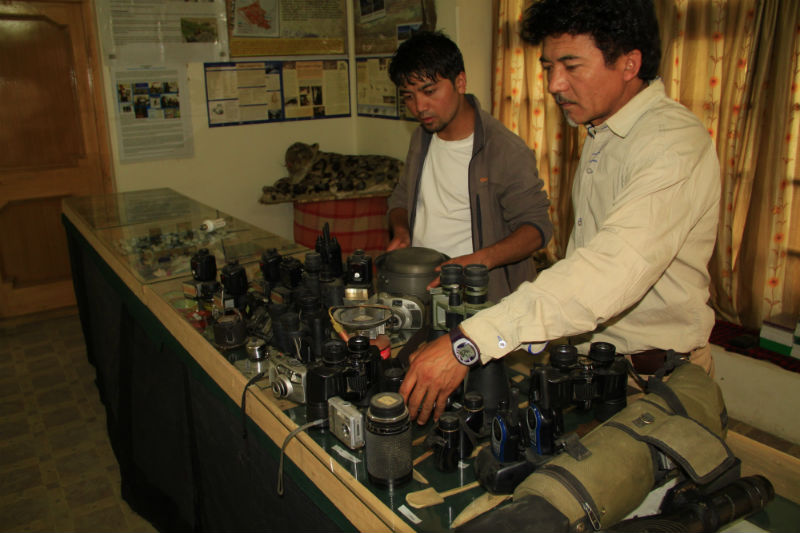 The wonders of volunteering
Volunteer opportunities are aplenty at SLCIT and provide the added perk of exciting adventures on work days outside the office. A volunteer might find himself counting blue sheep high in the mountains on assignment or making challenging treks up to unapproachable ridges to set up camera traps.
The most thrilling experience of all is accompanying Jigmet Dadul on journeys into the mountains in search of the Ghost Cat. Because when it comes to such an endeavor, Dadul is the most respected spotter in the world. He has never returned without spotting a cat.
To add to this, a drive to remote villages in the SLCIT field vehicle is an experience in itself. A rusty but trusty gypsy that is the probably the most rickety vehicle one will ever step into is a regular feature on these drives. The truth is, you don't have time to worry about the vehicle breaking down in the middle of nowhere because you are holding on for dear life as Tsewang or Jigmet hurtle up and down narrow, gravel-ridden mountain pathways as if they are steering a roller coaster, all to a soundtrack of mellow Ladakhi pop numbers belting out of speakers held together by tape. You have no choice but to agree when Tsewang says, "It is a field vehicle. And that's how they must be driven."
There is an old saying in Ladakh: "With passes so high and winters so harsh, only the best of friends and the worst of enemies come to visit."
For all the friends who come visiting, there will always be a warm cup of butter tea, waiting to be sipped and savoured.
Image By: Pim Lemmers, Jigmet Dadul and Pankaj Singh
Like Us On Facebook |

Follow Us On Twitter |

Contact HuffPost India

Also on HuffPost: