Over the next few weeks, students and parents will be fretting over exam results, college admissions and job applications. Long queues will grace college campuses and frantic phone calls will be made. Boxes of mithai will be shared and congratulatory parties planned. Some may be heading out in "Study Abroad" programs or moving away from home for the first time. But not everyone will be celebrating.
Have you ever met anyone born with a silver spoon in their mouth, who has never questioned their identity, skill or worthiness, and who is surrounded by unlimited riches, comforts, love, and health? I doubt it. Frankly, a life free of worries or disappointment is a fallacy, as these are part of life, of living.
What if we teach ourselves to replace negativity with new emotions that are just as instinctive, human and natural—hope and determination?
Even our scriptures tell us, in essence:
Take it in your stride, there is karma and eternal balance; work hard, have faith, believe that you have a greater purpose and do not let failures define who you become.
Yet, when we face disappointments, opposition or defeat, our gut reaction is the reverse. When we find that our grand idea needs fine-tuning, perhaps our best efforts fell short or someone killed all inspiration with one word "No", we spiral down into a black rabbit hole and allow negative visceral emotions to take over: sadness, panic, embarrassment and self-doubt. After all, we are human and rightfully allowed those feelings, but self-deprecating negativity never helps.
What if we teach ourselves to replace negativity with new emotions that are just as instinctive, human and natural—hope and determination?
In the days before the internet overload, in 1994-95, my first two college applications abroad were quite literally lost in the mail along with the application fees and original recommendation letters. I missed all deadlines. First I cried and then called them, explained, faxed everything and followed up with paper copies, the third time. I found out five weeks before classes began that I was admitted into the program of my choice and had to get a visa and prepare to travel.
Later, when I wanted to publish my first cookbook, I got a lot of rejections. Since 2013 I have written, photographed, designed and published three cookbooks and am writing my fourth one. But writing neither the first book nor my fourth has been easy. I am constantly wading through a minefield of family dynamics because my next book is inspired by family history. It IS difficult to write down Sharada Kaki'salu-palak or Jaya Bua's special laddoo recipes because fact and fiction collide. Sometimes one doesn't have all the pieces, sometimes personal biases interfere. It also means preparing to juggle and battle critics of all shapes and sizes: children, elders, friends, foes. Instead of one reviewer, critic or opinion, sometimes 1000 or more people, who are neither related to you nor each other, who don't have any qualms about barraging you with criticism—who all want to have a say.
Both the customer and the family want to be right, always!
When life gives you lemons, make lemon pickle. Spicy and bitter-sweet, somewhat unexpected and always ready to perk up your plate.
But if one is determined to move past challenges, outside help can come in different forms. When my college applications were lost, the department office manager accepted an interim faxed application so I would not lose an opportunity. Later, each of my books was supported mostly by strangers who believed in giving a chance to someone new and had faith in my abilities. Well-wishers and friends offered a helping hand here, a small nudge or a "let me make a phone call" there. They shared social media updates, allowed me an opportunity to write a guest-blog, cooked my recipes for friends, fixed a computer issue, shared my contact with an influential person, or simply sat down over chai to let me vent and strategise. And because I was working hard towards my goals, there was empathy and understanding.
And yet, the best part came afterwards. It was most gratifying to learn that readers bought more books for the younger generation, not only for recipes, but as proof of their confidence, faith, and generosity towards a stranger. They wanted to celebrate a new kind of legacy inspired by hope, determination and perseverance. Learning that was the greatest feeling of all.
[J]ust like the memories we want to preserve, [pickle] stays good for a long time, travels with us and reminds us of our roots...
In our eagerness to stay current, we sometimes overlook the very things that make our present possible. When I think about food histories, perhaps in a few generations no one will know or even care who that Kaki or Bua was, nor their life circumstances, unless we choose to remember and learn from them. And on this two-way street, we can deliberately choose to preserve memories of special people, choose to celebrate our legacies and make room for new memories or leave them out. We can choose to hold on to important things and find ways to spread hope past present challenges, to recognise all things that make our good life possible or allow disappointment to curate our legacies. After all, it is about making good and lasting choices.
A conversation with a friend sparked this inspiring phrase: When life gives you lemons, make lemon pickle. Spicy and bitter-sweet, somewhat unexpected and always ready to perk up your plate. And just like the memories we want to preserve, it stays good for a long time, travels with us and reminds us of our roots, of people we love, and of a place we call home.
Recipe: Low-Salt Key Lime Pickle
This Low-SaltKey Lime Pickle is from my next cookbook, Not For You: Family Narratives of Denial & Comfort Foods, and is based on a traditional side dish my mother makes often. My mother is on a low-salt diet and is not fond of lime or lemons, but my husband and daughter love them. So in my recipe, I combine all the things they love, add fennel and ginger to give it an unexpected bite, and store it in several small jars to keep any unused jars fresh. This is my healthy and tasty way to honour all three generations in one dish and savour the flavours of the season.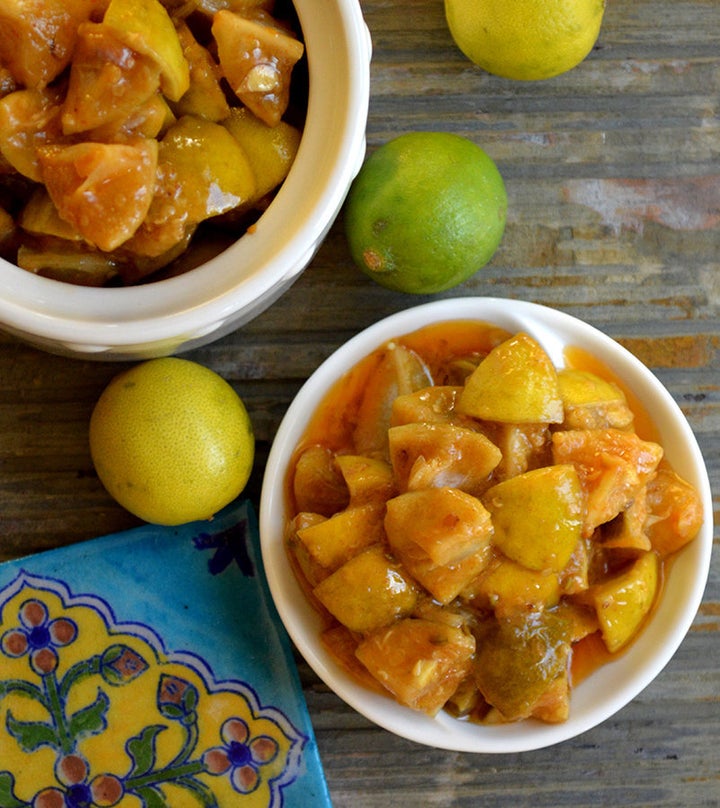 2/3 cup mustard oil or vegetable oil
8 tbsp. black mustard seeds (or 4 tbsp. of store-bought mustard halves)
6 tbsp. fenugreek seeds (or 3 tbsp. of store-bought fenugreek halves)
2 tbsp. cayenne pepper powder (to taste)
2-3 tbsp. Lucknowi fennel seeds, whole (optional)
¼ cup ginger sticks (optional, see prep. note)
Wash the key limes and dry them with a clean dish towel. Spread them out to air dry thoroughly for 2-3 hours on a paper towel. Once completely dry, cut them into halves first and then cut each half into quarters and set aside in a bowl, juices and all. If using whole mustard seeds or whole fenugreek seeds, in two separate sets, crush each coarsely until the spices are broken down but not powdered. They should be the consistency of coffee grounds. To prepare ginger, peel and slice it into 1/8" thick slices, and chop them to look like fine carrot sticks. Spread on a paper towel and aside to air dry for 15-20 minutes.
Warm the oil in a large, wide mouth saucepan until it is hot but not smoking. Reduce the heat to low. Slowly add all the spices: mustard, fenugreek, cayenne pepper, asafoetida powder and fennel seeds, as well as the ginger sticks, and salt if using. Allow this to sizzle for a minute on low. Stir to allow the heat to distribute evenly. When the oil is aromatic, slowly add the cut key limes with its juices and all and stir it in well. Turn up the heat and let this cook for 4-5 minutes until the key limes appear to have softened just a little. The key limes will give off much of their juice into the oil and give it an opaque appearance. This is normal. Turn off the heat and cover with a paper towel. Allow this to come to room temperature.
Select smaller (4 –6 oz.) dry, sanitised glass jars. Using a clean and dry spoon ladle out portions of the pickle into each jar. Fill up to ½" below the rim of the jar. Shake them once lightly to allow the pieces to settle. Divide up any liquid in each jar, taking care that each jar has some of the masala or spicy liquid. Lightly shake each jar to ensure the liquid finds its way into the nooks and crannies of the key lime pieces. Close the lid and store in the fridge.
The pickle is ready to eat immediately after it is made, but the flavours are pronounced after a day or two. Serve using a clean and dry fork or spoon for each serving to avoid contamination.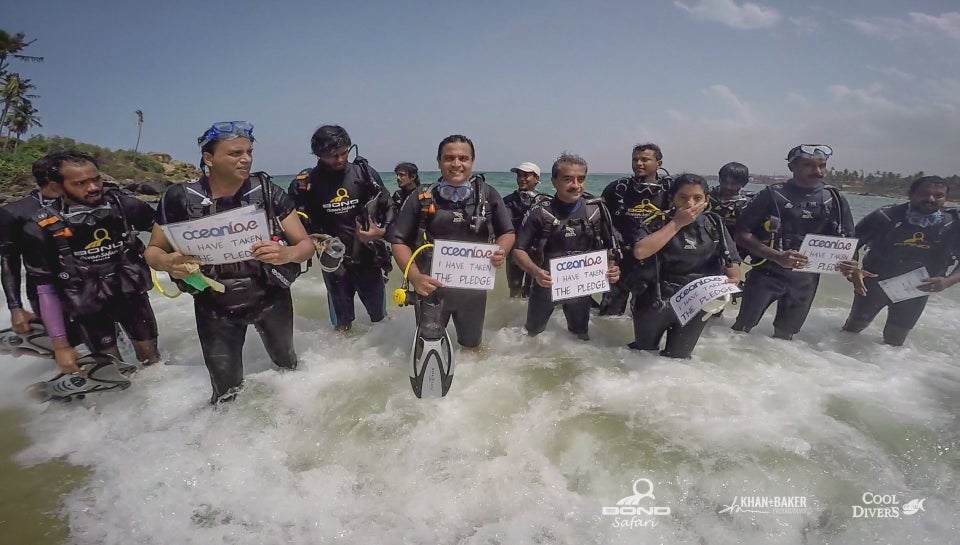 Kovalam CEOs Conduct Conference Underwater