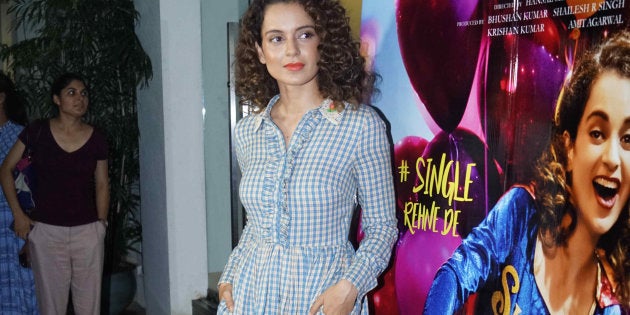 The latest offering from the National Award-winning filmmaker Hansal Mehta, Simran stars Kangana Ranaut in the titular role. The screenplay is written by Apurva Asrani, although a very public tussle played out over the credits, with Kangana eventually being credited for "additional story and dialogues."
For a while the drama preceding Simran threatened to overshadow the film, but now that it's out, it reflects none of the angst and acrimony that went into its making.
This is a role that only Kangana Ranaut could have pulled off and she does so with great aplomb.
Inspired by true events (more on that later), the film revolves around a modern Gujarati woman, Praful Patel, living in the US with her parents. Praful, a divorcee, is sceptical about making any long-term commitments. However, she is quite open to casual affairs and one night stands (she does insist that her partners use proper protection while sex, though). Simran's life takes a drastic turn when she gets addicted to gambling during a trip to Las Vegas with her cousin. She ends up spending all her savings and is even forced to borrow thirty thousand dollars from an unsavoury loan shark. When all her efforts to repay her debt fail she begins to rob banks. The rest of the film is about her journey to the heart of darkness: will she be doomed forever or will she succeed in redeeming herself?
Simran presents a complex portrait of an eccentric woman. Here is a film about a modern woman who dares to live a life of her choosing and happily accepts the repercussions of her choices instead of blaming others or the circumstances. Such a story and a character could have only come from the real world. The inspiration behind the film is Sandeep Kaur aka the Bombshell Bandit—a Sikh woman convicted of robbing four banks in the USA. Kaur was sentenced to 66 months of prison back in April 2015. This is a role that only Kangana Ranaut could have pulled off and she does so with great aplomb. Simran is like a breath of fresh air that has come just at the right time for Hindi cinema. Kudos to Hansal Mehta and team for making such an empowering film that offers a unique take on the everyday struggle of the 21st century Indian woman!
The opinions expressed in this post are the personal views of the author. They do not necessarily reflect the views of HuffPost India. Any omissions or errors are the author's and HuffPost India does not assume any liability or responsibility for them.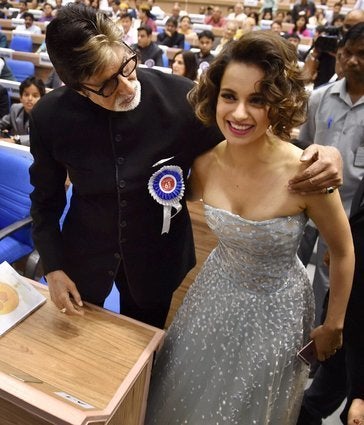 Bollywood Dominates 63rd National Awards Ceremony