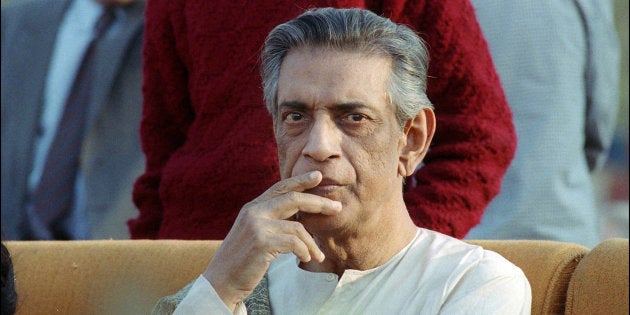 The great Indian filmmaker Satyajit Ray passed away 25 years ago on 23 April 1992, leaving behind a rich legacy that continues to be a great source of inspiration for filmmakers across the globe; today, 2 May, is his 96th birth anniversary. Ray, who is widely regarded as the father of Indian neo-realistic cinema, is widely looked upon as one of the greatest auteurs of the 20th century. He was one of the most consummate filmmakers of all time, and took charge of almost every aspect of filmmaking—be it casting, scripting, direction, music, cinematography, art direction, editing, or marketing and publicity.
An alumnus of Nobel Laureate Rabindranath Tagore's Visva-Bharati University at Santiniketan, Ray was born in a Calcutta-based Bengali family noted for their long legacy of art and literature. It was in Santiniketan that Ray, under great painters like Nandalal Bose and Benode Behari Mukherjee, fell in love with Oriental art. However, Satyajit Ray's love for cinema was sparked by his interaction with the legendary French filmmaker Jean Renoir who had come to Calcutta to scout locations for his forthcoming movie. After establishing the Calcutta Film Society in 1947, Ray embarked on a six-month-long trip to Europe, as part of a job assignment in an advertising agency, during which he religiously explored the different facets of cinema, watching as many as 100 international films including Vittorio de Sica's neorealistic masterpiece Bicycle Thieves(1948). Greatly inspired by the concept of realistic cinema that promoted the use of an amateur cast in place of a professionally trained one and real shooting locations instead of custom-built sets and studios, Ray was more determined than ever to start a new chapter in Indian films.
Even today global audiences see his masterpieces as representing the height of Indian cinema.
After facing many hardships, including a major financial crunch, Ray finally managed to complete his adaptation of Bibhutibhushan Bandyopadhyay's celebrated novel Pather Panchali in 1955. The movie was presented with several international awards, including Best Human Documentary at the 1956 Cannes film festival. What Akira Kurosawa had done for Japanese cinema with Rashomon in 1950, Ray succeeded in doing for India. He introduced Indian cinema to the whole world with Pather Panchali. This film is the first part of Ray's now world-renowned Apu Trilogy—the other two being Aparajito (1956) and Apur Sansar (1959)—that chronicles the troubled, poverty-stricken life (from childhood to maturity) of the movie's protagonist, Apu, in the backdrop of early 20-century Bengal.
During the next few decades, Satyajit Ray continued making influential movies like Jalsaghar(1958), Postmaster (1961), Abhijan (1962), Mahanagar (1963), Charulata (1964), Days and Nights in the Forest (1969) that dealt with the cultural, religious and socio-economic ambiguities of the Indian middle class. In the 70s, Ray went on to make the Calcutta trilogy: Pratidwandi (1970), Seemabaddha (1971)and Jana Aranya (1975). In 1977, Ray made his first Hindi film named Shatranj Ke Khiladi, an adaptation of a story by the famous Hindi novelist Munshi Premchand. In 1980, Satyajit Ray made Hirok Rajar Deshe, a political allegory written in the backdrop of the Emergency to castigate the totalitarian political regime under Mrs. Indira Gandhi.
During his long and illustrious career, Ray was the beneficiary of a multitude of meritorious awards, national and international, including the Bharat Ratna (Republic of India's highest civilian award) and an Academy Honorary Award (an Oscar for his lifetime contribution to cinema) in 1992. Such has been the extent of influence of Ray's multifaceted humanistic works that even today global audiences see his masterpieces as representing the height of Indian cinema.