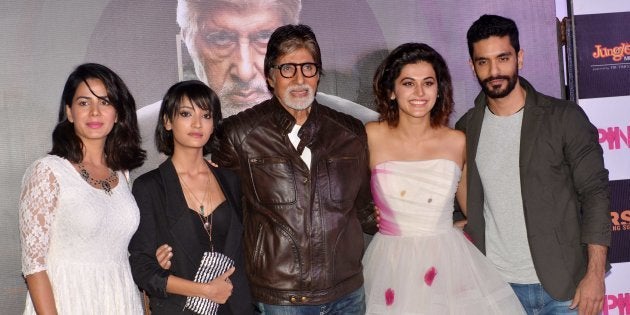 Directed by Aniruddha Roy Chowdhury, Pink is a story of three modern, independent women -- Minal Arora (Taapsee Pannu), Falak Ali (Kirti Kulhari) and Andrea (Andrea Tariang) -- who share an apartment in Delhi. Their lives are turned upside down when one of them is accused of trying to murder a man belonging to a powerful political family. When the woman is taken into custody no lawyer seems interested in taking up her case. When almost all hope is gone, though, an ageing lawyer called Deepak Sehgal (Amitabh Bachchan) who also happens to be suffering from a mental illness, steps forward to advocate for her. What follows is an intense courtroom drama that keeps you on the edge of your seat.
At the age of 73, Bachchan continues to exude the same fire that was the signature of his Angry Young Man avatar in the '70s and '80s.
Pink is easily the best courtroom drama to have come out of Bollywood in recent times. The movie's attention to detail reminds one of Hollywood courtroom dramas such as Philadelphia and A Few Good Men; I'll go as far as to say that it is reminiscent of some of John Grisham's novels. Without reducing the courtroom scenes to farce as was the case with Rustom, this movie manages to keep the legal proceedings interesting, even for the average moviegoer.
The acting performances are solid all around. Having an actor like Amitabh Bachchan in the mix of things can be a double-edged sword. First, the material needs to do justice to his prodigious acting talents and his larger-than-life persona; second, the other acting in the film has to be at a level that matches or at least complements Bachchan's performance, which is no cinch. The creative team needs to be commended for achieving this much-needed balance in the acting department. Particular credit must also go to Taapsee, Kirti, and Andrea for holding their own against a performer of Amitabh Bachchan's calibre.
Speaking of Bachchan, no compliment is big enough for him. At the age of 73, he continues to exude the same fire that was the signature of his Angry Young Man avatar in the '70s and '80s. Not many actors can just stand and gaze and still make it look like a spectacle. And the moment he unleashes his famous baritone it multiplies his screen presence tenfold. Do watch out for the poem in his voice during the end credits!
Overall, while Pink has its share of flaws, its greatest strength is its strong stand against gender inequality and sexual violence. It is a slap in the face of those who question the way modern women choose to live and the way they dress. The movie's social commentary is highly relevant to our times. Here is a film that cannot be ignored.