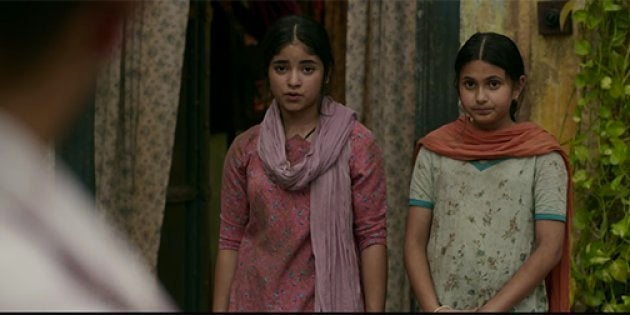 Dangal is a sports biopic directed by Nitesh Tiwari (who has previously been associated by projects such as Chillar Party and Bhoothnath Returns) and co-produced by Aamir Khan, Kiran Rao, and Siddharth Roy Kapur. The film stars Aamir Khan as the wrestler and Olympic coach Mahavir Singh Phogat and tells the story of his struggle against society and the system to train his daughters, Geeta Phogat and Babita Kumari as wrestlers while simultaneously dealing with lack of funds, opportunities and proper training facilities. Both Geeta and Babita went on to win medals for India at the 2010 Commonwealth Games. While Geeta won the gold in the 55kg category, becoming the first female wrestler to do so, Babita won the silver in the 51kg category. Dangal co-stars Sakshi Tanwar, Fatima Sana Shaikh, Sanya Malhotra, Zaira Wasim and Suhani Bhatnagar.
'Dangal' is as much about Geeta and Babita as it is about Mahavir Phogat.
Aamir Khan is known to be quite choosy when it comes to roles. He does just one movie every couple of years, but over the last decade or so, he has delivered one blockbuster after the other. In terms of box office collections, PK and Dhoom 3 happen to be two of the biggest films of his career. Other notable films include Rang De Basanti, 3 Idiots, and Taare Zameen Par, all of which tasted both commercial success and critical acclaim. Aamir Khan is not called a perfectionist for no reason. For each of his roles, he prepares intensively and doesn't leave any stone unturned. For Dangal, he was required to play the different phases of a wrestler's life: from a young wrestler to a 42-year-old man and then another jump to the age of 52. The transformation was no cakewalk. But, Aamir was up to it. At the beginning of the shoot his body's fat content was 38% but he worked really hard, pushing his body to new limits, and managed to reduce it to just 9.6% which was the target to begin with. Aamir's remarkable physical transformation is well documented by a video titled "Fat To Fit" which was released last month on UTV's YouTube channel.
Speaking of transformation, the actresses playing Geeta (Zaira and Fatima) and Babita (Suhani and Sanya) too had to undergo intense physical training to get into proper shape for Dangal. And it shows in every frame of the film. Fatima, who has the maximum wrestling sequences in the movie, even fractured her leg which delayed the shooting of some crucial scenes. The wrestling bouts and moves in Dangal are expertly choreographed, and the intensity of these scenes greatly adds to the movie's credibility. The narrative and character arcs of the film are also very well defined, with meticulous attention to period details. Dangal is as much about Geeta and Babita as it is about Mahavir Phogat.
For a biopic to work well it should have a certain level of realism but there should be enough drama to keep viewers engaged. Nitish Tiwari and team succeed in seamlessly blending realism and drama with a whiff of humour. Aamir Khan is known to influence his projects at a creative level as well and it often pushes the directors to bring their A-games to the fore. If we look at Aamir's acting career then we can easily observe that very often directors have delivered their best work while working with him: be it Rakeysh Omprakash Mehra in Rang De Basanti, Ashutosh Gowariker in Lagaan, Vikram Bhatt in Ghulam, Kunal Kohli in Fanaa, or Farhan Akhtar in Dil Chahta Hai. And, Dangal is no exception, for it is clearly Nitish Tiwari's best work yet.
When the audience starts clapping even before the actual climax in anticipation of what's to come it is a cinematic triumph.
Overall, Dangal is a powerhouse of a film that takes the idea of gender equality to a whole new level. It is not only the biggest film of the year but is also the biggest film of Aamir Khan's illustrious acting career and I believe it may go on to tumble all kinds of box-office records. Here is a rare Bollywood film that combines elements of a family drama, biopic, and a sports movie—with the themes of love, sacrifice and patriotism at its core. Dangal has scenes of such intense power and emotions that it makes us experience a rainbow of emotions. Dangal is a testament to human patience, persistence and perseverance and encourages us to follow our dreams and aspirations until we finally succeed. The film also emphasises on the importance of adhering to one's natural style in sports, whether attack or defence. Watching Dangal while sitting in a packed theatre allows one to tap into its impact—when the audience starts clapping even before the actual climax in anticipation of what's to come it is a cinematic triumph. As it is when the actual climax compels the audience to stand on their feet and join the film's characters to pay their respect to the Indian tricolour. Dangal is daring, devastating and ultimately rewarding. It is one of those films that can uplift a nation and galvanise its people. It is a must-watch if you are an Aamir Khan fan, sport enthusiast or an Indian national!