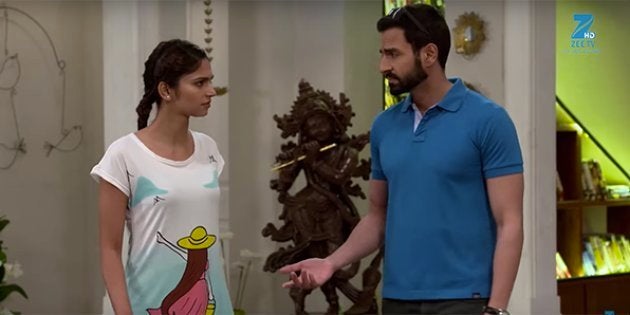 It is a wonderful time for Indian television. We are not only getting to see new show formats enter the television space but are also witnessing new hybrid genres become a part of our day-to-day viewing. One such series is Bin Kuch Kahe, which presents the story of a dysfunctional family comprising a woman and her three daughters and their everyday struggles.
At first glance, Zee TV's Bin Kuch Kahe may come across as just another family drama. But there is more to it than meet the eye. Here is a rare sitcom in the drama space. Its USP is its ability to capture the everyday monotony in a most refreshing manner. While the hybrid genre is popular in the US, it is quite new to Indian television. But the concept as such is not unheard of either. One just needs to look back at the films of one Hrishikesh Mukherjee or Basu Chatterjee to try and understand where exactly Bin Kuch Kahe fits in.
One hopes that the show will not only change the way critics look at TV soaps but also what viewers expect from their programs.
Bin Kuch Kahe stars Shamata Anchan and Sameer Arora in the lead roles. Set in Jaipur, the series is developed and produced by filmmaker Rajshree Ojha. Director of films like Chaurahen and Aisha—winner of American Film Institute's Spirit of Excellence Award for Outstanding Direction—Ojha has often been described in film circles as a director with a difference. Her films are known for their singular ability to showcase the untapped aspects of the society. While Aisha gave us a new perspective to on the fashion industry, her debut film Chaurahen dealt with themes of love and forgiveness. Ojha also directed one of the 11 segments in the collaborative feature film X: Past Is Present starring Rajat Kapoor, Huma Qureshi, Radhika Apte, Swara Bhaskar and Anshuman Jha.
Now, Bin Kuch Kahe didn't happen overnight. Ojha conceptualised the show with her team for over a year. And it shows. As a matter of fact anybody who has watched even one episode of Bin Kuch Kahe can see how different it is from the various other shows on offer today. It is certainly a breath of fresh air. Also, unlike the endless daily soaps, Bin Kuch Kahe is a finite series that will run for a total of 157 episodes. One hopes that by the time it runs its course, the show not only changes the way critics look at television soaps but also what viewers expect from their programs.