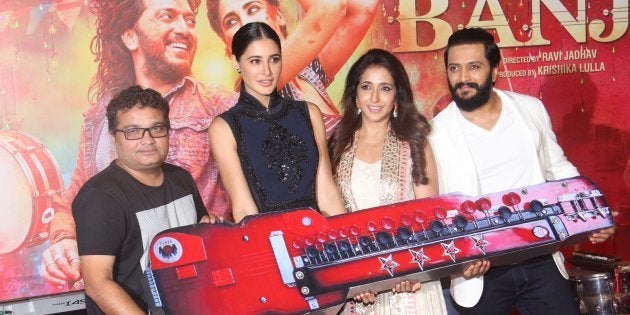 Directed by Ravi Jadhav, the Hindi musical drama Banjo is a feel good story of four Mumbai-based street musicians whose lives change when an international singer takes cognizance of their work. It is a typical underdog story heavily laced with clichés. Nonetheless, it's quite heartening to see Bollywood make a commercial movie that revolves around street musicians. While films about musicians are quite common in the West, the concept is still quite new for Bollywood. When one speaks of Hindi movies revolving around music and musicians, one is immediately reminded of films like Abhiman (1973), Anurodh (1977), Kabhi Haan Kabhi Naa (1994), Rock On!! (2008), etc. but such films have been few and far between. Hopefully, Banjo will pave way for more such movies.
If you are looking to spend a fun-filled evening with your family or friends then 'Banjo' will certainly not disappoint you.
Apart from providing an interesting take on the lives of banjo players—who don't get the same respect as other musicians—the movie has little new to offer. But whatever's on offer is nicely packaged. The acting performances are solid all around. For a change Riteish Deshmukh plays the lead character and not a sidekick in a major Bollywood production. Although, he is not a natural when it comes to acting, he, to his credit, tries his level best to do justice to his part. As for Nargis Fakhri, this is her strongest role since Rockstar (2011) and one clearly gets to see a tremendous improvement since her recent performances in Azharand Housefull 3. The supporting cast of Banjo is quite solid too. Here it is important to make a special mention of the charismatic Mohan Kapoor who is always a treat to watch. It's a pity that overlooked by Bollywood he has been forced to pursue a career as a voiceover artist despite his abundance of acting talent.
Overall, Banjo has all the makings of a mass entertainer. Hindi film audiences love underdog stories and the peppy music— composed by the famous music director duo of Vishal Dadlani and Shekhar Ravjiani, with lyrics written by Amitabh Bhattacharya—adds to the movie's commercial appeal. Banjo also pays tribute to the Beatles/Fab Four and various other musical stalwarts. The pacing is good throughout the movie except towards the end. Tighter editing would have helped. Having said that, the pros outweigh the cons! So, if you are looking to spend a fun-filled evening with your family or friends then Banjo will certainly not disappoint you.