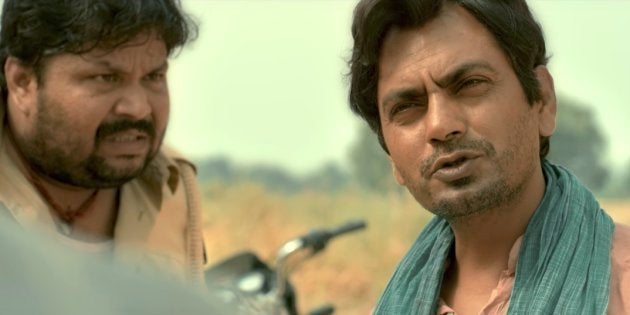 Starring Nawazuddin Siddiqui in the titular role of a contract killer, and directed by Kushan Nandy, Babumoshai Bandookbaaz is a crime thriller set in the backdrop of the rustic landscape of Uttar Pradesh. The plot is strewn with morally corrupt characters who in their struggle for survival have learned to kill as easily as they breathe.
Despite the high body count, the subtle use of dark humour prevents the movie from becoming too serious.
Nawazuddin Siddiqui's performance in Babumoshai Bandookbaaz may remind some of the character that made him a household name: Faisal Khan of Gangs of Wasseypur. Siddiqui is known to get into the skin of his characters and he never fails to surprise. While the performances in Babumoshai Bandookbaaz are solid all around, it is Siddiqui who carries the movie on his shoulders. We also see him in an all-new avatar as a lover— his sizzling chemistry with actress Bidita Bag is a major highlight of the film.
Babumoshai Bandookbaaz is a raw and gritty crime thriller that constantly plays with one's expectations. While comparisons to Gangs of Wasseypur are inevitable, it bears a much closer resemblance (in terms of style/themes) to films like Ishqiya, Omkara, and Saheb, Biwi Aur Gangster. The film also pays homage to the Western genre, in particular Sergio Leone's epic Spaghetti Western The Good, the Bad and the Ugly. Also, it would be remiss to overlook the influence of Bhojpuri cinema on Babumoshai Bandookbaaz. And despite the high body count, the subtle use of dark humour prevents the movie from becoming too serious. Babumoshai Bandookbaaz offers some very interesting conversations (the dialogues written by Ghalib Asad Bhopali are an absolute treat) but nothing can top the engaging exchange between two sharpshooters talking about poverty and how underpaid they are. There is a rather funny scenario in the movie involving a cop and his pesky wife that's been done quite neatly.
However, as engaging as the film is, it is alarmingly high on violence and cuss words and so those repelled by gore and explicit language are better off giving it a miss.