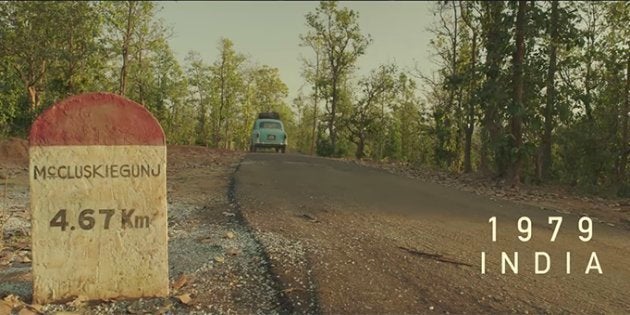 A Death in the Gunj is a slice-of-life film written and directed by Konkona Sen Sharma. The film, which premiered at the 21st Toronto International Film Festival, marks her directorial debut. With this film, Sen Sharma is well and truly following in the footsteps of her filmmaker-actress mother, Aparna Sen. The movie— which was also the opening film for the 18th Mumbai Film Festival where it won the MasterCard Best India Female Filmmaker 2016 Award—features an ensemble cast that includes Ranvir Shorey, Kalki Koechlin, Vikrant Massey, Tillotama Shome, Tanuja, and the late Om Puri — making one of his last screen appearances. The film is based on a story by Mukul Sharma — Konkona's father — and inspired by true events.
A Death in the Gunj is set in the town of McCluskieganj (in Jharkhand) during the winter of 1978-79 and revolves around a family reunion during the week-long Christmas vacation. Remember this is the 1970s and we are still a good three decades away from the age of social media. Also, since McCluskieganj is a small town, even making a telephone call requires one to go to the post office. And so, letters are the most viable means of communication. Aptly, some of the key communications in the movie take place in the form of letters exchanged between two elderly women.
Sharma is spot on with her casting. Even a National Award-winning actress like Kalki Koechlin had to do not one but two auditions to bag her role.
A Death in the Gunj is driven by its plot and its panoply of interesting characters. We have Vikram (essayed by Shorey) who is a bully of sorts. His hairdo with long sideburns is vintage 1970s and he wears a moustache as a symbol of masculinity. We have Mimi (played by Kalki Koechlin) whose sex appeal easily attracts all sorts of men and she loves the attention she gets from them. Then, we have the timid but bright Shutu (essayed by Vikrant Massey) who is the butt of everybody's jokes. Besides these three principal characters we have other interesting supporting cast, such as little Tani who shares a strong bond with Shutu, the benevolent Anupama Aunty (essayed by Tanuja), and the fussy O.P. Uncle (essayed by Om Puri). Sharma seems keen on examining the relationship dynamics between the various characters and she largely succeeds in her examination.
Sharma is spot on with her casting. Even a National Award-winning actress like Kalki Koechlin had to do not one but two auditions to bag her role. A Death in the Gunj is neatly packaged and its pacing is superb. It is tense, titillating and tempestuous. Massey, Shorey and Koechlin have performed brilliantly, in that very order. Undoubtedly, this is a breakthrough role for Massey who is known for playing supporting characters in films such as Lootera and Half Girlfriend. As for Shorey, no praise is high enough for him—he only seems to get better with each new role. The film succeeds in evoking a strong sense of nostalgia, and is reminiscent of family outings with our grandparents that we begin to miss more and more as we grow into adults. Movies like this one are all about setting the right mood and Sharma, to her credit, succeeds in achieving just that, right from opening shot till the very last one. While A Death in the Gunj is far from perfect, it nonetheless serves as a fine example of cinematic storytelling.