Mint via Getty Images
On 23 April 2016, Nitish Kumar's appointment as the JD(U) National President was ratified by the Party National Executive in Patna. The move was expected and has come at the right time for the Bihar Chief Minister, especially with his national rhetoric taking more shape.
So what can possibly put the Bihar Chief Minister on the national map? There are two things.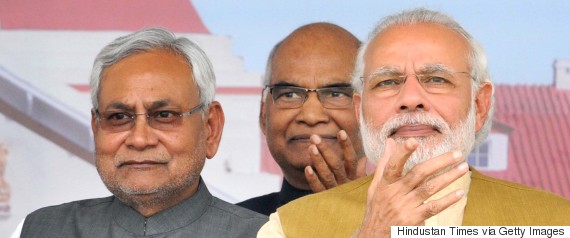 Cobbling the right alliances
There's a dearth of powerful and successful leaders who have the capacity to take on Modi and stall the juggernaut. Only Nitish and Arvind Kejriwal seem to be up to that task. In this context, Nitish's recent attempts at making the JD(U) a bigger player in national politics can be seen through the possible mergers with Ajit Singh (and others), talks for which are already on. Of course, for there to be a viable 'rainbow-front', Nitish would require the support of important state leaders like Mamata Banerjee, Jayalalithaa and whichever party wins the UP elections. The round of elections lined up for next year -- with UP and Punjab up for grabs -- will prove to be key to anyone's national standing.
In terms of political precedent, when the United Front government came to power with the National Front (an alliance of the erstwhile Janta Dal, Samajwadi Party, and the Telugu Desam Party) and Left parties being at its core, a good number of seats in UP and Bihar did the trick . In the 2014 elections too, the good showing in UP clinched the BJP victory. Considering all of this, Nitish's efforts through the merger to try and grab some seats in UP in the coming assembly elections and then use that in the run up to the general elections, makes sense. What Nitish needs in the future is to expand his appeal and support base in the neighbouring states and continue his good showing in Bihar in alliance with Lalu. Winning a few seats in UP and garnering support from the winner of the 2017 assembly election there would also help. His effort to expand his appeal can already be seen in the sort of prohibition politics he seems to have taken up which is getting him support from anti-liquor campaigns in a few other states.
What Nitish needs in the future is to expand his appeal and support base in the neighbouring states.
A bonus would be to go the 1996 way and align with a strong Southern Indian party to build a presence in the region. The TDP is now strongly aligned with the NDA now, but the AIADMK has potential as an ally, especially with it expected to do well in this month's upcoming Tamil Nadu assembly elections. A strong alliance in the South, along with a presence in UP, can pose a serious enough threat and muster enough seats to inspire confidence and lead to further alliances.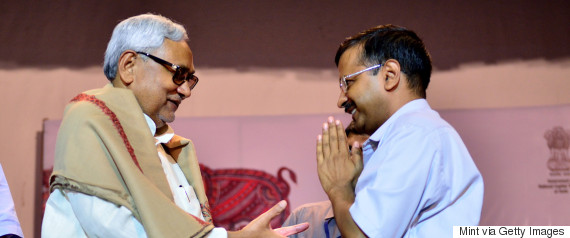 An alliance with AAP can also prove beneficial, especially if they win Punjab, a distinct possibility. However, Nitish could have a serious contender in Arvind Kejriwal whose influence might rival his in North India, possibly spreading to border areas of Haryana and Rajasthan at least. Herein lies a classic problem of such coalitions, as is evident in political precedents -- the presence of too many strong political figures in a coalition with equal or comparable power.
The deflation of the Congress
The Congress has been on a slump ever since its dismal showing in the 2014 elections. Rahul Gandhi faces a litmus test in 2016 and 2017 with important states going to elections. The Congress might be left in power in just six states post this election cycle if they lose Kerala and Assam (they just about managed to hang on to Uttarakhand after President's Rule). The party's image has taken a beating due to recent scams and it is playing second fiddle in several states to stronger regional parties, a case in point being Bihar. Unless there's a significant shift in its trajectory, the Congress might have to settle to support a coalition against the BJP and join the "Sangh-mukt Bharat" bandwagon.
While Nitish must hope for the Congress to do well, he must not hope them to do well beyond the 1996 tally.
In the 1996 elections, the Congress's poor showing in the states of UP and Bihar is why their tally got stuck at 140 in comparison to BJP's 161. The BJP won 52 seats in UP and 18 in Bihar. The Congress of 2016 is weaker than the Congress of 1996, and is probably at its lowest point. This can be an advantage for Nitish, since the Congress' weak position has opened up an opportunity. At the same time, the Congress can't be so weak as to render its support inconsequential to Nitish. While Nitish must hope for the Congress to do well, he must not hope them to do well beyond the 1996 tally.
If the Congress agrees to support a Third Front government in 2019 from the outside, the problems that Deve Gowda and I.K. Gujral had to face in their time would re-emerge. This is something which Nitish will have to be very careful about -- ensuring stability on a Congress axis.
Election statistics: http://eci.nic.in/eci_main/StatisticalReports/LS_1996/Vol_I_LS_96.pdf
Like Us On Facebook |

Follow Us On Twitter |

Contact HuffPost India

Also see on HuffPost: