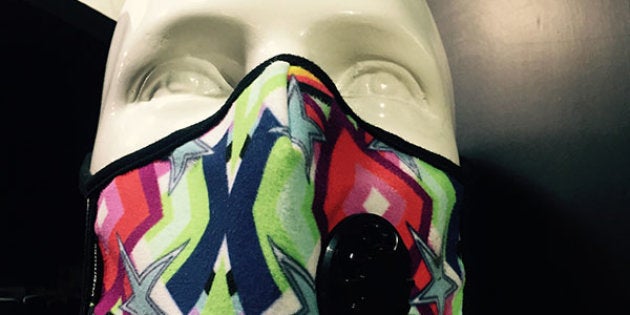 When George Peppard embraced Audrey Hepburn in the 1961 film Breakfast at Tiffany's, it was in the pouring rain. To beat the weather conditions she wore a trench coat. The hitherto humble rain protector became chic, fashionable attire overnight thanks to the cinched-in waist on Hepburn's figure. Weather conditions led to the creation of the garment, but it took a few clever stitches and some fashionistas to convince women around the world to cover up when it's raining.
These days our cities are choking, with air pollution in the premature deaths of about seven million people each year. And unless our factories and vehicles stop belching out toxic smoke at ever-increasing rates, the problem is set to worsen. Air pollution is on the rise in many cities, and New Delhi is one of the leaders of this infamous list. And it does so with pomp—the festival of lights each year announces the onset of a deadly, hazardous smog here in Delhi. It makes us all speak a common language now of PM 2.5.
Shopping for my first mask in Delhi, I found a slim choice of 3Ms, Cambridge Masks and Vogmasks in the market. This is strange for one of the world's most polluted cities.
There is a protective garment against this condition of air. It wards off almost 100% of the pollutants, germs, allergens. Breathing mask, anti-pollution mask, face mask—call it what you will (although the marketing team at a leading brand Vogmask may have scored high on euphemistic terminology), but buy it. It is sad that we have destroyed the air to the extent that we have invented the breathing mask, but let's get real and now not destroy our lungs.
Look out for a N95, N99, P100, EN149 FFP2 or FFP3 rating, as that would mean the mask has a US government-approved certification or is in accordance with the European Union tested rating standard. N99 means that the mask should filter out at least 99% of particles greater than 0.3 microns, which is one eighth the size of PM2.5. And it is important that you check for a snug fit of the mask on your face.
A typical breathing mask covers a large part of the face, almost as much as a pair of effective sunglasses would. Come to think of it... a pair of black sunnies looks quite odd sitting perched over the bridge of the nose and around the ears, yet many of us perceive it to be stylish. We would even be willing to spend a bunch on purchasing one or a few, and wear it at the slightest occasion. That is good because fashion has saved our eyes.
Fashion is created on the streets. Social, political or climatic contexts have led to the appearance of most garments and some accessories in different parts of the world. A garment is created out of a need to protect the body from a certain threat, and then it is improvised upon. New attires appear on the streets, people wear them, and then there are a few who wear it to make the garment famous. That sequence of events often shapes the way we dress. And so from the pencil skirt to the Breton top and from the stiletto to the bikini, the first of its kind for nearly every item in the wardrobe has faced initial apathy or at best disdain from the masses. Here it is in the interest of our own health that the breathing mask is accepted as a staple wardrobe item.
We need a few good design improvisations—else the air will kill us.
Shopping for my first mask this week in Delhi, I found a slim choice of 3Ms, Cambridge Masks and the Vogmasks in the market. This itself is strange for one of the world's most polluted cities. What kind of myopic market strategy are the other global breathing mask brands suffering from?
The 3M is a disposable mask and sold at pharmacies, while the other two are washable polyester microfiber-based with a N99 polypropylene filter middle layer. The three brands are similar in performance, and only San Francisco-based Vogmask has attempted on combining functionality with some style. Vogmask had Indian designer Manish Malhotra design an incredibly uninspiring collection for the Paris Fashion Week last year. We need a few good design improvisations—else the air will kill us.
There is no aesthetic associated with the mask. We have neither the material nor the cut to really fawn over. And so while the breathing mask is popular in cities such as Beijing, where there is more creativity in the choices, it is not so on the streets of New Delhi. Indians are callous about preventive healthcare anyway, and the government has done a shoddy job about raising awareness for protection against air pollution. To make matters worse, despite its functionality the breathing mask is still not perceived to be cool like sunglasses, or for that matter chic like the trench.
We can be hopeful. The Lumoscura breathing mask is an attractive piece of wearable tech. I saw it when it was on show last year at the Boston Museum of Fine Arts Fashion exhibition. Sculpted and pristine, New Zealand-born designer Stephanie Liu had nature as her muse when she created this one. I heard that Liu is developing a commercial line in a transparent material with a variety of straps to go with the rest of one's clothes. An effective yet sleek and discreet mask could go well with most attire. Perhaps she might introduce these in India?
For now, I've purchased a classic plain black Vogmask. I felt protected and in anticipation of the definitive breathing mask that will one day be created. We will then wear various reinterpretations of that season after season as a fashion staple. We will perhaps not leave home without our mask soon—sadly this may be the only way we can save our lungs.