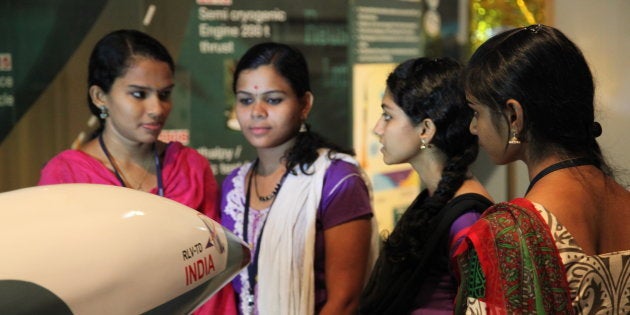 International Women's Day (originally called International Working Women's Day) is celebrated on 8 March every year. In this context I couldn't help think of two very interesting yet disparate organisations, at two different corners of the world, that are doing some stellar work with regards to enabling more representation of women in the technology domain.
The first is related to Big Data. The Women in Big Data Forum (WiBD Forum) is a platform that came about in the US to represent women from the Big Data domain who have come together to address the challenges faced in finding and recruiting woman talent. They strive to create a more enabling ecosystem that allows more women to be hired as Big Data engineers and scientists in the industry. Today the WiBD Forum is not only active across the US through its "chapters", it has also made a debut in Europe, addressing issues of diversity, better representation and more opportunities. Perhaps the day is not far when they visit India as well. I do not however see this as an isolated issue. This problem is correlated to a deeper and bigger malaise that finds a silent echo across other countries as well. That of limited representation of women in science and engineering—which begins right at the high school, college and university levels. In 2015 for example, the American Association of University Women reported that only 26% of computing professionals and 12% of working engineers were women in 2013. Secondly, barely 18% of all computing degrees went to women in 2013 (down from 37% percent in 1985).
Women are less likely to enter and more likely to leave tech-intensive business roles. It is usually work experiences that impact their decisions to leave...
Which brings me to the second organisation I wanted to highlight—Women in Science and Engineering (WISE) India. WISE India is the brainchild of few like-minded individuals (both men and women) who envisaged that a platform must be created to inspire and promote the huge pool of women engineers and scientists in India. WISE India strives to bring about a change among Indian women, making them confident enough to choose the field of science and engineering. The scarcity of women in these fields is a matter of concern in most countries, especially in India. This small number of women receiving degrees in the sciences and engineering translates to an even smaller percentage of women at top and middle levels of management.
Women and data
An annual conference organised by the United Nations on International Women's Day recently discussed the private sector's role in economically empowering women around the world. The knight in shining armour that emerged was "data". Everyone was in agreement that there was a complex need for data to: (i) inform decision-makers on the success or failures of past initiatives, (ii) to understand specific needs of a group as large and diverse as women, and iii) to demonstrate the business case for all stakeholders, particularly the private sector to engage in women's economic empowerment. The resounding takeaway was that empowering women is not simply a good cause, it is a business imperative. Data clearly shows that women around the world represent more than 65% of all purchasing decisions, including houses, cars, and health. Data also shows that if women worked at the same rate as men, GDP would expand substantially, estimated at 34% growth in Egypt; 12% in the United Arab Emirates, and 9% in Japan. If these numbers are exciting, hold your breath for India.
When looked at from a global perspective, equal participation by women would add as much as US$28 trillion, or 26%, to the world's 2025 GDP...
A recent study by McKinsey Global Institute highlighted that India can increase its 2025 gross domestic product (GDP), estimated at US$4.83 trillion, by 16% to 60% simply by enabling women to participate in the economy on par with men. The upper end of that range—if everything works out the way it should, or a so-called full-potential scenario—could add US$2.9 trillion to India's 2025 GDP. The lower end—the so-called best-in-region scenario in which all countries only match the rate of improvement of the best country in the region—could add US$700 billion.
When looked at from a global perspective, equal participation by women would add as much as US$28 trillion, or 26%, to the world's 2025 GDP in a best-case scenario—roughly equivalent to the size of the combined US and Chinese economies today. What makes this possible is that companies are struggling to find qualified employees and women provide untapped potential. At their end women prefer professions where they can have a beneficial impact on people and society. The opportunities are endless. As Chelsea Clinton (Clinton Foundation) emphasised at the UN Summit, "We need a balance of stats and stories to make a case for empowering women that is compelling and inescapable." I'll second that!