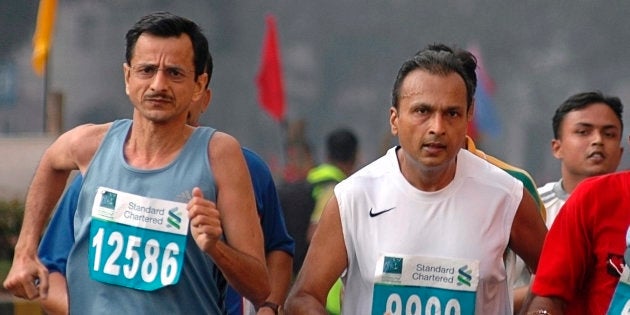 To me, Anil Ambani will always be the Marathon Man. The chairman of Reliance Group, a frontrunner in the business world, has been participating in the Standard Chartered Mumbai Marathon since it started in 2004. Not with the intention or hope of winning. I think for Ambani the sense of competing with elite athletes half his age is fulfillment enough. He told me once, "Running is not my profession. I'm not an athlete but a businessman running among professional sportspersons. But since it's a good event, and there is so much competition, I look forward to the marathon. January is now like a benchmark."
It makes me smile to hear others calling out, 'Come on, run faster. He's three times your age.' It's a good feeling. It spurs me on. Anil Ambani
The Mumbai Marathon is held on the third Sunday of January. And that Sunday is here. Ambani must be winding down his preparations for it. I remember joining him one year. We met on Marine Drive in Mumbai at 6.30 am. It was dark and chilly. Unmindful of the early morning joggers and walkers, the kids on rollerblades, the barking dogs and fishermen put-putting on the dark waters, he warmed up in silence. I watched him do the hip twist and side bends in shorts, singlet and running shoes. Two men in uniform stood at attention beside his Range Rover. Apart from them, Ambani had no security. "Mumbai is the safest city in the world," he said to me. I disagreed, but he pretended not to hear.
"Why don't you run with me?" Ambani asked suddenly. That was not my idea of a big start to the morning. I was there to interview him. He made a swift decision. "Get into my car," he said, getting behind the wheel himself. "I'll run at the racecourse today. We'll talk on the way." And that's what we did, leaving his security men behind. He drove fast, like accelerators are meant to be stepped on, eyes on the road, his mind on what I was asking him. As we zipped through Mumbai that was still under the covers, I said, "Why do you run the marathon? Surely you're not in for the prize money." Ambani replied impatiently, "It's got nothing to do with the competition but a state of the mind. I feel a sense of purpose, of achievement and pride in completing the race."
He once weighed 105 kg and could not walk one kilometre in an hour. His father, the great Dhirubhai Ambani, warned him, "Son, you can buy any luxury with money, from clothes to food and a home to a holiday. But you can't buy health. Do whatever it takes to make yourself feel good." He began running. "I'm now 68 kg," Ambani informed me proudly. Like one of the sleek stallions being put through its paces at Mahalaxmi Racecourse where we arrived, I thought. He shared his experience of running in the first Mumbai Marathon in 2004. When he told them at home, his mother, Kokilaben Ambani, reacted in alarm, "The marathon! Beta, why do you want to do it? Why run so much? Can't you run a little only?" But his son, who discouraged him from entering the Parents' Race in the school sports ("What's the use? Let some other parent win," the boy told his father), was keen that he win. Ambani laughed, "Frankly, I hadn't even counted on finishing among the first 125."
Running does something to my mind... Some of my brightest business ideas come to me when I'm running. Anil Ambani
Later, when giving me his first interview on the marathon over coffee at his corporate office, formally dressed in a Vimal suit and tie, Ambani revealed that after the race, an exuberant Kokilaben wiped the sweat off his face and told him, "Listen, let's stop all these satsangs we keep having at home and do something meaningful for sports instead." Since then, he's run every edition of this prestigious race that is the largest marathon in Asia. Ambani is even counted among Forbes' "10 Billionaires of the World who are Marathoners". But he isn't just another business tycoon who runs. In India, he's an inspiration. He was once on a flight and a man asked for his autograph. "Why mine?" Ambani asked the passenger. "Take my wife's instead." The man replied, "No, Sir. I want your autograph. You are my hero." Ambani looked closely and recognised him. "Why you're Dhanraj Pillai, the Indian hockey captain!" he exclaimed. Pillai bowed. "You recognise me, Sir?" he asked, gratefully. Ambani told me, "We made a deal. I gave him my autograph and he gave me his!"
He puts in six days a week of running in which he averages over 100 km. He doesn't need an alarm to get up. No wake-up call, either. "My body clock goes off at 4 am and I get up and get out," he said. He doesn't plan which day to take rest. "The morning I wake up and don't feel like running, I inform my staff and cancel the run," he added. But if he doesn't run three days in a row, he suffers withdrawal symptoms. "Running does something to my mind. I listen to music. Or, if somebody is with me, there is brief communication. Otherwise, I'm with my thoughts. Some of my brightest business ideas come to me when I'm running. Otherwise I focus on my speed, timing, the distance I want to cover," Ambani said slipping out of the Range Rover at the racecourse. At that hour, the track was already overrun by a number of young joggers. He told me before taking off, "I run by myself. Nobody in front and nobody behind. But there's a large number of people running alongside me. And it makes me smile to hear others calling out to them, 'Come on, run faster. He's three times your age.' It's a good feeling. It spurs me on."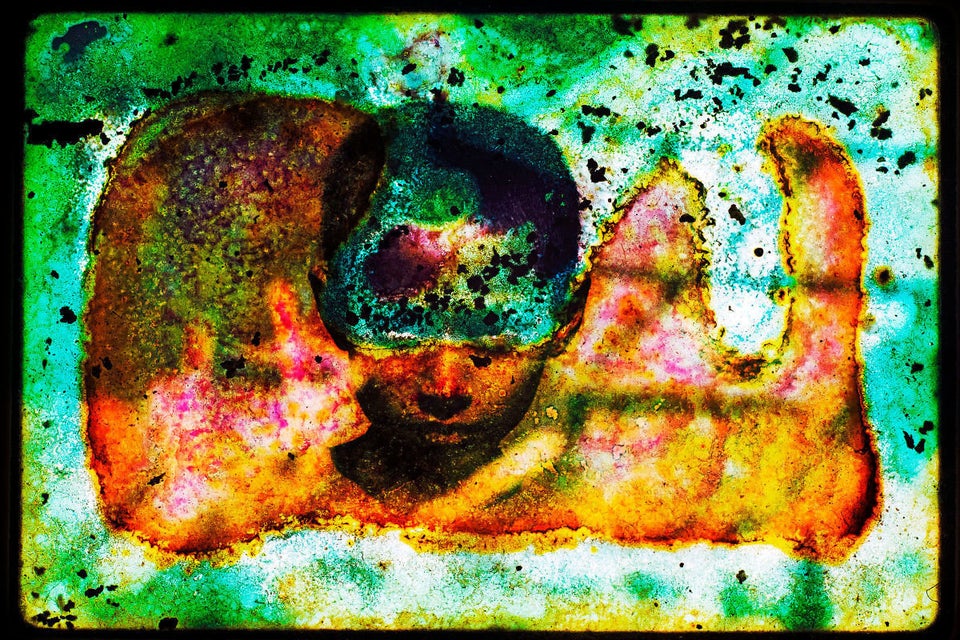 Memento Mori by Pablo Bartholomew