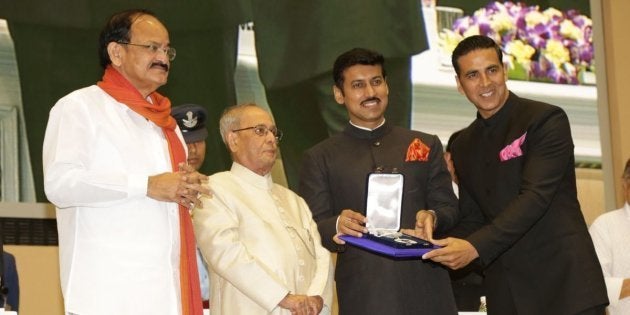 And, congratulations to Akshay Kumar! On the evening of 3 May at the 64 National Awards held at New Delhi's Vigyan Bhawan, President Pranab Mukherjee felicitated him with the Best Actor trophy for his stoic, emotionally controlled performance in the 2016 crime thriller Rustom. This is Akshay's first National Award. And the Bollywood action superstar came out of the prestigious ceremony and excitedly tweeted, "No words can do justice to the joy I feel at the moment."
I had been waiting for this to happen. Waiting since April 2010, actually, seven years almost to the day. It's a story that takes me back to a cozy dinner I had with the actor and his absolutely gorgeous wife at their beachside home in Juhu. The newspaper cutting here is my account of that dinner. And the heading is his wife Tina's wish for Akshay.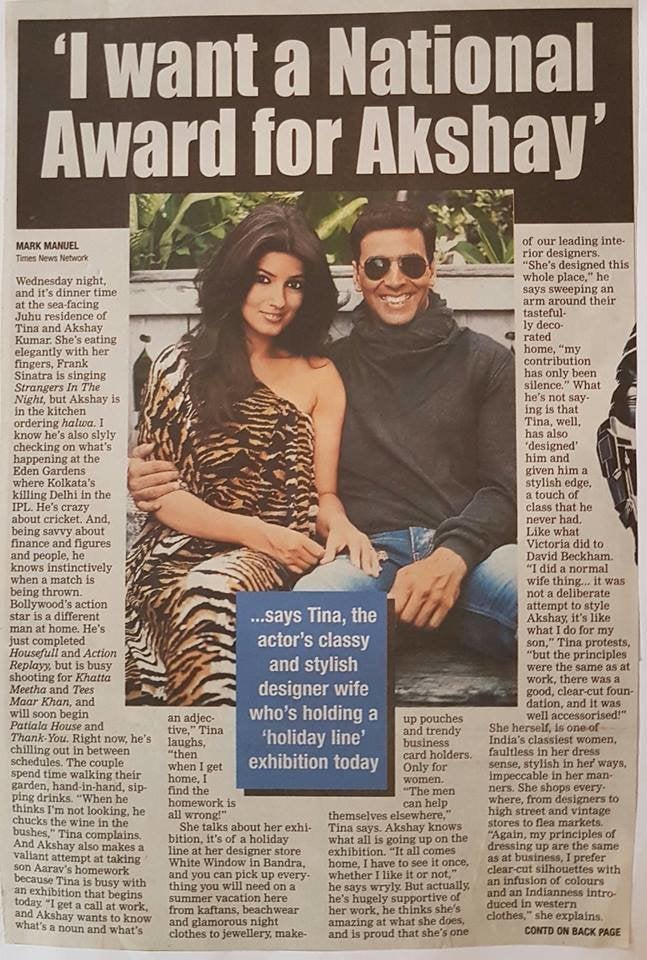 The story I did on Akshay and Tina in April 2010 where she said for the headline that she wanted a National Award for Akshay
The National Award's been her dream for him all these years. Well, dreams and wishes often come true. In Akshay's case, it's happened in the actor's countdown to his 50 year. And in his 30 year in cinema. Has this combination of numbers worked in his favour? A numerologist could tell.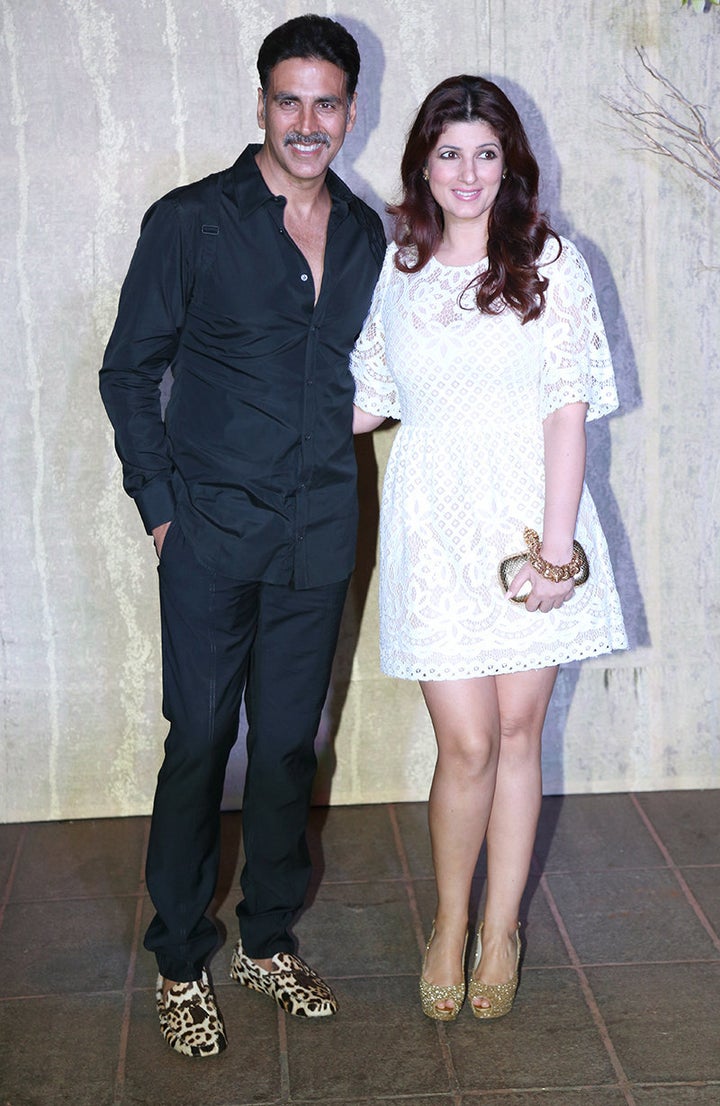 Tina and Akshay Kumar are Bollywood's most endearing and enduring couple. They are fun people, warm and caring hosts; and, entertaining conversationalists. I discovered this that night I had dinner with them at their charming sea-facing residence in April 2010. An IPL match was going on at Eden Gardens. Kolkata was killing Delhi. Tina sat talking to me and elegantly ate with her fingers. Frank Sinatra's Strangers In The Night was playing softly in the background. It's her favourite song. Akshay romantically sang it for her, unplugged and uninhibited, on Karan Johar's celebrity chat show earlier this year while the couple soulfully danced cheek-to-cheek.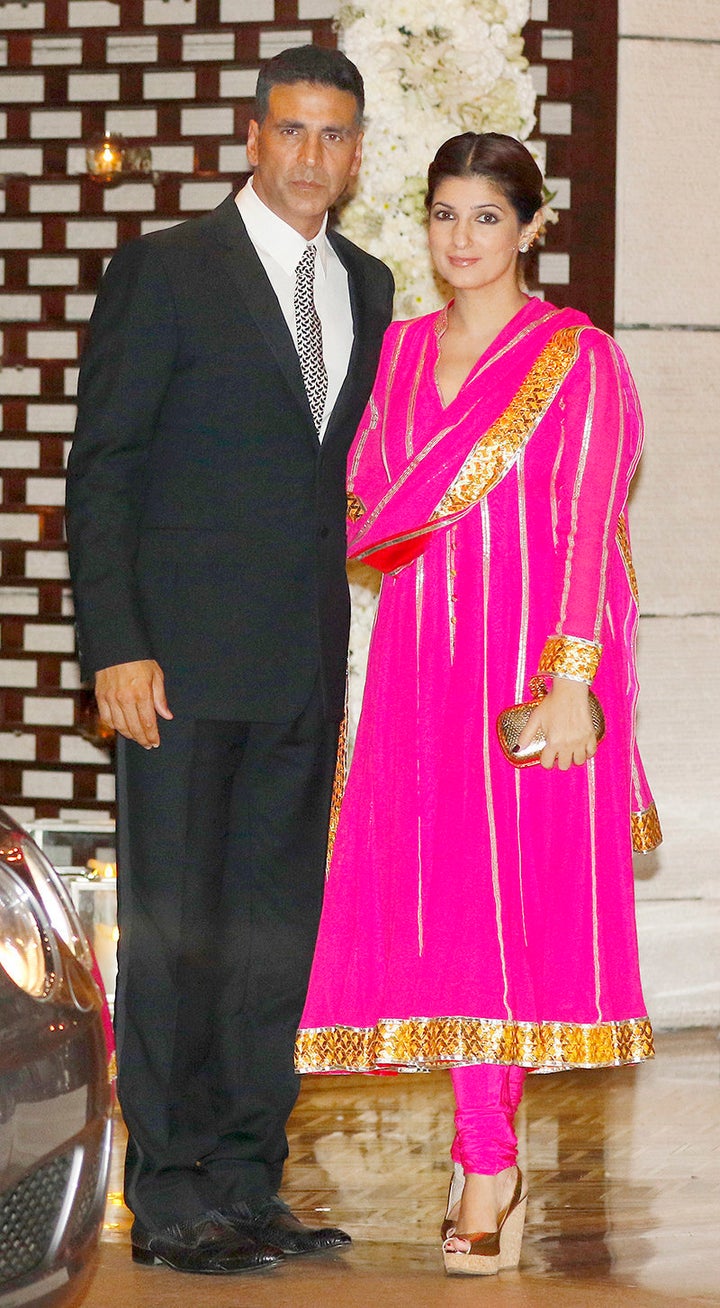 But that night, I thought he spent a suspicious amount of time in the kitchen. I wondered if he was stirring the fires and secretly making dinner himself because Akshay reportedly worked as a chef in a Bangkok restaurant before Bollywood brought him to Bombay. "I'm getting the cook to make halwa," he explained glibly. "He's slyly watching cricket on the kitchen TV," Tina airily told me. She was right. Akshay came out shortly after and said, "This match is thrown!" I wondered how he had figured that out. Tina said, "He's crazy about cricket. And he's savvy about finance and figures and people, that's how he knows."
The actor in a scene from the 2016 crime thriller Rustom for which he won the award
The actor is a different man at home. In between his films, if the couple aren't holidaying abroad, then he chills out with the family. Tina and he spend time walking in the garden, hand in hand, sipping drinks. He is a teetotaler. "When he thinks I'm not looking, he chucks the wine in the bushes," Tina complained. When he's at home, Akshay makes a valiant attempt at helping with their son Aarav's homework. (Their daughter Nitara, now a precocious five, was born in September 2012.) "I get a call at work and Akshay wants to know what's a noun and what's an adjective," Tina laughed, "And when I get back, I find the homework is all wrong!" Work for her is a designer store in Bandra. She's one of our leading interior designers. Now, also one of our bestselling authors and most widely read columnists. Akshay swept his hand around their tastefully decorated home and told me proudly, "She's designed this whole place. My contribution has only been silence."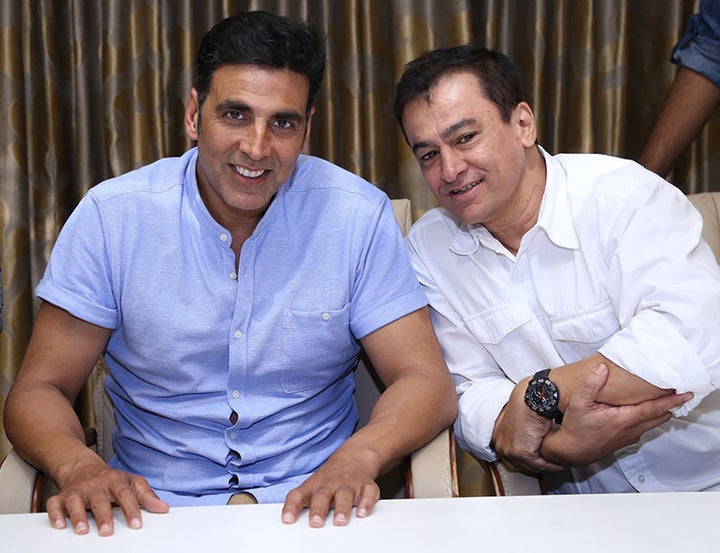 I like to think Tina has designed Akshay as well. Giving him a stylish edge and a touch of class that he never had before. "I did a normal wife thing, it was not a deliberate attempt to style Akshay," she said. "But the principles were the same as at work. There was a good, clear-cut foundation, and it was well accessorised." She herself is one of India's classiest women, faultless in her dress sense, stylish in her ways, impeccable in her manners." Over coffee after dinner, I asked Tina how she rated Akshay, and without hesitation she said, "On a scale of 1 to 10, I'd give him 7 as an actor, 9 as a husband and 11 as a father." Akshay wisely preferred not to rate Tina, instead he leaned across to whisper, "She's clear and straightforward, Hafeez Contractor says good things about her work, look at the way she keeps the house, takes care of our child, manages her business, deals with the staff... I don't think I can ask for more."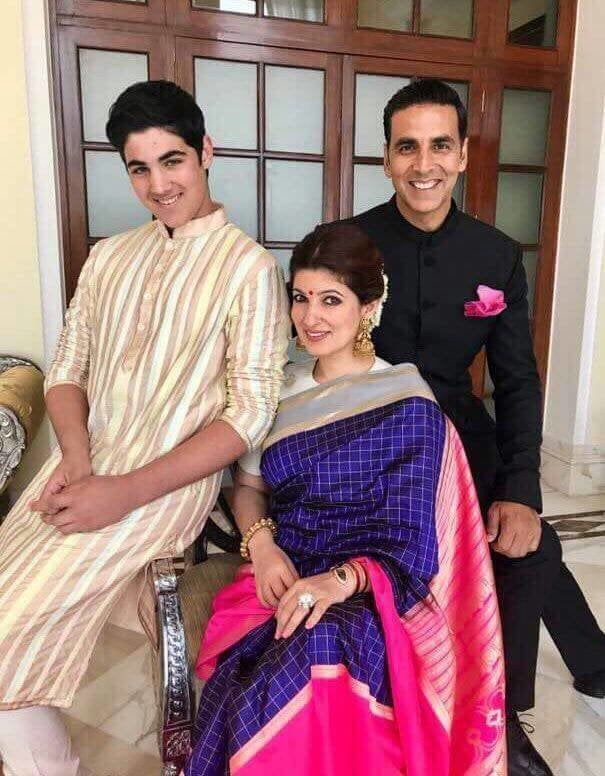 Akshay, Tina and son Aarav at Vigyan Bhawan in New Delhi shortly before the awards ceremony. The actor tweeted, "An important day in my life with the most important people in the world to me, my family."
I was happy for him, for her, and for them. Akshay Kumar was a content man. He had just completed the films Housefull and Action Replayy and was busy shooting Khatta Meetha and Tees Maar Khan, his other releases of 2010. After which he would begin working on 2011's films, Patiala House and Thank You. He may not have wanted more at the time. But Tina did. "I want a National Award for Akshay," she told me that night in April 2010. "He's a simple, hard-working guy, very focused in his work, incredibly smart, but he'll never pretend to be more than what he is. It's my ambition that he gets the National Award. I have a shelf ready for it!"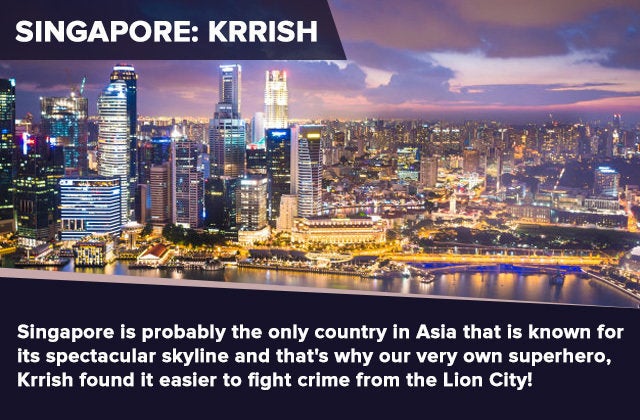 Destinations Every Bollywood Fan Should Add To Their Travel Bucket List