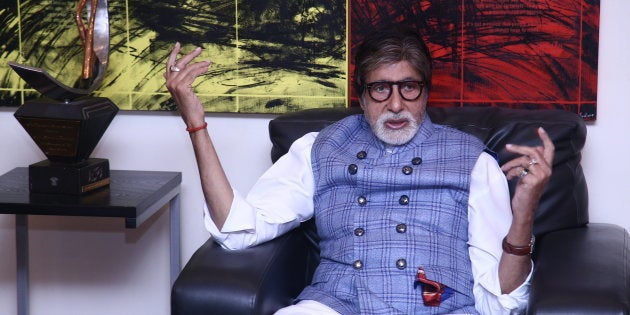 Amitabh Bachchan and Ram Gopal Varma bring that dark, venerable Bollywood character Subhash Nagre roaring back to life on screen this week in Sarkar 3. It's the third film in the edgy political-crime thriller franchise. Coming nine years after the gritty Sarkar Raj in 2008. And 12 years after Sarkar in 2005, which introduced Mr. Bachchan in the dangerously delicious role of the powerful extra-constitutional head of a troubled and violent Maharashtrian family with a low tolerance for any form of social injustice. The character was said to be loosely based on Balasaheb Thackeray. Also Marlon Brando in Francis Ford Copolla's The Godfather. RGV rubbished the belief. He showed Sarkar to the Shiv Sena supremo. Balasaheb saw it without a murmur. Later he told Mr. Bachchan he liked the film.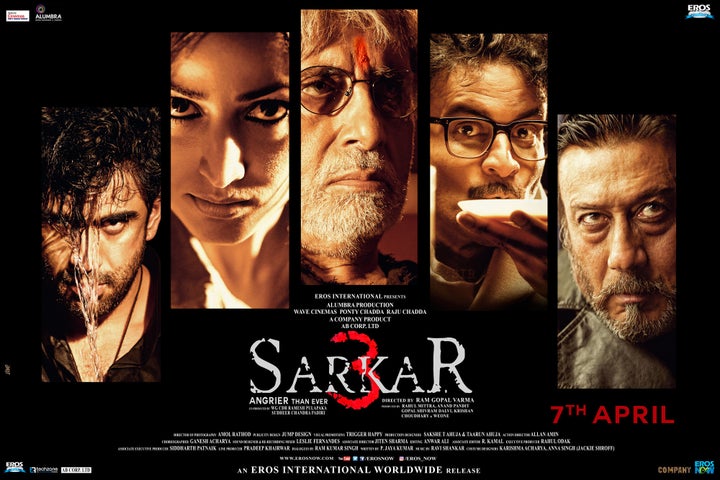 No filmmaker showcases the deadly underbelly of Mumbai's gangland more chillingly than RGV. And Mr. Bachchan as the "Sarkar" could be a case study in how to act the silent, menacing capo of a mafia crime syndicate without personally resorting to violence.
I engaged RGV in a spirited discussion on crime and the underworld once. He has a morbid fascination for the subject. And he's a master at bringing the violence and blood of our gangland killings out of Mumbai's slums and chawls and gruesomely taking them to the awestruck world through international film festivals. I was surprised no don in hiding had ordered a hit on him yet. RGV was amused. He told me the underworld secretly loved his films. "The gangsters are intrigued by how I know so much about them," he bragged.
I wasn't so sure about that. But I did know that the Crime Branch of the Mumbai Police gave the maverick writer-producer-director brownie points for the realistic and absolute stark and gripping depiction of crime in his Bollywood films. "Where do you get your inspiration from?" I asked him curiously. And RGV, laughing uproariously, replied, "From you, only! The newspapers and TV channels report crime in grisly detail. I don't need to look further!"
I didn't read Mario Puzo's 'The Godfather'. So, for me... all three actors, Brando, Pacino and De Niro, are perfect as the Godfather. Amitabh Bachchan
Now RGV and Mr. Bachchan are back, offering viewers a different dose of the same violent successful formula. Subhash Nagre, naturally, is now a lion in winter, because Mr. Bachchan himself has aged with time. He's nine years older, the voice has grown gravely, the body weaker, but RGV says the Sarkar is "angrier than ever" in his posters. He's still wearing the black shirt and lungi of before, the trademark rudraksh mala around his neck and wrist, a tilak on the forehead, and he continues to sit on a sofa sipping tea from a saucer while the world anxiously whispers its problems in his receptive ear. Only the menace in his stare has changed. It's more vicious than before.
Last September, when he played an exhausted, semi-retired bipolar lawyer in Shoojit Sircar's social thriller and courtroom drama Pink, I asked Mr. Bachchan if he had seen any of Hollywood's outstanding courtroom films. I had a list of them with me. They included The Judge, A Time To Kill, The Verdict, A Few Good Men, To Kill A Mockingbird and 12 Angry Men. He had seen them all. Was he influenced by the excellent performances in any of these classics? "Not at all," he replied. "I just did what my director wanted me to do." This time, when I met him for Sarkar 3, I asked Mr. Bachchan if he had seen The Godfather. He had, all three parts. "They are brilliant," he said, "I keep seeing them again and again. There's something about the mafia that creates an atmosphere of intrigue. You are wary but inquisitive. It's like you might hate Adolf Hitler but you are attracted to all the documentaries on him."
RGV once said that The Godfather series could be made without Marlon Brando, but Sarkar without Mr. Bachchan was unthinkable. And it is true, the second and third parts of The Godfather featured Al Pacino and Robert de Niro as the mafia kingpin. "Which of them was your best?" I asked Mr. Bachchan. "When you read a book, you form a visual of the characters and what the story's all about," he told me. "But I only heard of the book. I didn't read Mario Puzo's The Godfather. So, for me, what I saw in the films stay. All three actors, Brando, Pacino and de Niro, are perfect as the Godfather." Maybe RGV had a point when he said only Amitabh Bachchan could be the Sarkar.