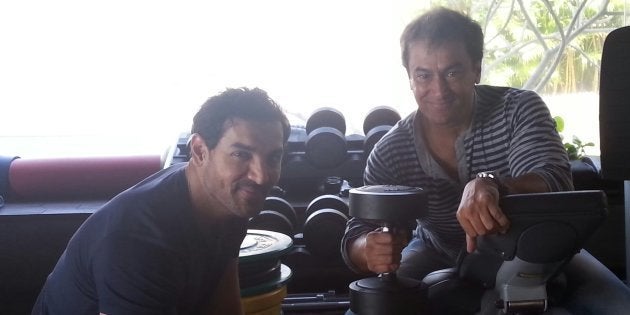 John Abraham is the only actor I know who's got female fans as young as 12 and as old as 80. They all think he's eye candy. Apparently the combo of stardom, big biceps, six-pack abs and a sexy butt comes at an awkward price. But he takes it in his giant stride. "Look at the bright side," John once told me, "at the end of the day I can't say I don't like this space. But I'm not a sex symbol. I'm a softie. People see through my muscularity, they aren't afraid to talk to me, to feel my abs and biceps and see if they are real. I really don't mind that."
People aren't afraid to talk to me, to feel my abs and biceps and see if they are real. I really don't mind that.
I've known John from before he became one of Bollywood's hottest properties. And I can tell you he's your normal middle-class guy at heart. He blushes every time little girls tell him he's sexy! "What to do," he said once, embarrassed, "sexy is a part of their lingo!" This was when he was voted Asia's Sexiest Man by a leading London weekly. And after a global poll by a popular Hollywood network to decide the World's Top 25 Sexiest Men put him at No. 7. He hasn't recovered from that honour. But he protested, "Hard work got me here more than just my physicality. I smile and accept the praise today, tomorrow is another day. I try to be normal and don't stick my butt out unnecessarily."
This, of course, was a tongue-in-cheek reference to that naughty scene in Karan Johar's comedy Dostana (2008) that saw John pulling down his bright yellow swimming trunks to expose a delectable portion of Bollywood's most famous derriere. He's come a long way since then. Trading sex for action, setting the tone for real gritty machismo on the screen, telling everybody who cares to listen that his inspiration is Sylvester Stallone.
Today, he's back in action. With Varun Dhawan and Jacqueline Fernandez in the sleek adventure-comedy Dishoom that packs its punch with a cricket-kidnap-drama plot.
The release is giving trade pundits palpitations because John's Dishoom takes on Tamil superstar Rajnikanth's Kabali that smashed all opening weekend records at home and abroad to enter its second week today. I don't think John is perturbed. His take is that the audience does not judge a star's popularity on numbers. "The audience should just enjoy the film, let the trade be obsessed with the box office," he said.
More than an in-demand film star, I've known John to be a particularly kindhearted person. For years he used to share his cell number with his legion of fans and took their calls and answered their SMSes between 2 and 4 am, offering straight-from-the-heart advice on how to deal with failure, sharing his workout and diet, counseling them on how to take life's knocks on the chin, helping them bench-press their way out of their problems. This was before social networking came in, and he used to get as many as 400 text messages and 1,500 calls every night. "It's my way of remaining in touch with the world," John said. "Life is worth living -- and no matter how bad your troubles may seem at night, it gets better in the morning if you talk it out with someone."
People connect with me because I remind them of their own struggles.
I did a very personal cover story on him for the 100 issue of an international men's health glossy. For this special edition, the magazine raised the bar by getting John to deliver his life lessons and tell readers what it takes to be fit at 40-plus. They were looking at John Abraham's story outside the sweat and tears of the gym. They needed him to explain why exercise should be a way of life and not just a phase. They wanted him to talk about success, stress, sex and style. They also wanted his wisdom on relationships, sports, food and insecurities. John gave paisa vasool. He shed all inhibitions and bared his soul to tell readers how he's been through life's fires and come out mentally tough and physically stronger. He admitted that he, too, sets goals, misses targets and gets demotivated. But that's how he carved his great physique. By ignoring his body when it was crying with the pain of injury and begging him to "Stop!" while listening to his mind that was quietly motivating him to "Go on!"
"People connect with me because I remind them of their own struggles," he explained to me. I know it's true. I once invited John to work out at my gym. A little old lady there asked him hesitantly, "I have a knee problem, is it okay if I run?" And John gently told her, "Yes, but I'd prefer if you simply walked on the treadmill instead." To me he whispered, "If I can't influence people, what's the use?" Meaning, what's the use of his awesome body, his great sex appeal, if he can't be a good human being first? His father once told him, "Son, you don't need to go to church to be a good person. You need to do good to be a good person." The little old lady then shyly suggested, "Why don't you take off your T-shirt?" And John Abraham blushed.