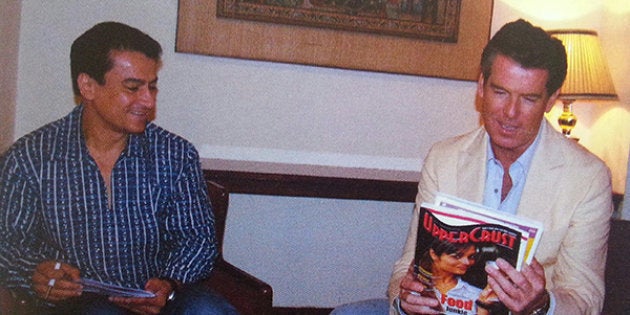 I don't know if Pierce Brosnan is a paan masala man. Eleven years ago when I "bonded" with him in Mumbai over an interview, he wasn't. Paan masala, which he blithely endorsed for an Indian manufacturer recently and got trolled, wasn't what the former James Bond actor popularly had post dinner. I doubt he even knew what it was. Nor was Brosnan a vodka martini man. Shaken—not stirred. That was strictly for the screen in his avatar as the Secret Service agent 007, Brosnan told me. He preferred wine. "Chardonnays of California," he said airily. But Brosnan smoked Cuban cigars. So did I. And in an interview scheduled over just eight minutes, in which I was to bring out the bon vivant in Brosnan, and find out what he liked to eat and drink, that's what we did. Smoked cigars.
He had been smoking cigars since he was nine! "I got hooked onto them when I was doing 'Remington Steele'," he said blowing smoke at me.
Brosnan came to Mumbai in 2005. His last Bond film was Die Another Day in 2002. Casino Royale, introducing Daniel Craig as Ian Fleming's famous spy, wasn't yet on any producer's mind. James Bond was in limbo. But Brosnan was the brand ambassador of a luxury Swiss watch. He came to launch its new chronograph edition. The Swiss watchmaker stingily offered print and TV interviews with the handsome Irish actor for eight minutes only. Editors were outraged. But Brosnan was here for just a day, he had no time—editors were told to take it or leave it. I was commissioned to do a food and wine story on him. I took it. I thought 008 minutes with the former 007 was better than nothing at all. But I figured a way to beat the clock installed at the interview venue under the watchful eye of a severe Swiss woman who would never have made a Bond girl. Two sets had been erected with portable displays of the Swiss watch as backdrop branding for the interviews. One for print, the other for TV. Brosnan effortlessly moved between them. The Swiss precision for timing was never more in evidence. As soon as your eight minutes were up, the Swiss timekeeper stepped in and unceremoniously scuttled you out.
I knew Brosnan smoked cigars. Confident he wouldn't have carried his own for this day trip to Mumbai, I took five of his favourites from my humidor and laid them out while I waited my turn. Brosnan strolled over languidly, tall and handsome, dressed in a beige jacket, light blue shirt and jeans. I expected him to say, "Hi, my name is Bond, James Bond." But he didn't. With a groan he lowered his 6'2" frame into the chair opposite me. Then he spotted the cigars and his cool blue eyes lit up. "Cigars!" he said incredulously. He sat up and after careful consideration selected one. He snipped off the end and lit it expertly with a match. Then drew on it to get an even burn. I was doing the same and also talking to him. The Swiss woman glowered because this wasn't the official start to the interview. Pierce Brosnan and I were just having a smoke!
We talked food and drink. Brosnan's a gourmet. He loves Indian curries and developed a taste for them when he was doing theatre in London. He can cook pasta and paella but wanted to learn how to do a chicken tikka masala. His wife Keely Shaye Smith is a great cook. They like to spend their days drowning themselves in pasta, wine and carbs. "Our best dinners are at home. We love going to fine wining and dining restaurants but the pomp and glory take away the taste of the food," he complained. Unlike Bond, he wasn't a connoisseur of wines and spirits. Not surprisingly, a study done in fun of all the actors who played 007 showed that Brosnan was the "least boozy" of them all. But he had been smoking cigars since he was nine! "I got hooked onto them when I was doing Remington Steele," he said blowing smoke at me. He also enjoys fishing and painting. They are, Brosnan said with an easy smile, his "closest companions."
"I found it's a good idea to incorporate a little Bond in all my dealings." That's what the Indian ad-filmmaker also thought when using Brosnan as Bond again to sell paan masala...
He was as charismatic as I've seen him on screen. I asked him about Bond, finally. "He's an enigma," Brosnan said, "he's smooth and bigger than life, but he's vague as a personality. Look, I'm thankful the role made me an international star. I've been in the backwaters of Papua New Guinea and people said 'Hey Bond!' But being an actor in Hollywood involves lots of things beyond acting. Charm really helps. And I found it's a good idea to incorporate a little Bond in all my dealings." That's what the Indian ad-filmmaker also thought when using Brosnan as James Bond again to sell paan masala because of the character's timeless and classy universal appeal. Unfortunately, the Central Board of Film Certification was less than enthusiastic. It has banned the ad from national and satellite TV. Its chief, the redoubtable Pahlaj Nihalani, said the ad was "selling death to people." An ironic thing to say about the suave Pierce Brosnan whose last James Bond film made it stylish to Die Another Day.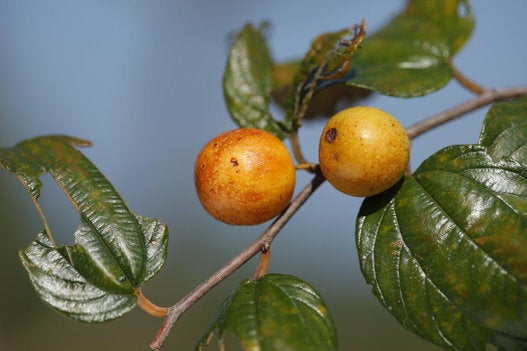 Gorgeous Photos Of Delhi's Native Trees