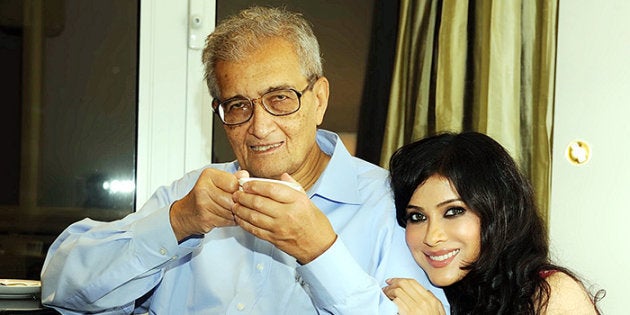 If it didn't have several Bengali poets, authors, actors, historians, academicians, some politicians, and other celebrities in Kolkata up in arms, I might have found Prof. Amartya Sen's run-in with the Central Board of Film Certification (CBFC) over his documentary The Argumentative Indian somewhat amusing. Now I am only bewildered by the intolerance behind what's happening.
Tollywood filmmaker and economist Suman Ghosh made The Argumentative Indian based on Prof. Sen's 2005 book which is a collection of essays exploring India's history of public debate. The documentary has Prof. Sen in conversation with his student Kaushik Basu, a former Government of India chief economic advisor, and it was shot at Santiniketan with Ghosh behind the camera.
You asking me who I like [in films] is akin to asking me a cooking recipe. I'm happy to tell you. But my recipe won't alleviate the culinary world much!
The Argumentative Indian was shown in the US in May at the annual New York Indian Film Festival. And it had its European premiere at the London Indian Film Festival in June. Both screenings got popular reactions. But its release in India this week was nixed by the CBFC whose regional office in Kolkata asked the producer to bleep out five words from the documentary. These are "Gujarat", "Hindutva", "cow" and "Hindu India".
The Censor Board is notoriously hidebound in its views. That's the opinion of most filmmakers. Prof. Sen, who is an outspoken critic of the Narendra Modi government, believes that it has been appointed by the Centre to act more in the interest of the ruling party than the nation. His astonishment at its order is justified. Ghosh is outraged. He won't follow the CBFC's diktat. But the disfavoured Censor Board chief Pahlaj Nihalani said they were only doing their job. Unfortunately, The Argumentative Indian finds itself in a standoff.
I was under the impression that Prof. Sen had no perspective on cinema. He put that thought into my head in an interview several years ago. This despite the fact that he was the subject of three international documentaries—The End of Poverty, Nobelity and Wide Angle—which looked at the future and aimed at solving global problems like poverty and environmental degradation. The interview was fixed by his daughter and my friend, the actress Nandana Sen, and I went expecting the Nobel Prize economist to be well informed about cinema.
But Prof. Sen was not. He knew five people connected with filmmaking. And these he counted for me with much difficulty and some prompting from Nandana herself. "I knew Satyajit Ray extremely well," he began, "he and I studied at Santiniketan. I had huge admiration for him. And I know Mira Nair, Shyam Benegal, and, and... what's his name, Mrinal Sen! I also know Nandita Das and like her films. And I met... what's the name of the guy who acted with you in Rang Rasiya... I shook his hand? Randeep Hooda? I also met Amitabh Bachchan, whom I don't know, and Shabana Azmi's an old friend. I used to like her father's poetry and now I like her husband's. And I met Salman Khan..."
[Daughter Nandana s film 'Rang Rasiya'] ran into censorship issues because of its bold portrayal of kissing and nudity. Prof. Sen was furious. "Has it been made for the archives?"
Prof. Sen was in Mumbai to deliver a keynote lecture for the Indian Philosophy Congress and I met the distinguished father and his lovely daughter at his suite in the Taj. I was drinking coffee. He ordered a pot of Darjeeling tea. When it came, Prof. Sen was appalled. "This tea is too strong for Darjeeling," he grumbled, "it's got the strength of Assam." Then to Nandana, who was busy eating the hotel's complimentary pistachios noisily, he said, "Chuck it in the sink!"
He is unintentionally humorous, he speaks in a deep, rumbling voice, and he chooses his words carefully—even if he isn't talking welfare economics. That's his hobby horse. And at 84, he travels around the world on his Nobel Prize ticket, astonishing scientists and academicians with his philosophy on poverty, gender inequality and political liberalism. But I had got him onto cinema. And Prof. Sen was struggling. "You're wasting your time, I'm not knowledgeable about films," he said trying to discourage me. "You asking me who I like is akin to asking me a cooking recipe. I'm happy to tell you. But my recipe won't alleviate the culinary world much!"
Nandana, fortunately, was not having any of it. "Baba, you like Sharmila Tagore, isn't she one of your favourites?" she chided him. "Yes," Prof. Sen reluctantly admitted. "And Katherine Hepburn... what a fantastic actress, so sharp and intelligent." Then he surprised me by saying, "Jane Fonda, I know. I've had a couple of dinners with her. Her husband, Ted Turner, started the UN Foundation in 1998. My wife Emma Rothschild is a trustee. And the dinners where spouses gather, are quite impressive."
Jane Fonda, I know. I've had a couple of dinners with her.
But to come back to cinema, Prof. Sen insisted that he doesn't see too many films. "What about Nandana's films?" I asked. Rang Rasiya, in which she plays the 19-century Indian painter Raja Ravi Varma's ardent muse and appears topless in one breathtaking scene, Prof. Sen saw at the London Film Festival when it premiered in November 2008. He liked it, his daughter's nudity and passionate love-making sequences notwithstanding. "She's sensuous," he said simply in explanation. But the film, made by Ketan Mehta in 2008, expectedly ran into censorship issues back home because of its bold portrayal of kissing and nudity. It only got released in November 2014. Prof. Sen was furious. "Has it been made for the archives?" he asked querulously.
This was one of his rare visits to Mumbai. His work brings him to Delhi. And his heart takes him to Kolkata. At the end of the interview Prof. Amartya Sen looked out of the window at the Gateway of India and said, "I have various memories of the Taj. The best one is of defeating the Australian cricket team here! I was in the health club, exercising on the bike and watching a news channel, when they came in. They wanted the bike and to change the channel. I objected. They were a little assertive and gave me the democratic argument that there were more of them. But I was here first, I told them. Then their captain, Steve Waugh, came. He conceded that I had a point. I thought, no matter how poorly India did in cricket against Australia, I had done reasonably well!"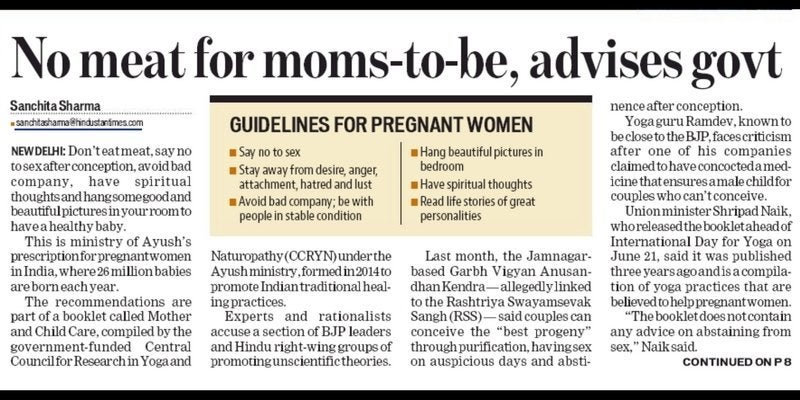 How Different Newspapers Covered The Ayush Ministry's Advice To Pregnant Women