Marcy Newman
Nowadays, when you look at company websites -- especially large, multinational corporations -- you expect to see a section devoted to their CSR (Corporate Social Responsibility) division. In the late 1980s when I interned with LensCrafters' then-burgeoning programme "Give the Gift of Sight" (now OneSight), which collected used eyewear to refurbish and donate to those in need of prescription spectacles in developing countries, it seemed like a novel idea. It wasn't called CSR and it wasn't legislated, although it certainly served to secure positive publicity while enabling eyeglasses to be reused as well as meet needs of humans around the world.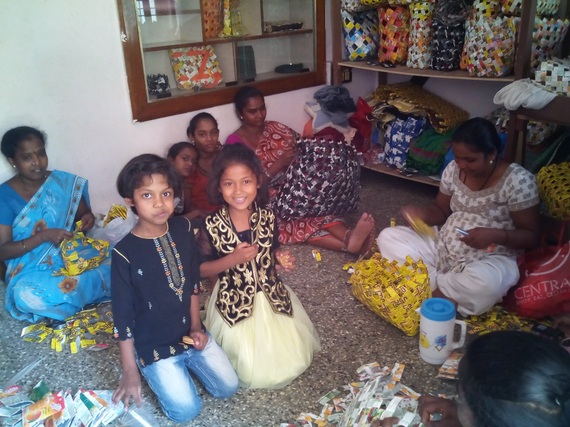 Creating colourful handbags out of Tetra Paks and cement bags at Anu Life
This model of companies "closing the gap" or using "closed-loop" solutions for producing consumable items was certainly the norm before the industrial revolution brought us this modern age of waste and pollution. But in the 21st century it seems anachronistic to suggest what William McDonough and Michael Braungart call the "cradle to cradle" (as opposed to the "cradle to grave") system. In this paradigm, when a producer creates a product she does so with an understanding that whatever materials (conceived of as "technical nutrients") are used to make the item and its packaging will return to her so she can reuse that raw material as a resource to make items all over again. It mimics nature and the way it reuses biological nutrients, like when you compost. It's at once eco-friendly and economical.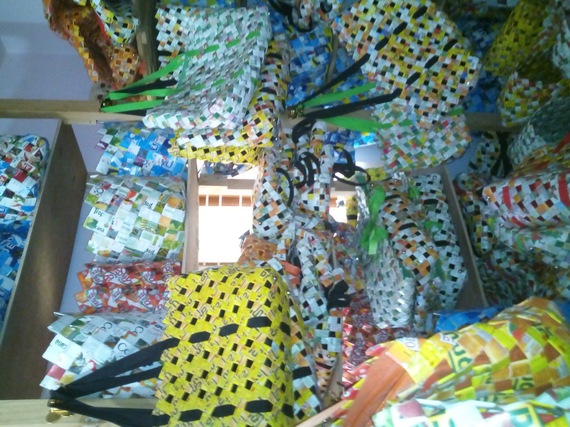 Juice cartons in another life, stylish bags now
In the US, the pioneering SWM (solid waste management) company TerraCycle is implementing this concept by working simultaneously with producers and consumers to reuse, recycle, and upcycle these raw materials. One can see this method in action in TerraCycle's television series Human Resources, especially in the episode when founder Tom Szaky meets with his counterpart at Garnier to discuss cosmetic packaging and upcycling plastic packaging to create an upcycled playground for children.
Look familiar?
Here in India (especially in Karnataka), new laws are making it more feasible to recycle and more people are taking the initiative to upcycle what is not easily reusable or recyclable. Such products are often made of multiple materials like the packaging that biscuits come in or juice and milk Tetra Pak cartons. Now, Tetra Paks are ubiquitous -- one can find them in street litter, on school grounds, and in home waste bins. The company claims these cartons are recyclable, although there are also reports that suggest, while this may be true in theory, it is not yet practised very widely. There are initiatives for recycling them by private companies like Saahas Zero Waste, but it remains unclear what happens to those cartons once they are collected. As a recent TERI report reveals, while many waste pickers and kabadi-wallas may collect Tetra Paks, the paper mills do not have the capacity to separate the materials and so it is not economically viable to recycle them at this time.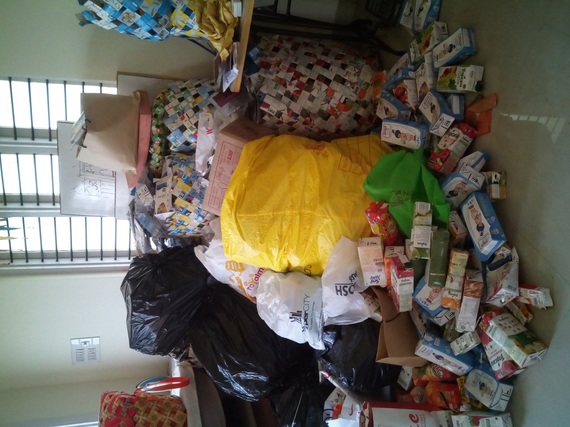 Raw materials
One intervention that has helped to lessen the burden of Tetra Paks in Bengaluru has been the upcycling of those cartons into baskets and bags by the creative humans at Anu Life and Joy @ Work. These projects, both founded by Devika Krishnan and benefiting from her business and design savvy, seek to empower women by building livelihoods for them out of creating useful and beautiful products from materials that would otherwise fill Bengaluru's landfills.
The model used in Whitefield and in Banaswadi can easily be replicated around the city and country in order to upcycle non- or less-recyclable materials and to provide jobs for women, too. It could also be a project that which companies producing waste, in this case Parle and Pepsi, as well as Tetra Pak, could support through collection centres that provide the women with their raw materials (otherwise they must purchase them from Saahas or the dry waste collection centres run by the municipality) and by marketing and showcasing their work. It certainly aligns with these companies and their CSR goals. This would be an excellent way of incorporating their own brands back into their CSR while closing the gap. This is also how one creates a system in which producers and consumers work together to create sustainability in an environment that we all have to share.