Koonyongyut via Getty Images
Ladakh was always on my bucket list, for obvious reasons - the mighty Lower Himalayas, the pristine monasteries, the stark landscapes. Less desirable, of course, were the perils of travelling at high altitudes. Lungs give way to breathlessness, vehicles break down, aerated food packages get deflated and one's stamina pretty much goes into hibernation. There is no way to fool the altitude and it is one of the biggest reality checks that you can put your body through. So this trip was about discovering the beauty of nature and testing my fitness levels.
However what touched me the most on this wondrous trip to Ladakh was its people. Simple yet shrouded in beautiful complexities, right from their faces to their lives, everything about these people is full of contrasts. I am sharing a few lives with you. Some real, and some fleshed out by my imagination.
Etched with time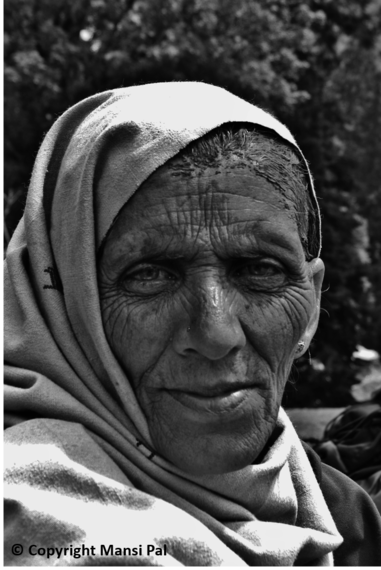 I was resting on a hill after a steep climb. She came and quietly sat next to me as if she had known me for ages. I looked at her, lost in her finely wrinkled face and light brown eyes. I smiled at her. She grinned back toothlessly and asked me if I had a Crocin (a medicine to cure headaches), the nearest pharmacy being an 8km hike up and down a steep hill.
Not a hiker, a climber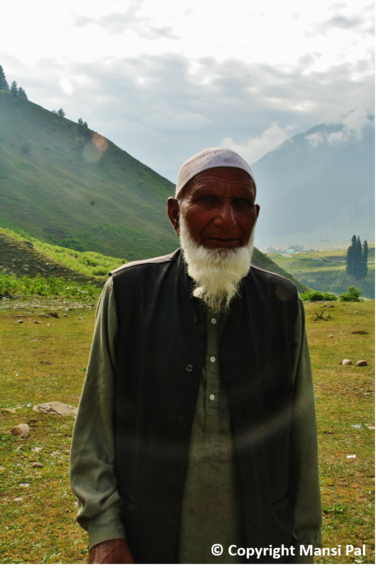 Meet Mr Salim from Sonamarg. He has an interesting life. He reports early at base camps to make sure the tents are packed, supplies are aplenty and the horses are well fed and watered. He does all this by tapping and waving his walking stick around the camp. He looks amused at people who are struggling with pitching tents and packing backpacks. There is a grace in his gaze. He is not a hiker but he's definitely a climber.
Mind your language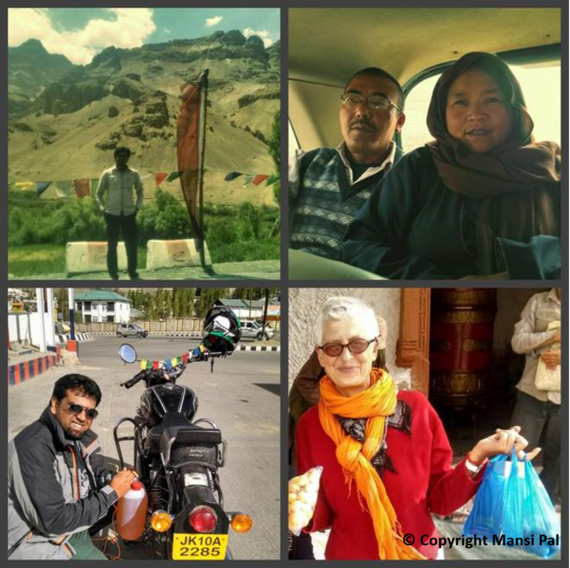 I travelled from Leh to Sonamarg via Kargil and Drass with a motley bunch: a Buddhist Swiss lady who loved samosas and Ladakhi matar (apricots); a young man from Lucknow who only spoke Hindi and was fascinated by the emotion she invested in saying "really"; a Kannadiga with very poor Hindi speaking skills who excitedly introduced the Lucknow man to the virtues of rice eating; and a Ladakhi couple with a royal name -- the man spoke Hindi and the woman was a mute spectator. They had never travelled beyond Srinagar but still looked satisfied with life.
I did a fine job of translating conversations from Hindi to English and back for the benefit of my co-travellers. I was also the official photographer and now have the task of emailing photos to crazy-sounding email IDs!
The Ladakhi 'matarist'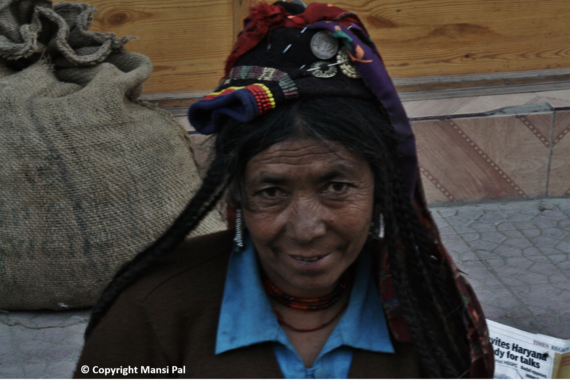 I noticed her from a distance while looking for a lens cap at a camera shop at the Leh market. Her quirky hairdo was what caught my eye. I imagined her to be a curt, cool woman who was going about selling Ladakhi matars (apricots) with German precision. She turned out to be just that as I moved closer to her to take a better a look and a good picture. She knew I was there to click her and she was quick with a business proposal, "Buy 500gm of Ladakhi matar and you can take a photo of me." The deal turned out sweet for me because the matars were delicious!
The monk who blew bubbles with his chewing gum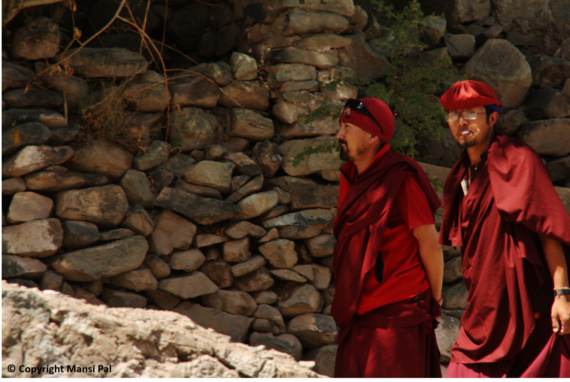 It's strange how we lesser mortals think that all monks are hermits. We think that monks don't do anything but live on top of mountains and pray. Well, during our visit to Hemis, we found out that some monks love bubble gum. And they can blow pretty big bubbles too. Unfortunately, I clicked this picture just as the bubble burst.
The happy-high curio seller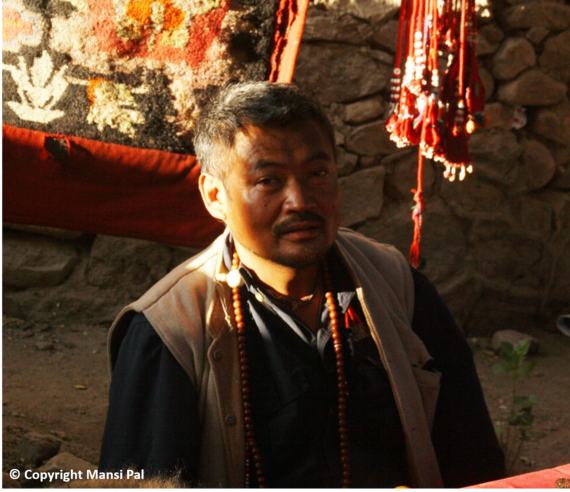 He sat at a flea market selling Ladakhi artefacts. But he wasn't making much of an effort. While the others in the flea market jostled to make a profitable sale, he took long sips from a raw wooden mug, his eyes very apparently drunk. Noticing everyone but reaching out to no-one. The shadows from the sunset left half his face dark and the other red.
Friends from different times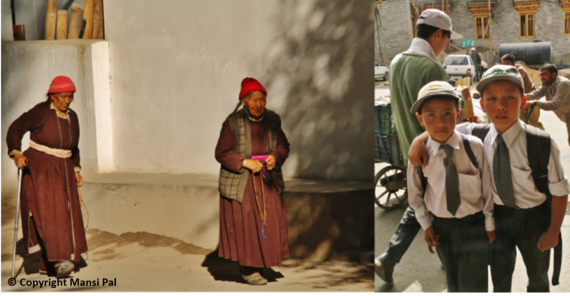 The people of Ladakh are a warm, friendly bunch. And almost no one walks alone. Whether it's an evening stroll with old friends or the walk home from school, being together is key.
Open yet closed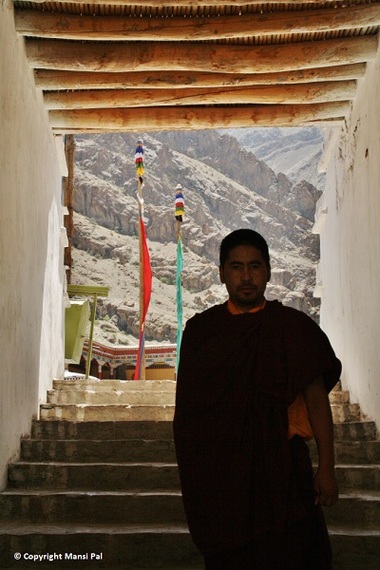 The Hemis monastery was shut for lunch and this monk moved around swiftly. He looked like a man with a purpose. I hesitated to ask him when the monastery opened again, but he stopped and explained. I tried to chat, find out more about him and his life. He smiled and moved away.
On a mission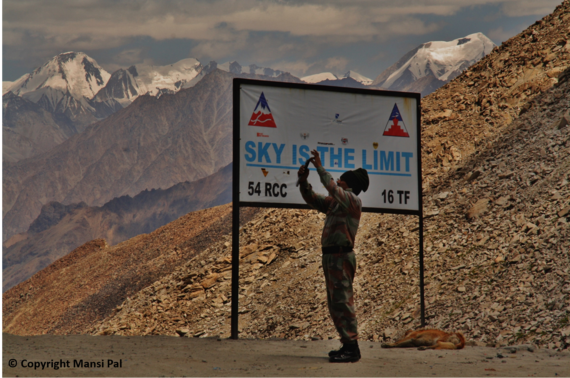 The solider was moving between huge green army tents. He got off at Khardung La to click a few pictures to send to his family. The family he hadn't met for six months. Even on a break he knew where to point the camera -- towards the sky!
Squatting spectators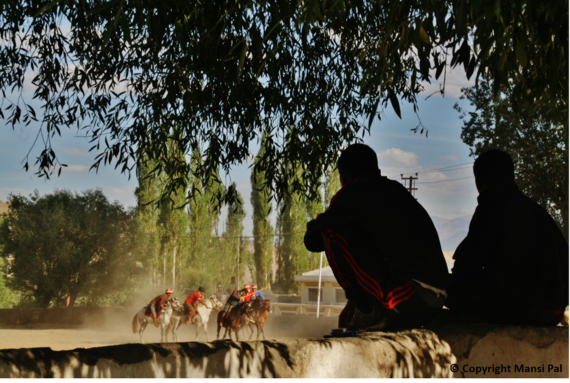 Lazing around during their lunch break at the local departmental store watching army officers playing a dusty game of polo. Wishing for time to stop, because this was the closest they got to watching a live sport.
The tea and Maggi maker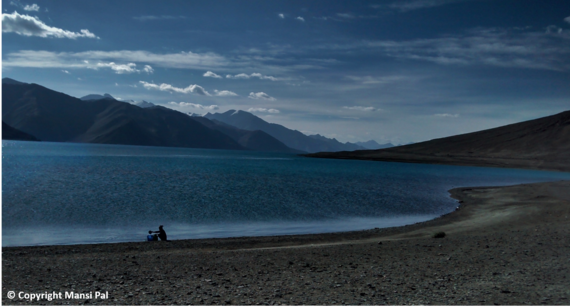 She travels on a rickety village bus to work at a shop that sells Maggi and tea at Pangong Lake. At 4249m above sea level it does not make sense to have complex menus. She keeps tourists warm with the simplest and quickest foods on the planet. While the lake is a wonder of nature for us, for her it is a washing bowl.
An old man's prayer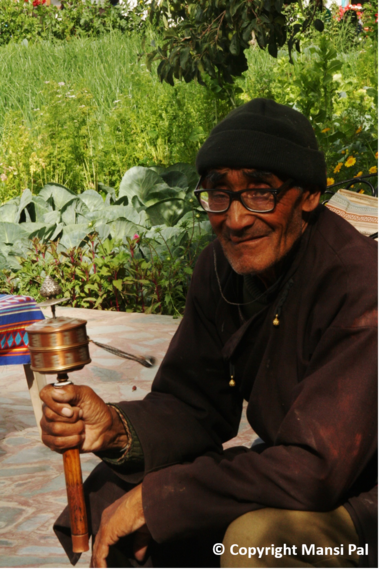 He is the head of the family that runs the Shanti Guest House near the Shanti Stupa in Leh. He has seen the hotel grow and a million people come and go after being wooed by the beautiful landscapes of Ladakh. He has aged. He now spends his last days with his prayer wheel on the hotel lawns, watching excited tourists flitting about. Winter is coming, so he is making the most of the summer sun.
The little monks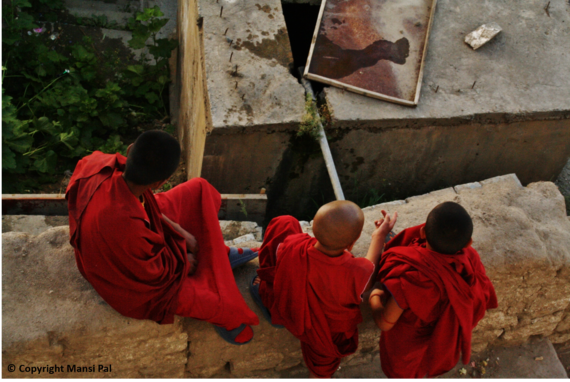 They start early, learning English, math and science along with their spiritual education. Though a lot of these kids are second and third generation monks who know little of the outside world beyond the walls of their monastery other than what they read in their books, there are a few who are abandoned at the doors by parents who couldn't afford to raise them. However they end up here, the little ones spend their days like any other child -- fighting over marbles, running after footballs and skipping classes.
The Kannadiga In the middle of nowhere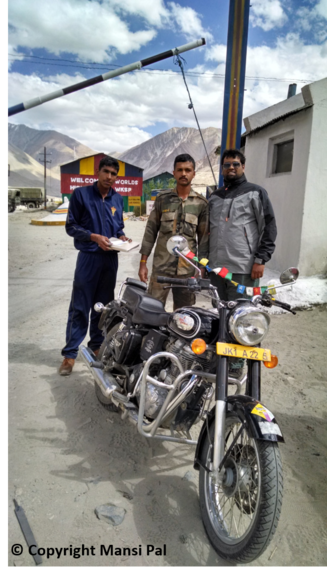 Malayalis are ubiquitous all over the world. Kannadigas aren't. We ran into a Kannada-speaking Mysorean when our bike broke down in the middle of nowhere, on the ride from Leh to Pangong. We stopped at the World's highest field repair camp to get our bike fixed. The army mechanic who fixed it for free turned out to be a Mysorean.
Like Us On Facebook |

Follow Us On Twitter |

Contact HuffPost India