Jay Nair
We came through the Mumbai Airport gates with a smile on our faces at having come home, but also an acute sense of sadness of parting from the places and people we had been parted from.
The night before
While seven of us sauntered down the Mall Road in Gangtok, eight others relaxed at a famous Tibetan joint called Taste of Tibet. We, however, were on a spree of collecting souvenirs for our loved ones back home. We found a petit bistro named Bakers Cafe that served local bread, wine and coffee. It had started to drizzle outside, little lights on the street and shops made the road seem like a street magic fair. Steaming cups of mocha, some Himalayan bread, butter made of yak milk, and a few cupcakes made their way to our table. We spoke fondly of our travels, there was laughter, coffee cups raised for a toast and promises to do it all over again together.
Morning and evening
Breakfast over, seven of us were headed out to see places in and around Gangtok. While the initial plan was to see Nathu La and Tsango Lake, the pass was closed that gave a little twist to our travel tale. As we drove a little away from Gangtok, we left behind roads that could make one want to travel without destination... tall trees on the sides and the Kanchenjunga range beckoning ahead. We reached the Rumtek Monastery (it was my first time at a Buddhist monastery). The silence nestled in the sanctum sanctorum echoed in the domed ceilings. The monastery is built and painted as an exact replica of one in Tibet. I watched monks in a game of football, their high-spirited laughter making the play divine. That image in our minds, we headed to Tashi viewpoint for a quick snack of momos and potato thukpa. We tucked in while hailstones pelted the ground outside. The memory of an old couple sharing a local joke with us and our laughter resonating in the mist, drizzle and the faraway Kanchenjunga has stayed with me. That night we went to a pub where musicians performed live. There were happy faces, people dancing away, great food and laughter.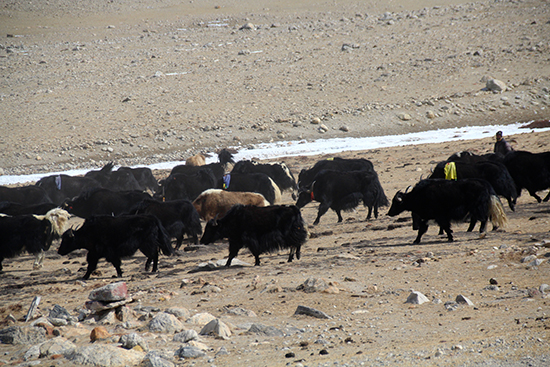 Image by: Jay Nair
Day 4
Morning, we checked out from Lachung, a village we had stopped by en route to Gangtok from Yumthang Valley, where we basked in the morning sun, ran a hand through the beautiful blue poppies and watched lazy yaks graze across a landscape of peaks and meadows. The route from Lachung to Yumthang is along the Singba forest reserve, with winding roads and an occasional drizzle with pit stops for noodles, thukpa and steaming cups of ginger and clove tea.
Day 3
Thangu is 13,000ft above sea level and this is where I had my first tryst with snow. We passed through Chopta Valley and its breath-taking snowy scenery. We crossed Lake Cholamu which happens to be the source of the River Teesta that flowed along our path the entire way. Pine trees covered in snow trailed alongside as we spotted deer, horses and snow hounds.
Lake Gurudongmar (17,800 ft above sea level): From a distance we spotted the clear glistening water in the middle of a frozen landscape. This was it! Our quest, the reason I had wanted to make this journey. The oxygen levels are about 6-7% and running or brisk walking are strict no-nos. The temperature in winter dips to -37 degrees Celsius on an average. The sun rays highlighted silver streaks onto the snow sheets and the water sparkled revealing the roundish rocks at the bottom. I sat there, thinking about all the things mysterious and mundane, and then drawing a blank and simply enjoyed the silence.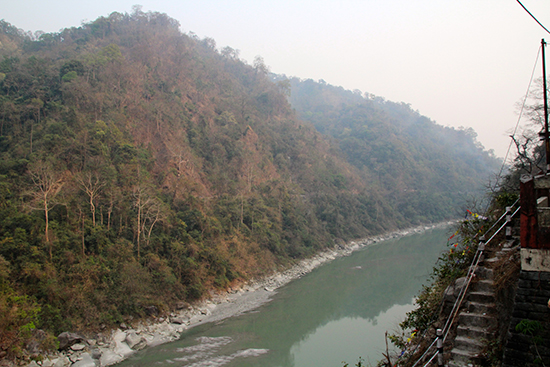 Image by: Jay Nair
Back to the beginning
We landed at Bagdogra and met the people we would be spending the next five days with. This was a trip with strangers (somewhat like-minded) all who loved travelling. Our journey towards North Sikkim began on a rather dusty note, yet as we rolled on my eyes widened at the beauty that unfolded outside the window. River Teesta came into full view, right outside the inn we stopped at. We moved alongside the river until we entered Sikkim that night - she would be our constant companion from that day on. The white rocks on her shores added a strange melancholy to the scene. As twilight claimed the afternoon, and the dark greens paled to dusky ochre, I took in the roads that lay ahead and those which I had left behind.
Like Us On Facebook |

Follow Us On Twitter |

Contact HuffPost India