Let's Eat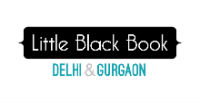 Little Black Book, Delhi presents pages from their Little Black Book, telling you what's on in the Capital today, tomorrow and the day after.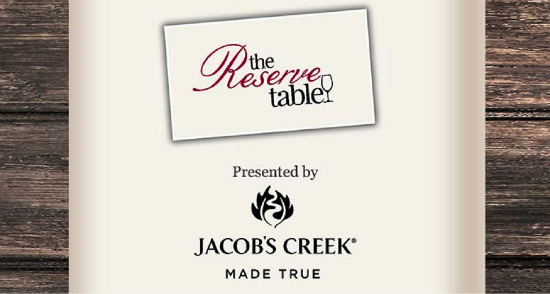 The Reserve Table
ON THROUGH THE WEEKEND
FOOD AND DRINK
What: The Reserve Table, with Jacobs Creek, book a spot for yourself on the longest reserve tables in India. Break bread, learn about wine and share your passion for it with your fellow diners. Discover little known facts about the Australian wine and it's heritage!
Price per head: INR 3524
Where: JW Marriott Aerocity, Delhi
Reserve your spot and find out more details, here.
What: The Food Flea Market, presented by Olive Qutub and Eat Treat
When: 28th Feb - 1st Mar, 12pm - 10pm
Where: Olive Bar and Kitchen, Mehrauli
FILM SCREENINGS
What: Lightcube Film Society presents "Transmissions 3", the Festival of Independent Cinema From Around The World
When: 26th Feb - 1st Mar, 11am
Where: Auditorium, Instituto Cervantes, 48, Hanuman Road, Connaught Place (CP)
ART & EXHIBITIONS
What: Full Stop Weekend Festival 2015 , Full = Abundance | Stop= Light Unit in photography | Weekend = Sat + Sun
When: 28th Feb - 1st Mar, 10am
Where: DLF City Club, Sector 30, M Wide Road, DLF City Phase IV, Gurgaon
What: Temporary Exhibition: Nauras: The Many Arts of the Deccan, Curated by Dr. Preeti Bahadur and Dr. Kavita Singh
When: 28th Jan - 20th Mar, 10am - 5pm {closed on Mondays and public holidays}
Where: National Museum, Janpath
What: 'Excavations/Eruptions' - the latest group show, Curated by leading art critic and curator Yashodhara Dalmia
When: 26th Feb - 25th Mar
Where: Vadehra Art Gallery, D - 53, Defence Colony
What: The V Rennaissance, at The Indian Luxury Expo 2015
When: 27th Feb- 1st Mar, 11am-8pm
Where: DLF Emporio Mall, Vasant Kunj
What: Layers of wind, lines of time, a solo exhibition of recent works by Alwar Balasubramaniam
When: 27th Jan - 2nd May
Where: Talwar Gallery, Neeti Bagh
DANCE
What: "Argentine Tango festival" Dance Performances & Workshop, Non-stop tango workshops and performances
When: 27th Feb- 1st Mar, 1pm - 11.30pm
Where: Vivanta by Taj - Surajkund, Shooting Range Road, Faridabad
What: "Paatra Parichaya", Bharatanatyam Dance Festival
When: 25th Feb and 26th Feb, 7pm
Where: The Stein Auditorium, India Habitat Centre {IHC}, Lodhi Road
OTHER
What: India Kids Fashion Week (IKFW)
When: 28th Feb - 1st Mar,
Where: The Grand New Delhi, Vasant Kunj - Phase II, Nelson Mandela Road
For more information, click here
What: SHE Festival, a celebration of womanhood and a festival for women warriors
When: 28th Feb - 1st Mar, 1pm
Where: Dilli Haat INA, Sri Aurobindo Marg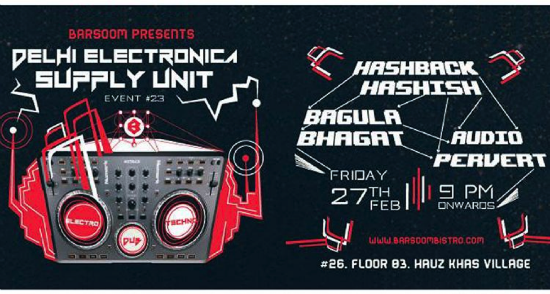 Delhi Electronica Supply Unit
FRIDAY
FILM SCREENINGS
What: Buddhism in Sikkim, IGNCA Film Circle presents a film screening
When: 27th Feb, 5pm
Where: Auditorium, Media Centre, Indira Gandhi National Centre for the Arts (IGNCA), No. 3, Rajendra Prasad Road
What: Mississippi Burning, film screening
When: 27th Feb, 6pm
Where: American Center, 24, Kasturba Gandhi Marg
FOOD AND DRINK
What: Lets Eat, a fundraising dinner presented by The Human Project and the Khusbu Project
When: 27th Feb, 8pm
Where: Lodhi Garden Restaurant, Opposite Mausam Bhawan, Near Gate 1, Lodhi Road
For more information check out their website here and their youtube here
Tickets are priced at INR 3500 per person. This includes a seven course meal with non-alcoholic beverages. To book a meal, they will have to call 9654650327 or 9810343984. You can also write to jointhehumanproject@gmail.com
THEATRE
What: Collegiate Drama Society {Regd.} with the Russian Centre of Science and Culture presents Anton Chekhov's "Three Sisters", to celebrate 155th Birth Anniversary of Anton Chekhov
When: 27th Feb, 6.30pm
Where: Russian Centre of Science & Culture {RCSC}, 24, Ferozshah Road
What: "Toba Tek Singh" Hindi play, presented by Saksham Theatre Group
When: 27th Feb, 7.30pm- 9pm
Where: Vasuki Auditorium, Lok Kala Manch, 20, Lodhi Institutional Area, Lodhi Road
MUSIC AND GIGS
What: Delhi Electronica Supply Unit, Friday Night Relaunch at Barsoom
When: 27th Feb, 9pm
Where: Barsoom, 26, third floor, Hauz Khas Village
What: Faridkot, live band performing
When: 27th Feb, 8pm
Where: ELF Café & Bar, Hauz Khas Village
COMEDY
What: Laughter night with Neeti Palta & Vikramjit Singh, bringing a female perspective into comedy
When: 27th Feb, 9pm
Where: Quote Bar, 44 Regal Cinema Complex, 2nd Floor, Connaught Circus, Hanuman Road Area, Connaught Place
What: Stand-up comedy, by Jeeveshu Alhuwalia
When: 27th Feb, 8pm
Where: Barrels, Ist Floor, Building No. 5, Basant Lok Shopping Complex, Vasant Vihar
OTHER
What: The Space Sensitive Soul - Antal Szerb (1901 - 1945), Lecture by Dr. Margit Köves
When: 27th Feb, 6pm
Where: Hungarian Information and Cultural Centre (HICC), 1-A, Janpath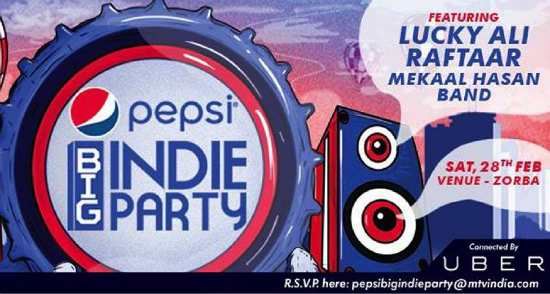 Pepsi Big Indie Party
SATURDAY
FILM SCREENINGS
What: "Audace Colpo Dei Soliti Ignoti {Fiasco in Milan}" film screening, As part of "Double Bill" film series
When: 28th Feb, 2pm
Where: Italian Embassy Cultural Institute, 50-E, Chandragupta Marg, Chanakyapuri
What: "La Scoperta Dell'Alba {Discovery at Dawn}" film screening, As part of "Double Bill" film series
When: 28th Feb, 4pm
Where: Italian Embassy Cultural Institute, 50-E, Chandragupta Marg, Chanakyapuri
MUSIC AND GIGS
What: Delhi Electronica Supply Unit Relaunch | At Barsoom
When: 27th Feb, 9pm
Where: Barsoom, 26, 3rd floor, Hauz Khas Village
What: IHC Music Masterclass by Pt. Ajoy Chakraborty, presented by ITC Sangeet Research Academy Kolkata
When: 28th Feb, 9.30am - 4pm
Where: Habitat World, India Habitat Centre, Lodhi Road
What: Hindustani Vocal recital by Brajeswar Mukherjee & Kumar Mardur, presented by ITC Sangeet Research Academy Kolkata
When: 28th Feb, 7pm
Where: Habitat World, India Habitat Centre, Lodhi Road
What: Pepsi Big Indie Party, by Pepsi MTV Indies
When: 28th Feb, 3.45pm onwards
Where: Zorba, 166, MG Road, Sultanpur, New Delhi
What: "Music for the Planet King" Concert | A selection of Juan Hidalgo's early works
When: 28th Feb, 6.30pm
Where: Instituto Cervantes, 48, Hanuman Road, Connaught Place
DANCE
What: "Fundamentally Yours... The Adavus" Bharata Natya Workshop by Mamata Niyogi Nakra | By Kala Bharati and Kri Foundation
When: 28th Feb, 6.30pm
Where: Seminar Rooms No. II & III Kamladevi Block, Main Building, India International Centre {IIC}, 40 Max Mueller Marg, Lodhi Estate
What: An evening of Kathak Dance
When: 28th Feb, 6pm
Where: Vasuki Auditorium, Lok Kala Manch, 20, Lodhi Institutional Area, Lodhi
Road
COMEDY
What: The Papa CJ Comedy Company, An evening of Stand-up comedy as a part of Stage42
When: 28th Feb, 7.30pm - 8.45pm
Where: Epicentre, Apparel House, Sector 44, Gurgaon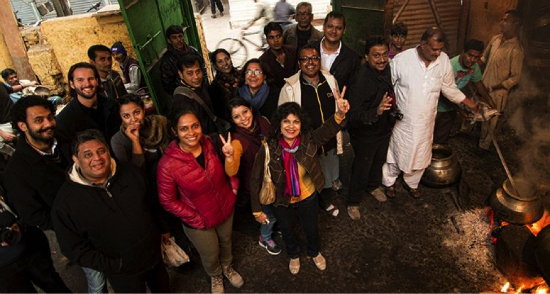 Shahjahanabad At Dawn
SUNDAY
MUSIC AND GIGS
What: 132nd Concert, a concert presented by Sangeet Sandhya
When: 1st March, 2pm
Where: Auditorium, Jalvayu Vihar Community Centre (JVCC), Sector 21
What: Sham-E-Mausiqi, Lok Kala Manch is presenting an evening of Indian traditional dance and music
When: 1st March, 6pm
Where: Building No. 20, Lodhi Institutional Area, New Lodhi Road, Lodhi Road
THEATRE
What: Khwaishen, a Hindi play presented by Saras Prayas
When: 1st March, 6.30pm
Where: Muktadhara Auditorium, Banga Sanskriti Bhavan, 18-19 Bhai Veer Singh Marg
What: Theatre Sheatre, Bhaav Arts of Expression presents a One Day Theatre Festival
When: 1st March, 2.30pm
Where: M.L. Bhartia Auditorium, Alliance Francaise De Delhi, 72, Lodhi Estate
What: Kabuliwala, Master storyteller, Kamal Pruthi will be essaying the role of Kabuliwala and narrating some popular tales from our old times to the kids and other audience
When: 1st March, 11am
Where: Oxford Bookstore, N 81, 1st Floor, Connaught Place
OTHER
What: Shahjahanabad At Dawn, The Majestic and Mysterious in Unseen Delhi, a walk presented by DelhiByFoot
When: 1st March, 8am
Where: New Delhi Railway Station, Ajmeri Gate Exit, Gate#3
What: Celebrate Holi, Celebrate the festival of colours at Kunzum as they host, Holi Fiesta
When: 1st March, 2pm
Where: T 49, Hauz Khas Village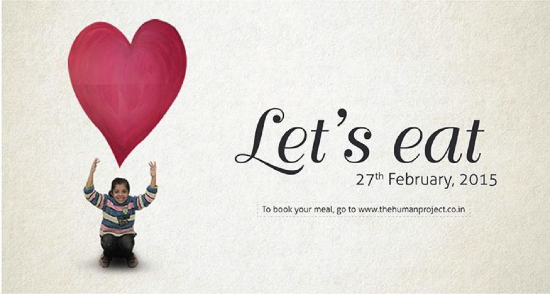 Let's eat