While North Indians debate over the taste of butter chicken in Mumbai (it's often sweet, which is a fact), the truth remains that the city has managed to ace the recipe in its own way. So Little Black Book did a round-up of some restaurants we think hit the right spot.
Mini Punjab
This one's an oldie but a goodie. Bandra residents swear by the rich Punjabi food served fresh at this eatery, which is open till late in the night; call and they'll deliver piping hot butter chicken and naan. The preparation is creamy with succulent medium-sized pieces of chicken. They also serve butter chicken rolls in case you don't wish to get your hands messy.
Where: 3, Kailash Shopping Center, Junction Of 16th & 33rd TPS Road,Pali Hill, Bandra West
Contact: 022 26006164, 022 26004395
Goila Butter Chicken
Chef Saransh Goila's home-delivery joint in Andheri is all sorts of awesome and just what the city's Punjabis have been waiting for. As the name suggests, the eatery specializes in butter chicken, which is cooked to perfection in a thick, red gravy. Interestingly, the dish is cooked without cream or sugar (say what?), but the flavours (tomatoes, spices and cashews) are mixed so well, it will be hard to tell the difference. The chicken uses Saransh's very own family recipe, which, believe it or not, is adapted from that of a paneer dish.
Where: Shop 26, Sai Kanwal Complex, Indira Nagar, Near DN Nagar Metro Station, Andheri West
When: Noon to 3pm, 6:30pm to midnight
Pritam Da Dhaba
This hardcore Punjabi eatery, which is designed like a dhaba (they have funky khatiyas or cots for outdoor seating), is famous for its North Indian cuisine, and their butter chicken is one of the many items that stand out on their menu.
Termed murg makhani, this comforting dish is as rich in its flavours as it is in its calorie count, but who really cares about weight when there's such a scrumptious dish in front of you? We say, eat with all your heart.
Where: Hotel Midtown Pritam, Pritam Estates, Dadar East
Contact: 022 24143311, 022 24143817
Butter Chicken Factory
This new North Indian eatery has opened up recently on the already very heavily populated 33rd Road in Bandra, off Linking Road. If you're not distracted by the charms of Khaan-e-Khas nearby, we recommend you head here to get your fill of culinary nostalgia.
We recommend their boneless butter chicken, which is cooked to perfection, as well as their naans, which are served fluffy and fresh. Round your meal off with their homemade gulkand ice cream.
Where: Shop 7, Silver Cross Building, 16th & 33rd Road Junction, Pali Hill, Bandra West
Zaffran
Another late night restaurant which is often flooded by visitors for post-party meals, Zaffran has all things yummy in its menu. Their signature butter chicken is to die for, with a gravy that's neither too thin or thick, and flavours that are as delightful as you'd imagine them to be.
Where: B, Sitaram Building, DN Road, Crawford Market, Mumbai CST Area
When: Noon to 3:40pm, 7pm to 3:40am
Khane Khas
A few years ago, Khane Khas was quite a discovery for us. A north Indian joint with a line of people waiting outside, that too while it's located bang opposite Mini Punjab, definitely had us intrigued. Its popularity is justified. Unlike many other places, the butter chicken served here isn't entirely sweet or even as red, but is utterly flavourful to say the least.
Where: 4, Silver Croft Building Junction Of 16th & 33rd Road, TPS 3, Pali Hill
When: Noon to 3pm, 7pm to 12:30am
Contact: 022 26006970, 022 26054605
Pratap Da Dhaba
There's no debating that this Oshiwara eatery comes very close to replicating authentic North Indian cuisine. While many rave about their dal makhani, many others are huge fans of their butter chicken, which true to its name is buttery with perfectly cooked pieces of chicken that ooze flavour. The dhaba-style interiors of the restaurant add to the authentic feel.
Where: Link Plaza, Next to Punjab & Maharashtra Bank, Oshiwara, Andheri West
When: Noon to 4pm, 7pm to 12:30am
Contact: 022 26342323, 022 26362323
Punjab Grill
More on the lines of a fine-dine restaurant, Jiggs Kalra's Punjab Grill brings a certain refinement to all things Punjabi. Their butter chicken, though, is just like the stuff you get in good old Delhi, and when teamed with hot naans or rotis, it's just the meal you'll want to have at the end of a long day.
Where: 3rd Floor, Palladium Mall, Senapati Bapat Marg, Lower Parel
Contact: +918454079969, 022 43473980
Urban Tadka
Vibrant interiors teamed with mouth-watering food make the perfect recipe for a good evening. And when your dinner includes butter chicken, which is creamy with chunky pieces of chicken, there's very little to complain about. So we suggest you stop thinking and get here already to do justice to those Dilliwala butter chicken cravings (it's actually called that and tastes so good too).
Where: Shiv Shopping Center, Off J.P. Road Junction, Off Bon Bon Lane and Juhu Versova Link Road, 7 Bungalows, Andheri West
When: 12:30pm to 3:30pm, 7pm to midnight
Contact: 022 64547771, 022 64548881
Papa Pancho Da Dhaba
With a name like that, you can only expect to get some delicious, hearty North Indian food served to you in the most North Indian manner. The finger-licking-good butter chicken is heavy enough to fill your stomach up and be rest assured that you will want to come back for a round two, because its rich gravy will haunt you until well after you've finished.
Where: Gasper Enclave, St John's Road, Near Rupee Bank, Pali Hill, Bandra West
Contact: 022 26518732, 022 26518733
RJ's Bhukkha Sher
Don't laugh over the name because once you see the butter chicken here, you'll actually act like a bhukkha sher (hungry lion). This quaint eatery in Andheri is a home-delivery joint which specializes in North Indian food, and it's open till really late in the night, so say goodbye to those midnight cravings.
Where: Society 86, D6, Near Janki Devi School, MHADA, Four Bungalows, Andheri West
Find more recommendations for things to shop, eat, do in Delhi, Bengaluru and Mumbai here.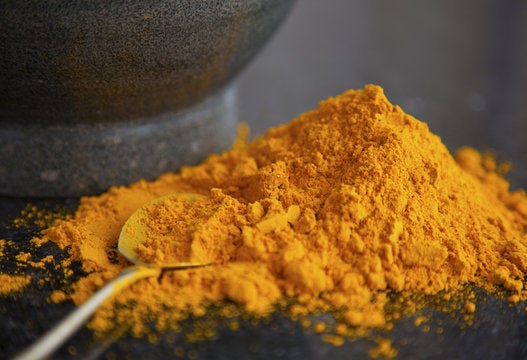 Benefits Of These 9 Super Indian Spices