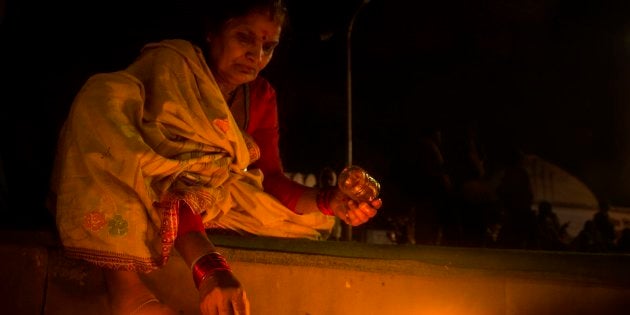 The festive season had many an enemy this year. From GST to ever-changing "internet ka fashion", we felt a distinct change this year, the kind of change that mirrors everyone's favourite Bangkok-tee slogan: Same Same But Different!
Not everyone's feeling the festive buzz in Banda this year, and there's a new three-letter word to blame, it seems. "GST, GST, GST. What is this GST? Aaj tak samajh hi nahi aaya. (Nobody's got the hang of it)." A frustrated Gopal Prasad Gupta, who runs a general store in Banda, spells it out for a chunk of the population who've been complaining of the "kamar-tod mehengaai (back-breaking price-rise)," the likes of which they haven't ever experienced. "Now the worker population has been unemployed for so long, what with demonetisation and then the 'baalu samasya' (the pause on the sand business, a huge income-source for local mule owners), how will they spend on Diwali?", asks Bhishm Yadav, shopkeeper, pointing to his own pockets, as if to illustrate the point. It's an echo we follow around that marks our reportage, we hear it again and again. "Raunak nahi hai na (There's no buzz)", says Ashok, fruit seller. Sannatta to dekh hi rahe ho aap bhi (you can see how quiet the market is)", whispers bangle seller Meena. Even as local advocate Kumar Yadav has the last word, "you know how on Dhanteras, people used to buy utensils for the house, or jewelry for their wives? Now, they're going to buy a spoon." He laughs at his own joke.
Kusum Kali, another Banda local, wouldn't agree though. For a Diwali trend-mapping story, she tells us, "we never had anything, what did we have? Nowadays women have naths, baalis, jhumkas, paayals, bichchuas, (nose rings, earrings, anklets, toe rings) and what is that they've started wearing here?", she circles her upper arm with her thumb and forefinger. "Baaju-band (armlet)", someone prompts her. She also explains to us how jhaalars (chandelier earrings) are no longer trending, and how the young girls prefer jhumkis. Shiv Devi, another Banda local, is nostalgic about the bichchua, "Ab toh mahatva nahi hai uska (It's no longer considered an important item)". The local sunhaar (goldsmith) Om Narayan is obsessed with "net ka fashion", only because that's what his clients are obsessed with. (Net, meaning, the internet.)
The more things change, the more they remain the same
There are rituals and cultural practices that mark the festive season for Bundelkhand, which continue to hold fort here. Chitrakoot's signature dance form, the traditional Dewari dance, hasn't paled over the years. We heard senior practitioners speak of the need to instil pride in the younger performers, so they know it is part of a heritage they'd be wise not to just give away. Of course nothing says Bundeli Diwali fervour quite like donkeys! The famed gadha mela (donkey fair) of Chitrakoot witnessed the hustle and bustle of brokered deals the same as every year. As digital head Kavita puts it, "All year-round, you crack jokes on donkeys and then this one time of the year, you dress them up in all their finery, paint them in attractive hues, and make a huge display of them!" Now, that's what we call a Bundelkhand Diwali!
The opinions expressed in this post are the personal views of the author. They do not necessarily reflect the views of HuffPost India. Any omissions or errors are the author's and HuffPost India does not assume any liability or responsibility for them