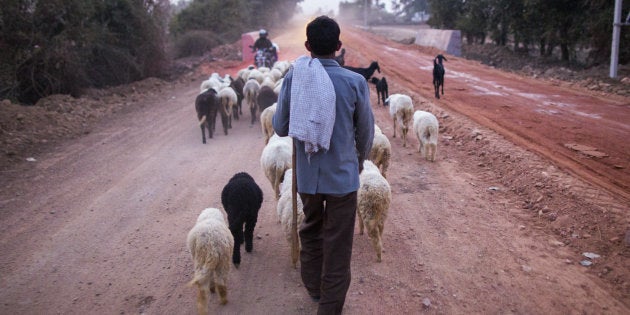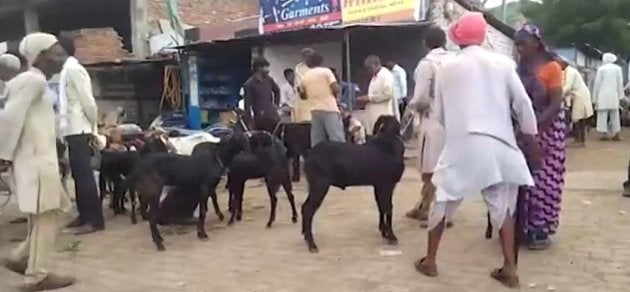 An upset Nanni Kishore is winding up for the day at Mahoba's bakra mandi (goat market) when we approach him for a chat. He's been disgruntled all day long, and so we've waited patiently for his time. Now, at sunset, Kishore knows there won't be any more prospective buyers coming around and so tells us how his day has been—not good. "I was asking for ₹40,000 for him," he says, pointing to a shapely black goat next to him, "but they're just not budging beyond ₹35,000," he says, hoping it'll be a better day for business tomorrow. The mandi, which has close to 2500 goats, is a popular hotspot for locals around this time, as Eid action gears up.
Mohabbat Ali in Banda has come to look for a goat and he speaks of blessed ones—"jin mein Allah ki barkat ho." These are the special goats, he says, those that exude divinity.
Mohammed Waseem, also a seller, is less hopeful, dubbing the entire affair a "mandha dhanda" this year. He's not too impressed with the clientele at the fair this year – according to him, they're not matching up with the goats on offer. "Now see, I'm offering two goats for ₹40,000. That's quite reasonable, but buyers here are simply not willing to go beyond the amounts they've pre-decided on." We ask him how he defines reasonable, and Waseem's reply is pat, "Arrey, given how they've been eating cashew nuts worth 150 bucks every other day, of course, that's reasonable!" Usma's Chand Babu—yes, the goats have names and beautiful ones—on the other hand, prefers a staple diet of wheat alone, which is why it is lean but healthy.
Meanwhile a buyer at the Mahoba mandi, Aryuddin Siddiqui, is disappointed at how expensive all the goats are, and is also planning to come back tomorrow for a better deal. "Nothing's going for less than ₹22,000-25,000," he says, looking distressed. But he could head to Mohammed Siddiqui's in Banda, who tells us he's selling at a loss. "₹16,000 is my highest price and ₹9000, lowest."
Is GST the culprit, we wonder out loud, for a booming business going cold this time of the year? Mohammad Javed isn't so sure. He's planning his bakra mandi round soon and is looking to shell out anything between ₹20,000 and ₹40,000 for a "good, healthy goat." On the GST question, he shrugs, "Well, it's the same as last year in Mahoba, so I don't think so. What might be happening, though, is that some of the transportation might be getting a little affected because of GST." Perhaps he means the mandatory bribes at the tolls, which get upped annually, mostly directly proportional to the number of goats being transported and erratically proportional to the mood of the officer-in-charge. "Maybe," is all he says—it does not figure too high on his list of priorities as a buyer, it would appear.
One special goat belongs to Arjun Kumar in Banda... The animal is priced at a solid ₹4 lakh, but Kumar thinks it can go for ₹15 lakh in Mumbai.
As per custom, a devout Muslim sacrifices a goat on the day of Bakri-Eid—a symbolic gesture of sacrifice, signifying loyalty, faith, and devotion to the Prophet. It is mandatory that the goat lives with you, amidst your loved ones, that you feel an attachment towards it, a growing fondness that grows as the appointed date of his end nears— symbolic of the ultimate sacrifice demanded by the Prophet in the story. It is this spirit that Mohabbat Ali in Banda invokes when we speak to him at the bazaar. Ali has also come to look for a goat and he speaks of blessed ones—"jin mein Allah ki barkat ho." These are the special goats, he says, those that exude divinity. It is a singular moment when everyone comes together—buyers, sellers, browsers—in a solemn nod of agreement. "Pata lage ki Allah taala ne ise banaya hai (When you can tell that Allah has made him)," says Ali. Now those goats fetch lakhs.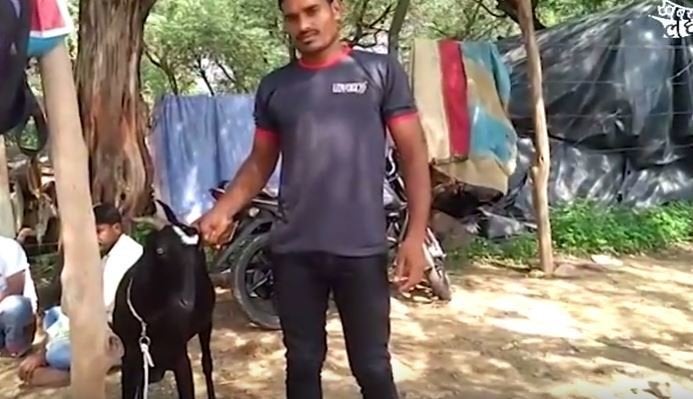 One such special goat belongs to Arjun Kumar in Banda, whom we were led to courtesy the local grapevine. The animal is priced at a solid ₹4 lakh, and Kumar is already sitting on an offer of ₹2 lakh, he tells us, and what's more, he's quite certain he can up this price. By the time you read this, Kumar would have probably sold off his precious four-legged friend in the big city. "Mumbai mein toh 15 ka chale jayega, pakki baat hai (In Mumbai, I can sell him for ₹15 lakh, that's for sure)," he says, and shares, "I'm heading there tonight." He obliges with our request for a photograph and poses with the goat that has a distinct moon-shaped mark on its forehead. "Tabhi toh special hai (That's why he's special)," we learn.