There's been an explosion of mobile applications in the past few years, and constant innovation is driving their growth. The revenue from mobile app development is expected to shoot above $50bn by the end of this year.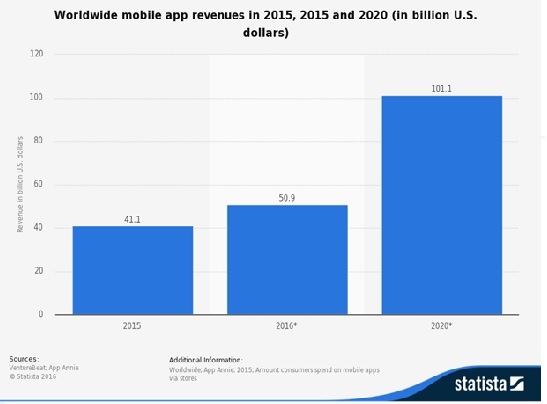 Much as smartphones evolved, apps too are entering a new generation.
When it comes to innovation in smartphones, the personal assistant feature has been simplifying our lives for a while now. To begin with, Apple came up with the personal assistant bot for iOS users, Siri. Google has its virtual assistant, Now, for Android users, and Microsoft rolled in Cortana for its Windows users. These OS-based bots, however, are programmed to assist only for system-level queries by smoothening the end-users' daily tasks. However, what these personal assistants lacked was the ability to interact with mobile applications.
Meanwhile, the winds of the chatbot revolution are already knocking down the doors of the mobile app market.
From a business perspective, utilizing bots to answer frequently asked questions can save a lot of human effort and time...
Chatbots are AI-driven computer virtual chat agents that interact with users by mimicking human conversations; they are deployed in messenger apps where they solve textual queries initiated by end-users. Research indicates that people are using messaging apps more than social media, and therefore there is vast scope of success for chatbots. There is even a significant rise in the use of messaging apps to strike up conversations with potential businesses or consumers -- a phenomenon called conversational commerce.
Mobile app development companies across the globe is carving out an amazing future by creating dedicated chatbots that address specific end-users' issues. And mobile app developers are primarily focusing on creating user-friendly Chat User Interfaces (CUI) for smooth adaptation of this new technology. Virtual assistance in the mobile application can certainly increase user allegiance because app users are bound to continue to use the app as long as their query is satisfactory resolved.
Slack is one amazing platform that provides open RTM (Real Time Messaging) APIs to customize chat applications for easy integration with CUI. Bot users are easy to attach with the Slack app for a more tailored approach. Taco Bell created an incredible chatbot-driven app out of Slack to order tacos via a messenger app, Tacobot
One such innovation by Google, the Allo messenger, was recently announced at the Google I/O conference. Allo is equipped with the Google Assistant -- users can avail all the information from Google by simply asking questions on the app. With an integrated Google Knowledge Graph, Allo Messenger provides access to thousands of entities. The difference between the Google search box and Allo is that the app holds a conversation just like any other human being. Also, the app features a suggestion chip, wherein the bot interrupts the conversation to make recommendations whilst the conversation is going on.
The difference between the Google search box and Allo is that the app holds a conversation just like any other human being.
There are dedicated messaging apps as well. For example, MyKAI Bot is a virtual banking assistant that revolves around the idea of solving banking related queries. MyKAI Bot makes it easy to manage money, track expenditures and assists in making payments. It can provide you with banking knowledge, and simplify financial jargon to make it more understandable. It is even possible to command the bot to make transactions, which he will eventually perform on your behalf.
Facebook has opened its Messenger platform to chatbot services and is expected to transform the way users access information, goods, services and even entertainment. Moreover, chatbots are also projected to take over customer service
Chatbots come with a predetermined set of query instances which are then fetched once the user puts forth a question. When the query arises, bots gather the relevant information to respond to the end-user. And because of the dynamic AI deployment, bots can comprehend the customers' questions precisely. From a business perspective, utilizing bots to answer frequently asked questions can save a lot of human effort and time, which in turn could be used for more complex, quality-compelling tasks.
Facebook's Messenger platform is just one of the many impending platforms aimed at addressing the customer service. And because of its significant number of users, Messenger holds an immense potential to transform itself from a mere communication tool to an improved version of AOL portal. The Facebook Messenger's bots section also features online retailers like Spring and 1-800-Flowers.com.
While this is just the beginning, Chatbots are bound to revolutionize the way people interact with their mobile phones. The scope of Chabot is broad enough to cater to e-commerce businesses as well as to deploy IoT with ease. One can expect major shifts in the mobile app industry with the advent of chatbots, although ultimately it all rests on how well users catch on it.