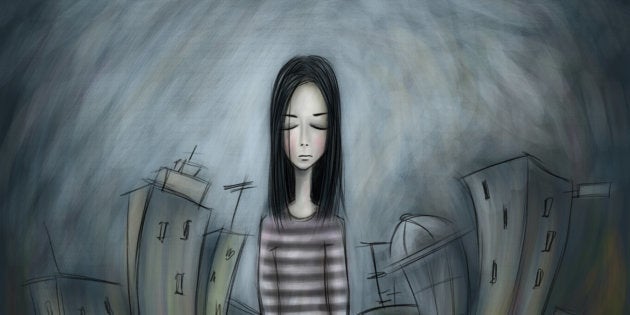 *Co-authors: Kishan Shah, Kashish Saluja, Gaurav Gupta
India accounts for about 30% of all suicide deaths in the world. For young people aged 10-24 suicide is the single leading cause of death.
By decriminalising suicide and establishing the right to quality mental health care, the Mental Health Bill 2016 is a welcome step for those facing mental health issues and for those trying to provide help. According to Amrit Kumar from Thanal, a crisis and suicide helpline based in Calicut, "Stigma associated with suicides, coupled with its initial criminalisation discourages many people to reach out for help, but with the new law, there is hope that more people will contact the helplines." While the new law is a first step in reducing stigma, and emphasising mental health care, in parallel there needs to be greater investment in India's mental health infrastructure to make accessible and quality care a reality. As both a system for first response and last resort, suicide helplines are a critical part of this overall infrastructure.
Our study on global best practices in suicide prevention helplines has shown several positive cost-effective developments that have enhanced their functioning. In particular, there are four key enablers that, when adopted, could have a transformative effect on suicide helplines.
1. Predictive technology
The popularity of the internet and social media has resulted in the availability of large streams of datasets from a diverse range of people. Data scientists, alongside mental health specialists, are already able to make highly accurate predictions about mental health issues, including suicidal tendencies, at an individual level through analysing social media feeds.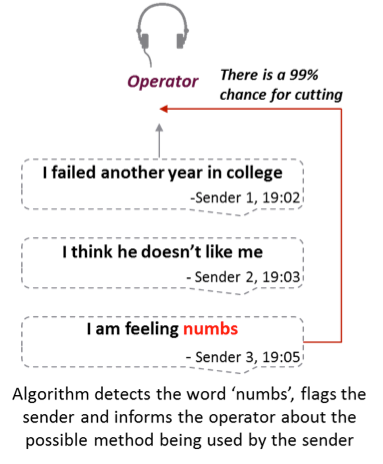 These learnings are being applied for real-time analysis in helplines where the possible risk and method of suicide can be flagged to helpline operators while they are interacting with the distressed caller. Crisis Text Line, a text-based suicide helpline in the United States of America, runs multiple analyses in real time, on words and phrases used by a text sender to flag a crisis. They have exchanged over 35 million text messages since starting operations in August 2013, which feeds into an iterative learning process, as more data is used to improve the precision of analytics. The helpline knows that when people text the words "numbs" and "sleeve" in the same conversation, there is a 99% chance that they are thinking of cutting themselves, and can tailor the response accordingly. Leading suicide prevention experts also believe that it is now time to use these analytical tools to identify what phrases used by the operator yield most positive results, and use the learning to train volunteers more effectively.
The helpline [Crisis Text Line] knows that when people text the words "numbs" and "sleeve" in the same conversation, there is a 99% chance that they are thinking of cutting themselves...
Another interesting technique is that of semantic coherence used by Dr. Mariano Sigman of the Integrative Neuroscience Laboratory at the University of Buenos Aires (watch a TED talk by him here). In this technique, the researchers build a 3D space containing the entire lexicon, where the distance between two words is the degree of difference between their meanings. For example, a cat would be closer to a parrot, than to a mountain. An algorithm then monitors large sets of an individual's words to analyse how frequently they jump from one group of words to another. This is then used to predict the risk of the individual developing mental health issues in the near future. The initial results of this technique have been promising. Over a small dataset of individuals, the algorithm predicted the degree of risk with 100% accuracy.
2. Gatekeeper training
Gatekeepers are the family and friends of persons at risk—they are often in the best position to read the first signs of distress. Outreach efforts focused on gatekeeper awareness on helplines and training to identify warning signs have had great impact. A simple way to achieve this is through mandatory training programmes in schools/colleges for students, parents, and teachers. Such trainings aim to develop knowledge, attitudes and skills for identifying individuals at risk, determining the level of risk, and then referring at-risk individuals for treatment.
For instance, an evaluation of a suicide prevention program in the US, which was focused on identifying peer leaders in schools and developing their adaptive norms regarding suicide, showed that the trained peer leaders were four times more likely than untrained peer leaders to refer their friend to an adult for further consultation. This result was achieved within a span of four months of training the peer leaders, showing the potential that youth have to reduce stigma around mental health issues.
3. Text-based helplines
High levels of smartphone penetration coupled with the new wave of data revolution have made phone text-based services an important part of the crisis support system. Our interviewees suggested that in the United States there is a visible shift in youth preferring text messages over calls for crisis support.
Dr. Shalini Rajneesh, Principal Secretary (Health and Family Welfare) recently said that the number of callers in India seeking counseling has increased from 11,531 in 2013-14 to 57,473 calls in 2016-17.
Texting, as a channel for crisis support, has visible advantages for both helplines and texters. For the texter, sending a text message eliminates time spent on hold over the phone, and is also perceived as a more private channel, that cuts down caller inhibitions on speaking with a helpline operator. Texting, as against calling, can be done in public settings, a feature greatly valued by young people, who may not necessarily enjoy privacy at all times. For helplines, a text service acts as a platform to remain relevant to the youth. The channel also serves as a valuable means to generate data that can be used to identify more critical patients, plan operations, design effective triage processes, and develop training modules for the volunteers, greatly improving the quality of support.
4. More effective triage and interconnectedness
A report by Lifeline Australia suggests over 60% of the total calls received are from barely 3% of their callers. The evidence suggests that the call load on helplines—which were traditionally designed to deal with crisis situations—has increased greatly. Helplines are currently developing triage processes that can identify and divert these familiar callers to different channels, as they face a completely different set of issues as compared to the crisis callers.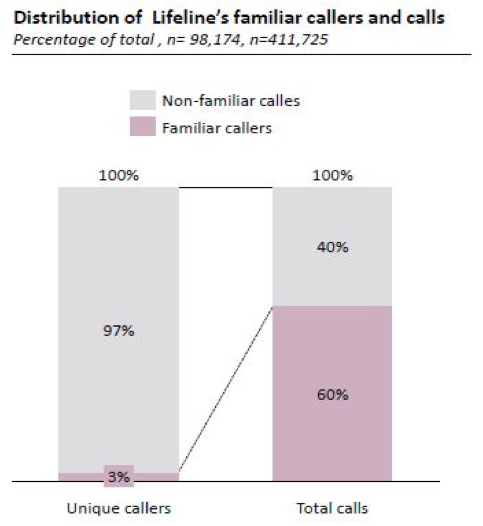 Pilot programs are exploring the role that suicide helplines can play in offering options for more structured long-term sustained care to the familiar callers. To provide more holistic care, helplines need linkages and partnerships to other critical services that can support overall mental health. This could include strong community-based programs like self-help groups, social service agencies, other psychiatric medical support and mental-medical health units.
Dr. Shalini Rajneesh, Principal Secretary (Health and Family Welfare) recently said that the number of callers in India seeking counseling has increased from 11,531 in 2013-14 to 57,473 calls in 2016-17. This points to the importance of increasing the ability of suicide helplines in India to handle greater call volume and provide quality care, on first contact. Our work on practices for crisis helplines has helped us to understand their importance in reducing suicide and depression-related deaths, but the long stretch of insufficient funding has made it difficult for Indian helplines to learn and grow at a global pace.
Apart from improving our suicide helplines, there are many aspects of the mental health ecosystem that require greater investment, including continuing to reduce stigma around mental health, improving access to psychiatrists and conducting regular trainings for parents and children in schools to help them identify friends and family suffering from depression at an early stage. We, as a society, have the responsibility to take the current discussion on mental health forward and ensure that the vision of the Mental Healthcare Bill is made a reality. Supporting suicide helplines as a way of supporting the broader mental health ecosystem is a good place to start.
* All authors work at Dalberg, a global strategy and policy advisory firm focused on social impact.