Arko Datta / Reuters
These well-known localities of Delhi have surprisingly deep roots in history; coincidentally, all three are intertwined with the trials and tribulations of the lesser-known Mughal emperor Shah Alam II.
Very few would know that Patparganj, literally standing tall with its numerous housing societies, witnessed a battle in 1803 that defined the subsequent history of Delhi, and India too. Or that Tis Hazari, usually teeming with worn-out, anxious litigants at its famous district courts, may have been named after the 30,000 Sikh soldiers who once camped here. Or that Dhaula Kuan, literally translating to "white well", perhaps referred to a well constructed 200 years ago, during the reign of Mughal emperor Shah Alam II.
There is no doubt that embarking upon the historical and etymological trails of localities in Delhi produces surprising results.
However, despite our routine visits to or mentions of these localities, we rarely take cognisance of the significance they have carried in the past. The following tales from the capital -- a rich repository of all epochs of history, from ancient to medieval to modern -- still show that much is usually left out of the realm of the mainstream, thereby not doing full justice to the range of historical moments witnessed by Delhi.
There is this fixed set of places and monuments which seem to be the official list for Delhi. There isn't enough curiosity... various interesting sites are ignored.
"I do not think in India, we have a good sense of local and familial history. There is this fixed set of places and monuments which seem to be the official list for Delhi. There isn't enough curiosity, and therefore various interesting sites are ignored. But this is not the case with European countries. They have much better recorded social history," says Delhi historian Narayani Gupta.
Patparganj
Aptly suffixed with 'ganj', meaning market or treasure, 18th century Patparganj was a grain emporium, which along with neighbouring Shahdara and Ghaziabad, fed Delhi, according to Narayani Gupta. Receiving abundant supplies of grain from the surrounding fertile alluvial doab through the Yamuna river nearby, Patparganj supplied Old Delhi and Paharganj markets across the Yamuna, an area that was under the control of the Mughals at that time.
However, by the early 19th century, the region lost its earlier sheen, with Delhi being under the rule of the beleaguered Mughal emperor Shah Alam II. It was on 11 September 1803 that the decisive Battle of Patparganj was fought between the Marathas and the British, three days after which the control of Delhi fell to the triumphant British. Part of the Second Anglo-Maratha war, the battle was fought between British troops led by General Gerard Lake, and the Marathas of Scindia's army led by French commander Louis Bourquien. This, along with subsequent victories in present day Maharashtra, Madhya Pradesh and Rajasthan, sealed the British triumph in the Second Anglo-Maratha war, and facilitated the rise of the Raj, which was to rule the subcontinent for the next 150 odd years.
On 11 September 1803, the decisive Battle of Patparganj was fought between the Marathas and the British, three days after which the control of Delhi fell to the British.
Unlike the other invasions that Delhi was subjected to, the battle of Patparganj never saw a massacre of the local inhabitants, according to Delhi history aficionado RV Smith. What made it even more unusual was that unlike other battles for Delhi, which were fought outside Delhi, this one was fought on the left bank of the Yamuna.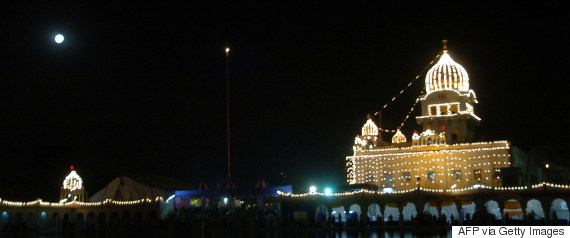 Tis Hazari
Tis Hazari, literally translating to "thirty thousand", may have been an allusion to 30,000 Sikh soldiers or cavalry horses, camping in this area in 1783 under General Baghel Singh Dhaliwal, who was planning an offensive in Delhi. Varied literature on Sikh history establishes Dhaliwal as a daring and successful general who first established influence over various areas around Delhi, and then threatened a crumbling Mughal empire under Shah Alam II. Several areas, including Sabzi Mandi and Malka Ganj, were apparently plundered. To bargain with Dhaliwal, Shah Alam II turned to Begum Sumroo (mentioned in RV Smith's book, Delhi: Tales the Monuments Tell). Dhaliwal reportedly reached a commanding agreement with the Mughal emperor for maintaining a 30,000 strong force and a share in the revenue, using which several Sikh shrines were constructed in the capital, including perhaps a small place of worship which later became the renowned Gurdwara Bangla Sahib.
But this is not the only theory about Tis Hazari. Gupta claims that Tis Hazari may have just been the designation accorded to Aurangzeb's brother Dara Shikoh (living near the locality) as a mansabdar, on the basis of the number of horses (30,000 perhaps) he had. (Mansabdars were administrative officials in the Mughal empire.) Yet another theory, she adds, is that Tis Hazari referred to a garden in the locality housing 30,000 mango trees. The orchard may have belonged to Shah Jahan's daughter Jahanara Begum. Lastly, RV Smith refers to a havan held in the area to pay homage to 30,000 martyrs in the 1857 mutiny.
Dhaula Kuan
Existing today as a gateway to important localities such as the Central Ridge, Delhi Cantonment and South Delhi, Dhaula Kuan literally translates to "white well". As RV Smith points out, the well may still exist, albeit in a neglected condition, and can be dated back to the reign of Shah Alam II, if one is to go by the stones used to make it. As Shah Alam was fond of going for expeditions, there is good reason to believe that the well could have been used as a pit-stop. With his so-called empire ranging from Delhi to Palam, as reflected in the Persian saying, "Sulanat-e-Shah Alam, az Dilla ta Palam", it was not that he had too many options for expeditions anyway. Apart from possible stately visits, the well would have attracted daily travellers too, as it fell on the old road to Gurgaon, perhaps a transit point for passing traders.
[T]he locals had their own tales [about Dhaula Kuan]. They thought that the well was haunted. Some claimed that fairies lived inside it...
The locals have their own stories for the well.
"When I went there many years ago, the locals had their own tales to tell. They thought that the well was haunted. Some claimed that fairies lived inside it and treasure was also found in it. One story is of an unemployed person who sat near the well one day to eat the rotis his mother had made for him. Suddenly the fairies who were staying in the well came out and told him not to eat them. In return, they gave him a lot of treasure, and the man lived happily ever after," recounts Smith.
The histories of these areas still live on feebly today. Whether it is the pillar erected in 1916, somewhere in the middle of Noida golf course recording the British victory in the Battle of Patparganj; or the forgotten well in Dhaula Kuan; or the Roshanara and Qudsia baghs of today that perhaps existed alongside the Tis Hazari garden in those days. All these quietly remind passers-by of how Delhi would have looked, a Delhi beyond the famous forts, tombs, temples and mosques.
Smith puts it simply, "These old places have an interesting history, but few people know about it today. Immersed in technology, people do not take the trouble of finding out things for themselves. I don't think that's a good trend."
References
RV Smith. Delhi: Tales the Monuments Tell, Delhi 2001
Percival Spear, Narayani Gupta (Edited by R.E Frykenberg). The Delhi Omnibus, Oxford University Press 2002
Note: Several claims made in the piece are on the basis of detailed interviews with Narayani Gupta and RV Smith.
Like Us On Facebook |

Follow Us On Twitter |

Contact HuffPost India

Also see on HuffPost: