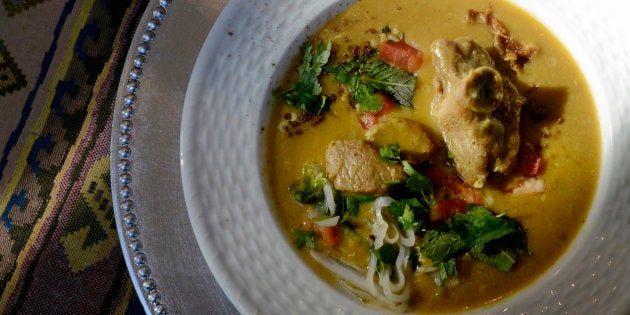 Every year the holy month of Ramzan brings with it the promise of spiritual and (for most of us) epicurean salvation. We find ourselves traipsing through quaint streets in our search for lesser-known food havens serving festive delights such as biryanis, kebabs, sevaiyan and the very manna from heaven—haleem.
A rich and flavourful concoction of meat, barley, lentils and spices, this delicacy goes by many names— haleem, harees, khichda, kedgeree—depending on geography. Today, haleem is a mainstay of Hyderabadi cuisine after being revived and brought back to the mainstream in the 1950s by dedicated culinary crusaders.
This "haleem hack" is something I happened to devise not by design but under duress.
High in proteins and carbohydrates, it's the much needed shot of energy during the month of fasting and enjoys a near-fanatical following. An outcome of slow-cooking, it is also a dish that promotes slow eating. You can't gulp down haleem in one go. You need to take it one teaspoon at a time. Otherwise, it will sit like lead in your stomach and you will be dozing off even before you know it. You need to savour its rich pastiness.
Now, to the slow-cooking part. Most recipes on the net will tell you it demands 8 to 10 hours of rigorous struggle, of rhythmic stirring and timely checking of this porridge-y mixture. Now that's okay if you have nothing else to do during the whole day, but how likely is that? Wouldn't it be easier to hack (my excuses to the purists) this recipe into something shorter and more manageable and still get the same gratification?
This "haleem hack" is something I happened to devise not by design but under duress. I can't recall the year but it was the early 90s and we had an ongoing Hyderabadi festival at the hotel. The buffet was to be ready by 7:30pm. The general manager was on his rounds as usual and I think he was looking to nibble at the haleem. Only he couldn't find it on the buffet. So he asked me where the haleem was. To my great shock and some well-founded palpitations, I found out that the team had forgotten to make it and we had less than half an hour to get the buffet out.
When all else fails, improvise. So that's what we did. We took some minced lamb and cooked it in a pan with the required spices. We threw in some lentils simmering on another stove. And then there was barley or broken wheat for the quintessential flavour. Oh, and I found some oats lying around. So we added that. Gave it all a swirl in the pan, and then into the blender to get a paste and then back into the pan. One generous shot of ghee and crispy brown onions to top and we were ready to go. Phew!
So, riffing off of that innovation, here's a recipe that takes the hard labour out of haleem.
Recipe: Haleem Made Easy
5 onions (medium-sized), sliced
8 green chillies, chopped
2 cinnamon sticks (medium-sized)
In a pressure cooker add all the ingredients under "for the dal". Cover and cook till completely cooked and soft.
Remove. Pulverise in a food processor (if you have a stone wet grinder it will be more flavourful) and keep aside.
Slice the onions. Chop up the green chillies.
In a handi, heat up oil. Add cinnamon stick, cloves, green cardamom, and caraway seeds. Allow the flavours to slowly seep into the oil, over a low flame. Do not burn the spices.
Add the onions and fry to a golden brown.
Add in the ginger and garlic paste and continue to fry stirring frequently so that it does not stick to the bottom of the handi and burn.
Once the garlic and ginger turn brown, turn up the flame and add the lamb mince and stir.
Add the turmeric, chopped green chillies, black peppercorns, salt and cook.
Turn down the flame and add in yoghurt.
Allow to simmer till the meat is done, whilst stirring occasionally. You can add some extra water if you like.
Once cooked, remove. Let it cool and then pulverise in a food processor or a wet stone grinder (if you have one).
One needs to combine both the pulverised dal and meat in the next final step.
In a handi or a flat bottomed vessel, add ghee and warm it up. Add the ginger and garlic paste, stir frequently and cook till you get a golden brown colour.
Add the meat, add the dals and stir well. Keep stirring at regular intervals to make sure you don't burn the mixture at the bottom of the pan.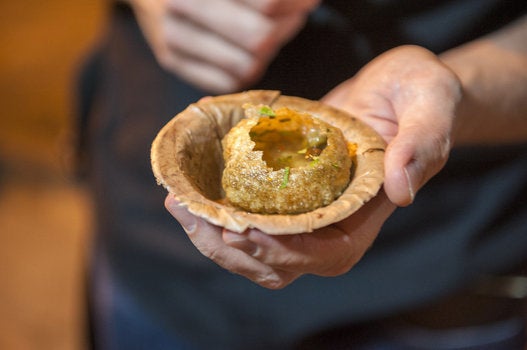 8 Popular Indian Food Myths Busted