Jay Poudyal
I had heard a lot about Barpak during my trek to the Tsum Valley, Gorkha last year but unfortunately I could not make it there. I had heard about the village -- how beautiful it was and how it boasted a very rich communal culture. Barpak made it to the news last year, but not for good reasons - it was at the epicentre of the recent earthquake in Nepal.
Recently, I travelled to Barpak where I walked around with my camera and talked to the locals and listened to their personal stories -- of hope and hopelessness, loss, sorrow, courage and the earthquake. Some made me cry, some made me laugh. These stories also gave me a broader understanding of how life must move on. Here are some moments from my journey.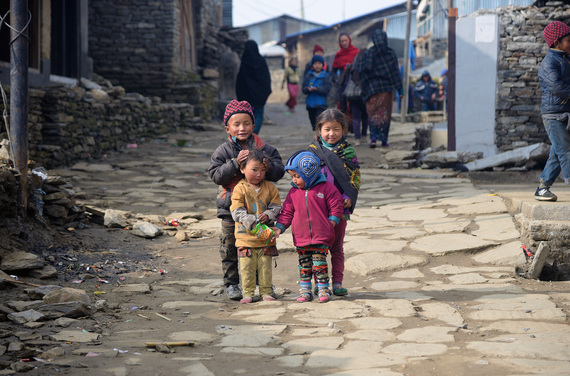 Children pose for the camera. The eldest wants the younger ones to look at the camera but they are too occupied with their instant noodles.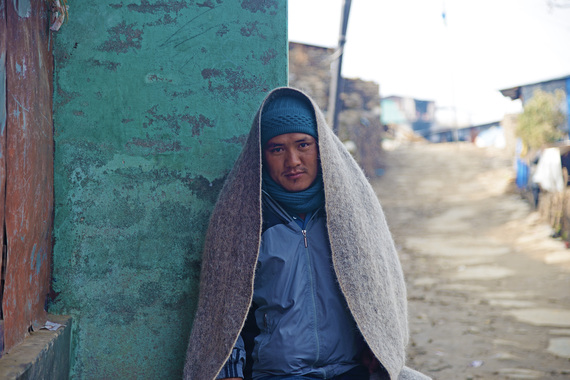 "I remember father constructing our house with his own hands. He would ask me to bring mud to him and I'd fill it up in a sack. It would be heavy and I would drag it. I was tiny but the weight of the sack didn't kill my determination. It was just a stone house with a warm kitchen and a room where everyone collapsed after a hard day's work. But that was home. Growing up I learnt some carpentry and masonry from my father and I went to Malaysia to find work. When I heard about the earthquake and saw my hometown destroyed, I returned. It was a relief to see my family safe. But it was heavy on the heart to see our house turn to mere rocks. I had many memories of childhood in that house. Everyone else's houses had fallen down too. So I abandoned my sadness and started building shelters for my neighbours from what was left in the rubble." (Mandos Ghale, Barpak, Gorkha)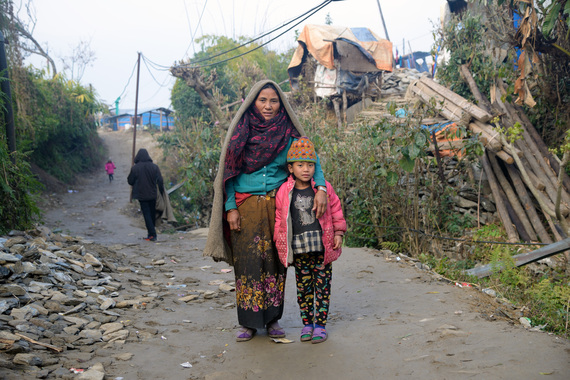 "The world is changing. I see the children of the tourists and they speak English fluently and I know they will grow up to do many things in this world. But I am worried for my daughter. Whether or not she will be able to get a job when she grows up." (Permaya Gurung, Barpak, Gorkha)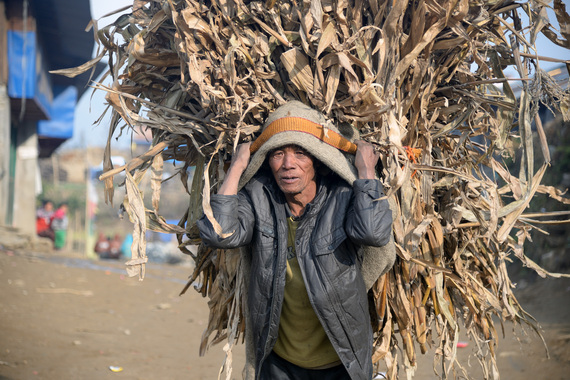 "I was at the animal shed when the ground started shaking. The rumbling of the earth and crying of animals was too much to bear. When they started running, I didn't know if I should run with them or after them. Then I thought about my mother. I forgot about the animals and ran towards home praying. When I saw her alive, I went to her and held her in my arms. I did not let go, the earth was still shaking. She turned 100 this year." (Deo Man Gurung, Barpak, Gorkha)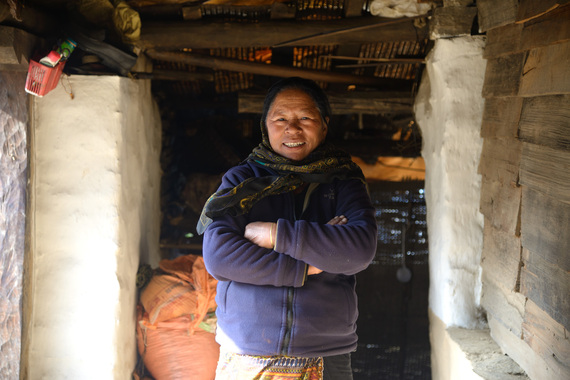 "Talking about the earthquake gives me a heartache. Wait, let me wipe my tears first." (Maya Ghale, Barpak, Gorkha)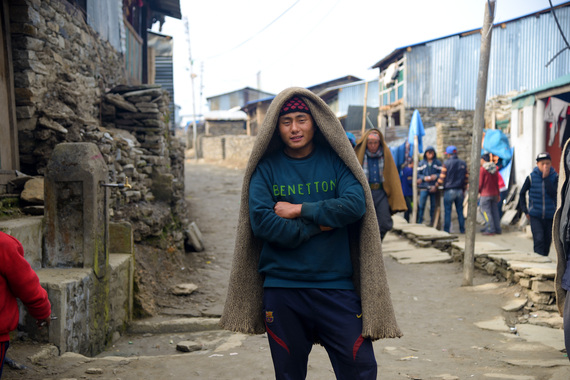 "Everyone in the village has been sad this whole time. At first I would also be sad but I was tired of sitting in the corner and only thinking about what is lost. So I thought I can't sit in sadness. I have a family to look after. I have little brothers and sisters who depend upon me. So I just keep a very strong heart and go to work every day, singing happy songs." (Buddha Gurung, Barpak, Gorkha)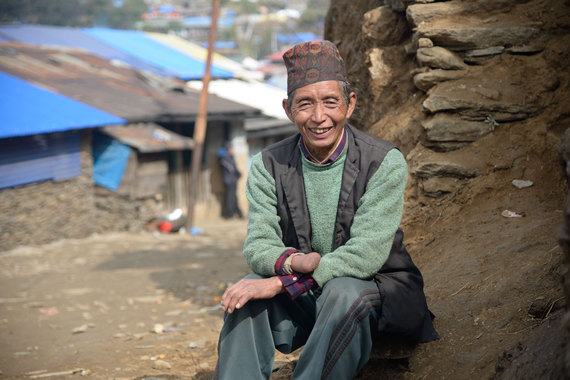 "I lost my hand in an accident while fishing, a long time ago. The last thing I remember was my fingers were still moving. When I woke up my hand was gone. There was no adult in that crowd who could say, 'Take him to Kathmandu, take him to a hospital'. Losing my hand changed my life. From a hard-working and loving family man I became a recluse. I was depressed for many years. I had to rely on my family for everything. I couldn't even tie a shoelace. Some people were really insensitive and would call me names. I would boil in anger. I knew I couldn't spend my life in misery so I got up. And with little hope, I started looking for work. People would make up elaborate stories as to why they couldn't offer me work. So I'd walk away heartbroken. Finally I found work looking after people's houses and property. I went wherever work took me. And life is spent. But my family was with me all the time. I look at them and thank god for the love I received from them. My children have also grown up to understand the predicament of their father and I am happy as I can be." (Raj Bahadur Ghale, Barpak, Gorkha)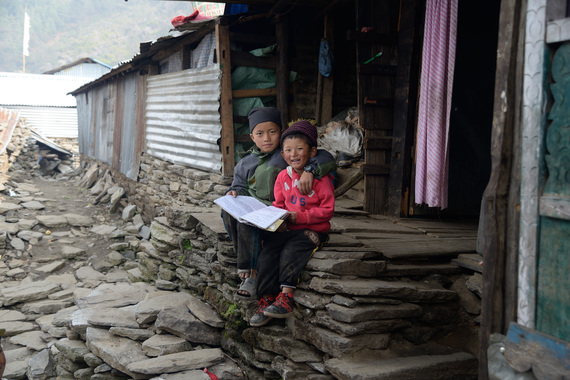 "My brother loves listening to stories. He finds my book, brings it to me and asks me to read. So after school, I read him my favourite stories. He becomes really happy. And I become really happy." (Barpak, Gorkha)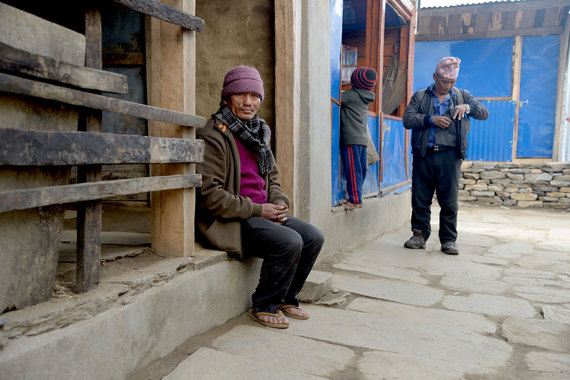 "It was a hard life from childhood. The condition of my family was very bleak. We were six siblings. Fathers had no real income, just some animals and farming land. So no one saw school. I left for India at a very small age. I carried loads and would do menial work washing dishes and sleeping wherever I could. I returned home after 12 years. By then I had a family to support. So I went to Malaysia but I could not stay for more than one year. I had lost all hope and didn't know what to do. I couldn't even write my own name so finding a job was impossible. Somehow I opened a small shop and for the last 18 years I have been at it. The funny thing is nothing has changed, it is still the same kind of struggle every day. I am still carrying loads from way below. You made me think. I had dreams, but I just did not get the opportunity to study. If only I had some skills, some education other than carrying loads then maybe things would have been different for me. I don't want my children to go through what I have been through. I want them to study and go to cities and get proper jobs, make money and be happy. I can't remember being happy. The sad thing is I don't know how to guide them at home. They go to school and come back and they don't study. And it hurts. The thought of their lives becoming meaningless like mine is... I don't know how to say it." (Santa Bahadur Ghale, Barpak, Gorkha)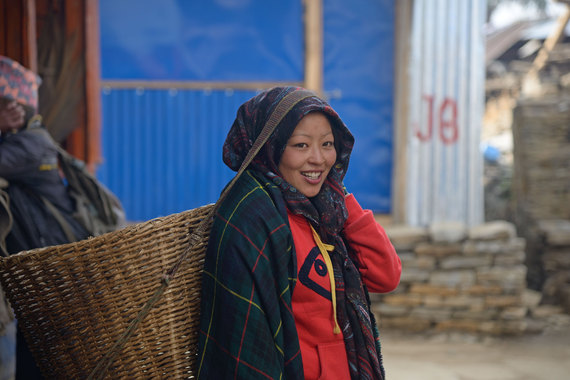 Sometimes I forget to ask questions. This was one of those times.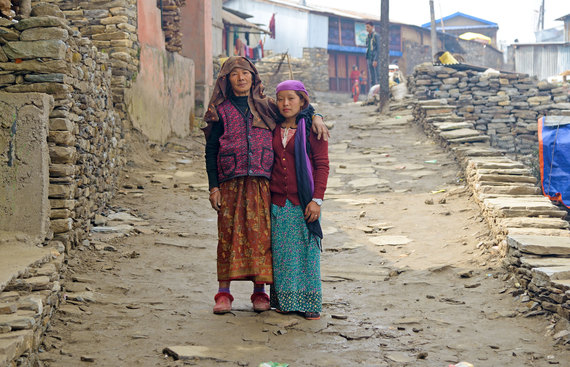 "Mother had saved money for me by sacrificing her own dreams. There must have been things that she would have wanted for herself. After all, her life has been very difficult. She deserved some comfort. But she would keep on toiling and save each penny. I think she saw her dreams through me. So she had managed to save some money, for me to be able to do something after I complete school. She would tell me to focus on my studies and not worry about money. But life was to take a different turn. The fire that engulfed our house during the earthquake took away from us everything we had. That is when I witnessed true hurt in my mother's eyes. I will never forget the look of hopelessness when I watched mother frantically search in the ashes. But there was nothing, except a few burnt coins." (Duth Kumari Gurung with her mother Santa Maya Gurung, Barpak, Gorkha)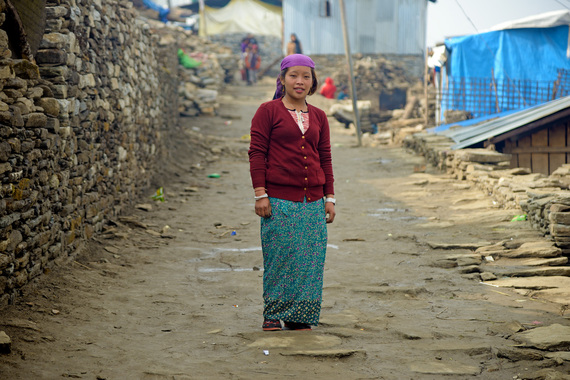 "My father worked as a postman all his life, delivering messages and letters to the people of the village. Though it might not be a big job, I think it is an important job. I too want to become a postman like my father. Deliver letters to the villagers, letters that arrive from all around the world, of family and friends. Even when I talk to you, I am imagining reading them their letters. What a nice thing it would be to do, reading letters." (Duth Kumari Gurung, Barpak, Gorkha)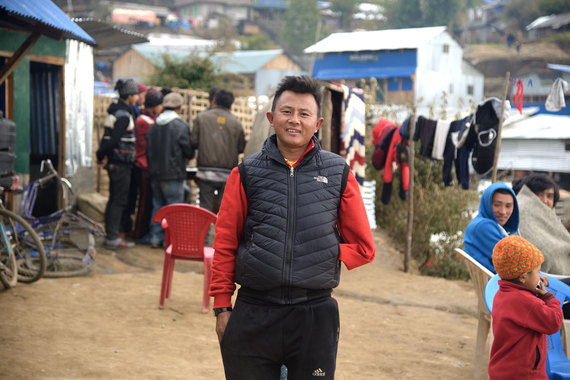 "I was trapped in the rubble for 7 hours. I would hear footsteps and people talking from above. I screamed for help but no one could hear me. I was breathing all the dust. Everything around me was dark and the hours long. At times I would think of giving up and accepting my fate. I wondered what had happened of my family, my two little kids and my wife. And I cried in desperation and screamed for help with the little hope I had. One thing I knew - if my family met an unfortunate fate then my life was not worth living. I also knew that if they were alive they would come looking for me. That thought made me hold on and wait." (Suk Ram Gurung, Barpak, Gorkha)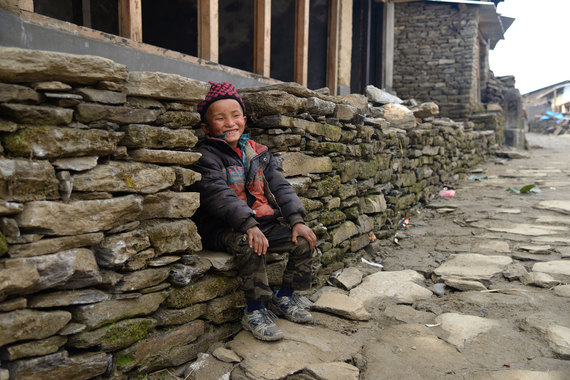 "My turn!"
____________________________________________
Stories of Nepal by Jay Poudyal is a blog that showcases the stories of an everyday Nepali through pictures and personal narratives.
Like Us On Facebook |

Follow Us On Twitter |

Contact HuffPost India

Also see on HuffPost: