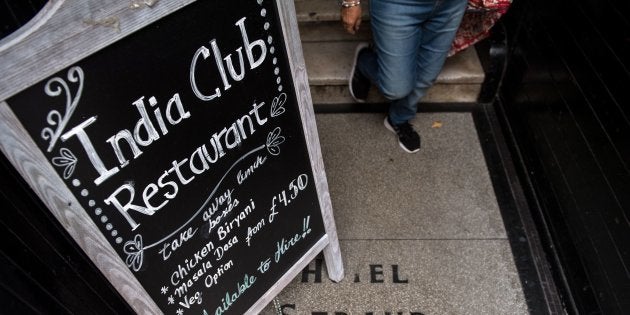 The flight of stairs that one has to climb to enter India Club, tucked away at the Aldwych end of the Strand in London, is sharply reminiscent of Bombay clubs of the '60s. Established within the walls of the Strand Intercontinental Hotel in the late 1940s by Krishna Menon, the first High Commissioner of India to the UK, India Club is currently under threat of extinction. The owners intend to convert the building into an upmarket hotel. This has recently created somewhat of a furore but patrons suspect that it's not enough to stop the club from being demolished.
It is a precious institution, once the meeting place for the erstwhile India League, a British organisation that campaigned for Indian independence and boasted Nehru and Edwina Mountbatten as founding members. It was here that A-list anti-Imperialist British and Indian intellectuals, writers, journalists and civil servants gathered in the years just before and post-independence - Bertrand Russel, Annie Besant, Chandran Tharoor, Nehru, Menon. Name a dignitary and more likely than not, this is where they came to socialise and soothe their homesick hearts on mediocre desi fare.
My husband and I decided to see what the hoopla was about for ourselves - unsure of the level of interest generated by the recent lukewarm publicity, we called in to book a table for two at 1 pm on a Sunday. A delightful lady with a heavy Eastern European accent answered the call and seemed strangely delighted at the booking request.
We were running half-an-hour late on Sunday and I fretted we wouldn't be let in, but when we arrived, past the chalkboard on the pavement, and up those red-plastered stairs to the second floor, we found only two tables occupied in the canteen-style restaurant.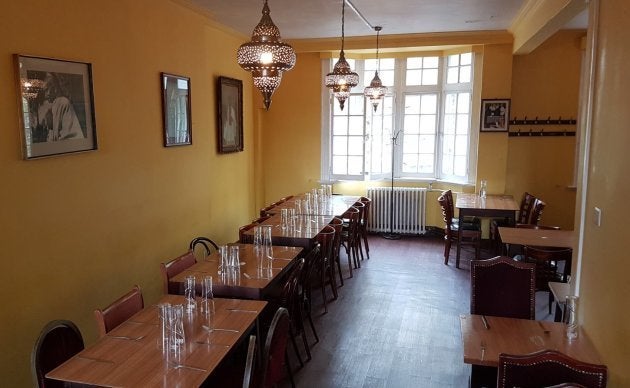 A lugubrious waiter in a jacket long past its youth wandered up to us and pointed to a table for two. When he ambled away to attend to the other customers, we inched longingly towards the many unoccupied window-side tables offering beautiful views of the Strand.
However, the waiter was clearly disapproving of our attempts to score a better view, and announced that the section overlooking the Strand was closed for customers. We were given plastic-coated menus so oil-stained that it made me homesick. I chose samosas for starters while my husband made greedy eyes at the pani puri. Mahatma Gandhi and Dadabhai Naoroji looked on benevolently from their places on the yellowed walls and I imagined approved of our choices.
Much to our disappointment, we were informed that the paani puri was not available that day. We got bhel puri, samosas, vegetable biryani, bhindi, rotis, and a mango lassi each instead. Turns out everything we wanted to order -- plain lassi, mushroom curry, onion bhajiyas -- nothing was available that day.
We took in the place as we waited for our food. The single-roomed autumn-yellow-walled canteen lined with laminated wooden tables and chairs, dusty radiators at least a fifty years old, the lonely drinks bottles, a calendar advertising Indian grocers behind the little desk in the hatch area where the waiter stood leaning on an elbow, deep in thought, the other diners, all white except for me.
I imagined what it may have been in the past -- crowds of young, hopeful, educated Indians, newly independent, no longer British subjects, no longer colonised, sitting here in the heart of dying Imperial London, planning the future. I could almost hear their banter, the hearty, heated discussions, waiters pattering busily up and down, steel plates clanging on laminated wood, most of all, I could detect lingering traces of that colourful, insistent, all-embracing warmth peculiar to the Indian subcontinent.
My musings were interrupted by the arrival of the drinks and starters -- lassi so sweet we could not swallow more than a sip, strictly mediocre bhel puri, samosas gleaming and pale but still thoroughly edible. As we ate, the waiter walked up to us and told my husband, "Tandoori chicken, not today."
We looked at him, mystified. "We didn't order tandoori chicken," my husband protested weakly. However, the waiter would have none of it, he insisted we had ordered it and that it wasn't available that day.
As we squirmed in our chairs, the couple at the next table saved us, the chicken order was theirs. That made the server's authoritative gaze falter and then onwards he seemed to change our stance towards us -- bobbing his head agreeably and often smiling at us.
The vegetable biryani looked suspiciously like the ones that came from ready-to-eat packages and was served with a blob of store-bought Greek yoghurt barely hiding a slice of cucumber. Yes, that was their idea of 'raita'. The bhindi masala was very oily but very tasty and thankfully, the round brown rotis tasted of home.
The server noticed that our glasses of lassi were far from empty, so he asked if they were too sweet. He offered to put milk in them and dilute it. Which he did and his eyes were so hopeful that we had to finish the glasses, only to feel like full tumblers ourselves. When the food was eaten and the handwritten modest bill on lined paper paid, he allowed us to take pictures of the place and encouraged us to spread word of the Save India Club campaign.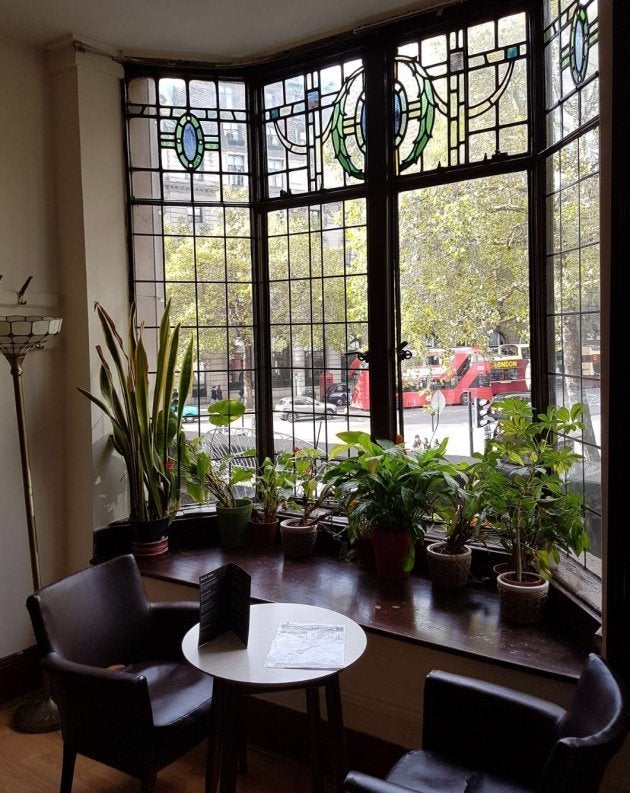 He took us downstairs, past a smiling, plump, dark-haired lady at the hotel reception who'd probably answered the phone when we first called, and led us to the Bar, empty and grand, so grand. Cosy armchairs, black-and-white pictures of Indian independence movement leaders and intellectuals on the walls, gold-framed miniatures of the blue-skinned god and his muse, a blackboard from the 1940s announcing happy hour, large stained glass windows, thriving plants on the windowsills, red buses rolling outside, a haunting silence inside, even a book or two in Norwegian on the bookshelf. My husband, a Norwegian national, was delighted. The India Club, it seems, has something for absolutely everybody.
When we said goodbye to our waiter friend...it was...as if we'd stepped straight out of a carefully preserved piece of post-war England and newly-independent India into the noise of modern day traffic and tourists on the street...We promised ourselves we'd be back again, as long as the India Club remained.
When we said goodbye to our waiter friend and stepped out, clutching little paper slips for the Save India Club campaign, it was like exiting a time capsule, as if we'd stepped straight out of a carefully preserved piece of post-war England and newly-Independent India. We promised ourselves we'd be back, and back again, as long as the India Club remained.
The opinions expressed in this post are the personal views of the author. This blog has been edited by HuffPost staff.