PKG Photography via Getty Images
By Nivedita Das Narayan
Diwali is around the corner, and most of us are already busy adding festive touches to our homes. I get the urge to do something special with my space as soon as autumn settles in and the fragrance of jasmine rekindles my memories of childhood and happy festivities. For me, this somewhat nostalgic urge is about making the home speak the language of the festival of lights -- fresh, warm, inviting, happy, awash in colours and patterns and above all as special as it can possibly look.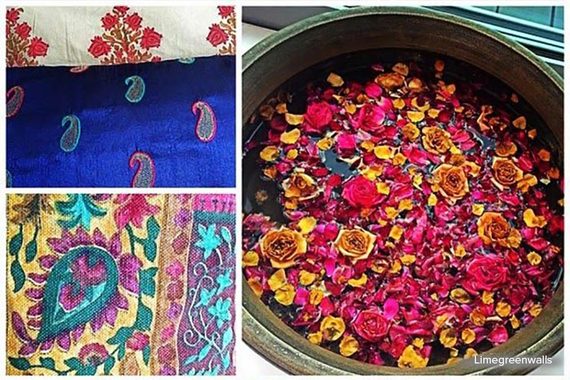 Besides, with all the sales, discounts and melas that mushroom in the winter months, it's a great time to indulge in a shopping spree to give our homes a cheerful and inspirational makeover. Here is an easy checklist and some handy tips to make sure your home reflects all the cheer of the season of celebrations.
1. Make your entrance more welcoming than ever
A delightful way to do this is to place an urli filled with water at your entrance and float some fresh flowers and diyas in it. If you are using white flowers drop some kumkum and haldi in it to add a dash of contrasting colour. Place traditional lamps (brass or terracotta look lovely) to be lit up during the evenings to create the most welcoming entrance for good energy to glide in.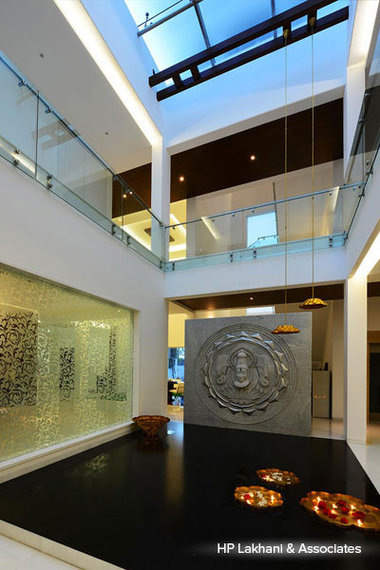 2. Make fresh flowers the centrepiece wherever you can
Place floral arrangements in vases, quaint ceramic cups and tumblers to allow fragrances to linger within the walls of your home through these months. Torans and paper lamps will lend the added bohemia of colours and celebration to your balconies and hallways.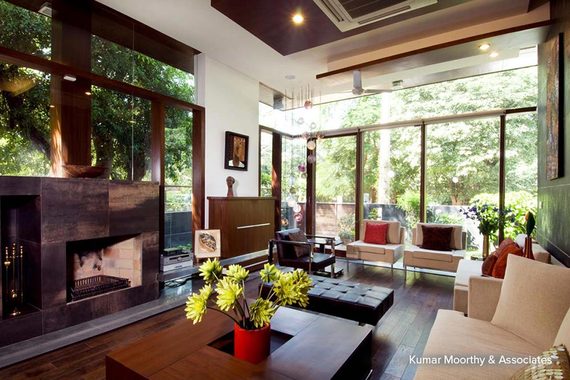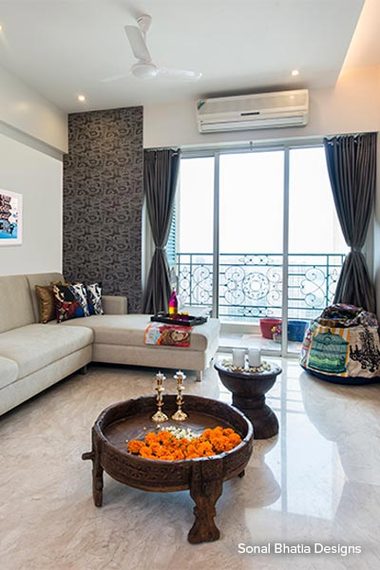 3. Tea-light holders and fairy lights
The home sections of all department stores sell a variety of tea-lights in various fragrances. This doesn't mean all tea-light holders have to be new too. You could recreate from the old as well.
Here are some DIY tips on how to add new life to lights that you dig out from the back of your closet:
Paint and glitter: Accent and retouch old tea-lights with acrylic paint and perhaps a dash of glitter before placing them around the house.
Fun with fairy lights: Use last year's fairy lights to create a magical doorway or hallway. Dress up balcony banisters by stringing a line of fairy lights entwined with beads, charms or anything at hand that you think will look good.
Wine lights: Get some empty wine bottles and rid the exterior of branding stickers before dropping a bunch of fairy lights inside. Place these bottles in corners, plug in and get a dreamy, fairyland effect in your living space.
4. Get cosy with rich textiles
Bring out the cushion covers in brocades and silk; warm-rich colours with in hand embroidered Suzani, Phulkari or Kantha work (all that you could perhaps not bring out during the warmer months) look gorgeous. The weather allows for richness in colours and warmth of textiles and furnishing. Place bright new table-runners in rich prints and textures across your dining tabletops and consoles. Get some bright coloured throws and place them around for that added touch of casual warmth.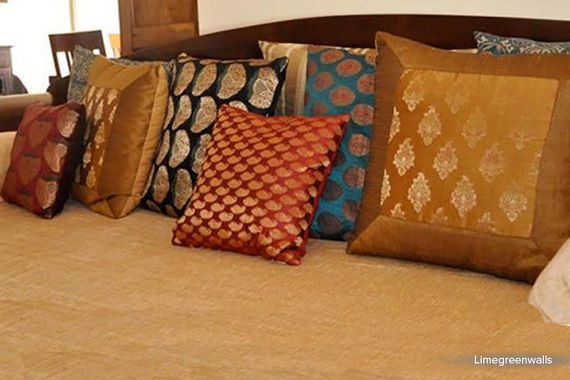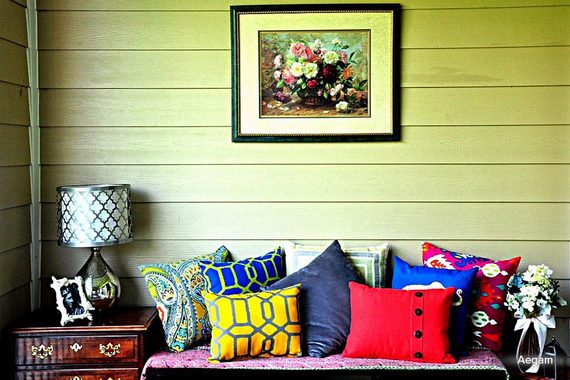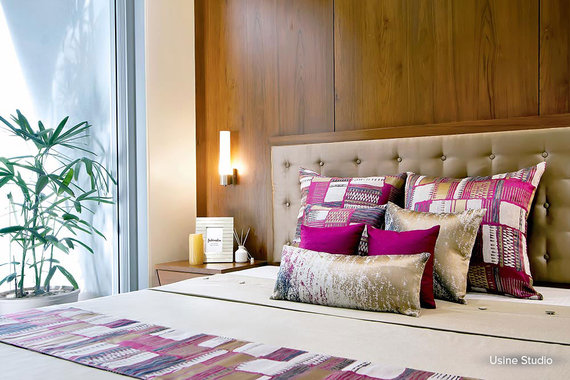 5. Polish up metalware and let glass shine brighter
Create imaginative tablescapes on your coffee-tables and sideboards. It's a great time to make all the glassware shine and sparkle with a nice bit of cleaning and polishing. You can glam up glassware with beaded necklaces and baubles that you stopped using. Place them around and let the light shine through and reflect the glitter.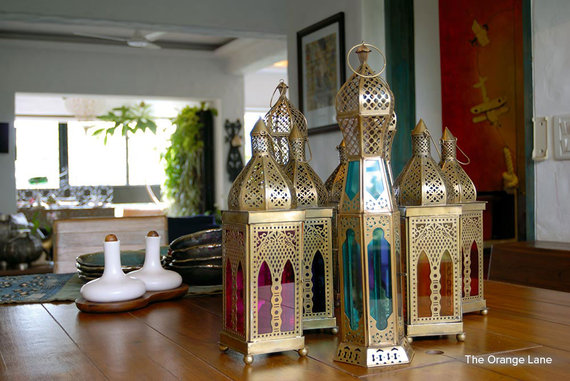 6. Jazz up your walls
Frame up some pictures from the last vacation you took with family or friends and perhaps replace old art or pictures with new ones (you can reuse the frames).
Take this opportunity to finally frame and put up the pieces of local art, scrolls or paintings that you might have purchased on vacation. Those happy holiday memories will come back every time you glance at the walls.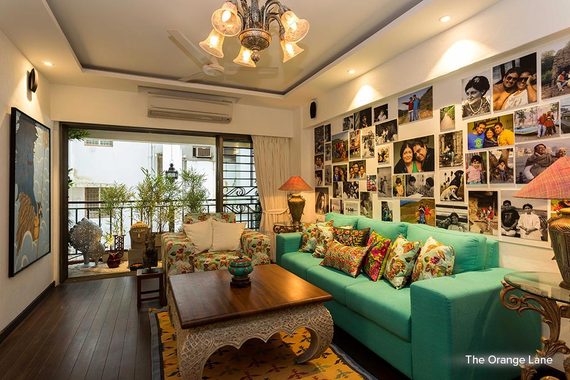 7. Dust off your rugs and carpets
Nothing cosies up living areas like rugs do! I am a huge lover of soft, warm, textured or hand-woven rugs in cotton, wool or silk. I love how they feel under my feet especially when the air takes on the nip of winter. Rugs do not always have to cover the entire floor, and nor do they need to be expensive or in wool and silk. They can be simple cotton or jute dhurries. In fact, cotton dhurries have a warming effect in winter and a cooling one in summer.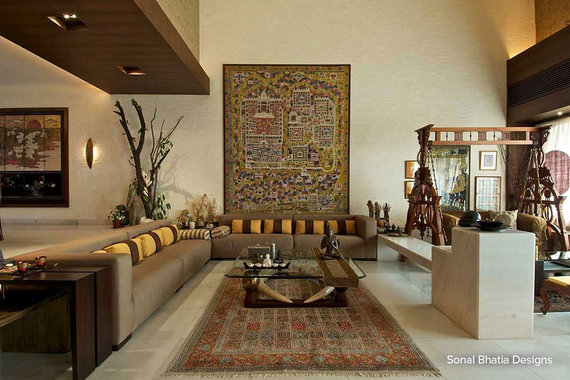 Place the rugs diagonally or horizontally anywhere where you wish to give some definition or just to make a seating area more inclusive and intimate. This is also the season to welcome guests at home and that added warmth of a rug under the feet may just make your guests want to linger a tad bit longer.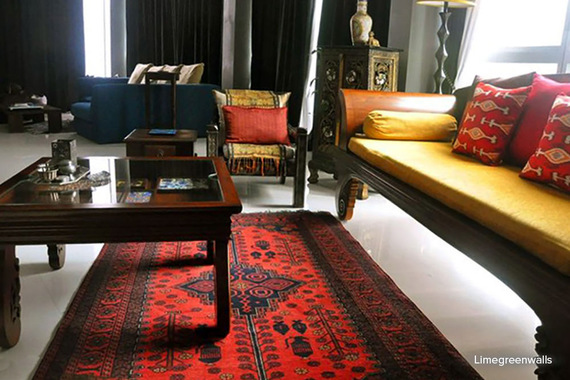 8. Get creative with curtains
If you have provisioned your rooms for replaceable curtains you can put up bright, festive, floral readymade curtains available in organza or malmal at most boutique furnishing outlets. If you have fixed ceiling-to-floor curtains you don't need to feel stuck. Buy some colourful curtain tassels and tiebacks to bring a splash of colour. If you have old parandis at home use those for the same effect.
8. Invest in a bit of a magic
This is a great time to finally buy that one piece of magic for your décor - it could be an accent chair, a piece of art, a set of exquisitely hand-embroidered cushions -- anything that you have yearned for through the year. Diwali is the best occasion to finally make this object of desire a part of your home and bring a happy smile to your lips!