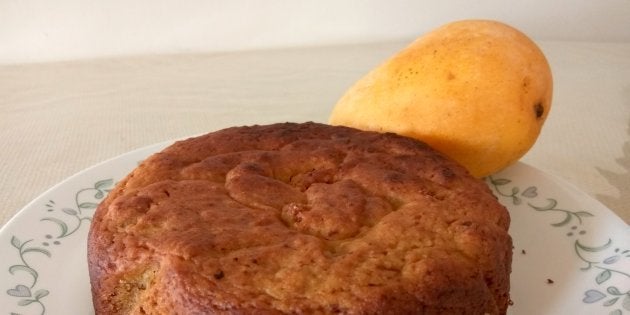 Summers in India are harsh. There is heat, sweat, sickness, scarcity of water and power cuts. Despite this sweltering heat, there is one thing that makes every Indian look forward to the season—mangoes, rightfully called the king of fruits. Summer is mango season, and many amazing dishes served at this time revolve around mangoes. As for me, I'm not much of a cook, but I just love baking cakes. There's nothing better than a freshly baked cake to pep up a dreary evening, or for a cosy little celebration. And the pleasure you get when your family happily polishes off all of it, priceless!
I'm also a very lazy cook, who is always trying to spend minimum time and effort in the kitchen, all the while looking for ways to make the dishes healthier. I scour the internet for the easiest baking recipes, which I then tweak as per my liking.
This is pretty much a standard recipe for making any eggless fruit- or veg-flavoured cake—simply replace the mango puree with banana puree, pumpkin puree or grated carrots...
It was this love for simple baking recipes, and an abundance of uber-sweet mangoes that led me to Vaishali's vegan mango cupcakes a few years back. I followed this recipe almost to the T, except that I replaced the all-purpose flour with whole-wheat flour, and made a sheet cake instead of cupcakes. What I got was an absolutely delightful, eggless mango cake, full of flavour and healthier ingredients. Since then, I've been baking this cake a few times every mango season, and all of us in the family look forward to having it. I'm not a fan of frosting on cakes, so I skipped that part, but you can always slather it on if you like it.
Oh, and this is pretty much a standard recipe for making any eggless fruit- or veg-flavoured cake—you can simply replace the mango puree with an equivalent amount of banana puree, pumpkin puree or grated carrots (for carrot cake, you will need to add ½ cup milk too) to get a cake of that flavour.
Whole-wheat mango cake
(Note: use the same-size cup for all quantities given in cups!)
1 cup whole-wheat flour (I used multigrain flour)
1 cup mango puree (I took one large banganpalli/safeda mango and pureed it. You may need less or more depending on the size of the mangoes that you use)
½ cup white sugar (You can replace this with raw cane sugar or jaggery powder, but you will need to add a little extra since they tend to be less sweet than white sugar.)
1 ½ teaspoon baking powder
½ teaspoon baking soda (PS: baking soda and baking powder are not the same thing)
1/3 teaspoon green cardamom powder (Don't use more than this, otherwise it tends to overpower the mango flavour).
1/3 cup refined oil (You can use any flavourless refined oil like sunflower oil, canola oil or rice bran oil).
1 teaspoon vanilla essence
Chopped dry fruits of your choice (Optional)
Sift all the dry ingredients—flour, baking powder, baking soda and cardamom powder— and keep aside.
Using a mixer (any will do), mix all the wet ingredients—mango puree, sugar, oil, vanilla essence—till they are thoroughly combined.
Preheat the oven to 180°C.
In a large mixing bowl, pour the wet mixture. To it, slowly add the sifted dry ingredients and fold them in to get a smooth batter. The batter won't be runny.
You may add dry fruits to this batter now.
Pour the batter in a greased baking dish lined with parchment.
Bake in a pre-heated oven at 180°C till a toothpick inserted comes out clean. (Be warned: baking temperatures and times vary from oven to oven. It takes some practice to figure it out.) Make sure to cover the baking dish with an aluminium foil tent to prevent the top of the cake from burning.
When done, take out the cake and allow it to cool on a wired rack.
So here's the one dish that I really look forward to in summer. Do give it a try. You won't be disappointed! It tastes best when shared with family and friends over a cup of tea.