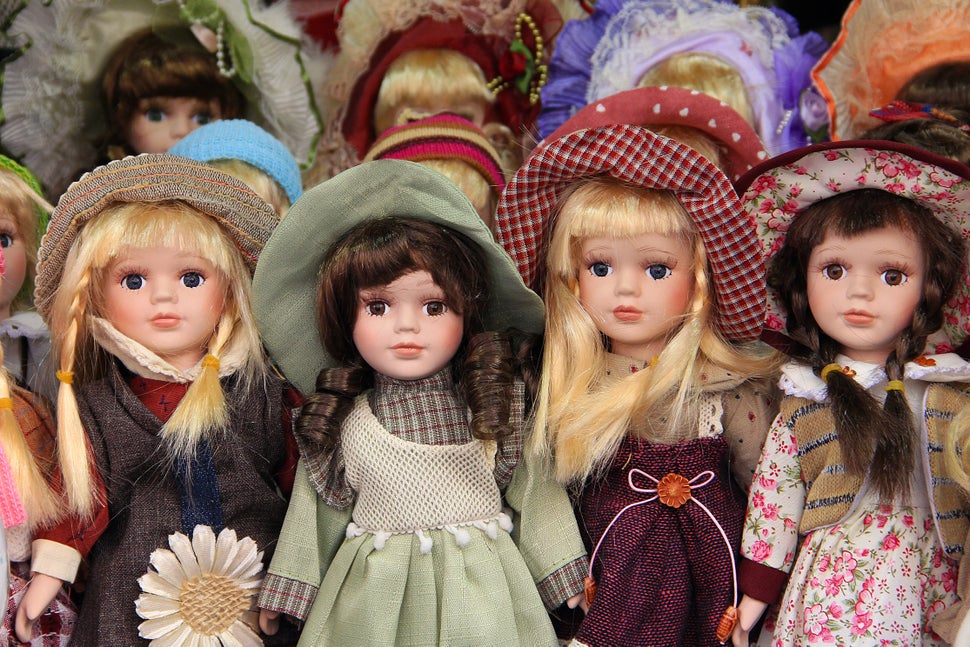 In September this year, a doll was operated on by doctors in Delhi's Loknayak Hospital. It was given an injection, fed medicines, and its legs were bandaged. The doll belonged to 11-month-old Zikra who had fractured her leg after falling off a bed and was protesting against her treatment. The doctors were told about Zikra's intimacy with her doll, about how she ate her meals only after it was mock-fed. It was only after the doll was "medicated" in the presence of Zikra, that she agreed to be treated. In a photograph published in Amar Ujala, Zikra lies with her plastered legs raised in a sling, beside her doll in the exact posture.
What does it mean for a young girl to consider an inanimate, mute object to be her alter ego? Psychoanalysts say that play helps children to explore and master their environment, but it is also true that ideas of gender roles and beauty standards are often transmitted to a child through toys. In her essay Child and Psychological Aspects of a Doll, Jasna Grzinic writes, "A doll is a symbolic homunculus, little life, the symbol of that numinous that lies buried in all people." Dolls are both comforting and uncanny – they look like humans, but are not.
My doll had blue painted eyes that didn't shut when she slept. Her chest was flat and her body was without curves. My sister's Barbie was the opposite, with her moving eyes, voluptuous body, lush hair and intriguing smile. She was the beauty coveted by the best boys in the school. My local doll was the heroine's lacklustre friend.
My family lived in a colliery in Dhanbad, where my father worked for Bharat Coking Coal Limited. The rainy season there was one of overflowing drains, accidents in flooded mines, and snails creeping into the crannies of commodes. It was also the season of indoor games, scrabble and jigsaw puzzles. I played with my doll, stitched dresses for her from old saris, made her up, and organised weddings with a neighbour's doll. Since most dolls were females, they married each other – our mothers throwing cosy parties with snacks and sherbets for these weddings.
I outgrew dolls when I was 12. After school, I would go out to play with other children in our colony. I was bad at sports but did it for companionship. We played cricket on a stretch of potholed, coal-dust laden road flanked by offices and cavernous structures that housed transformers and other machines.
One evening when I was 13, I went out to play with my neighbours who had gathered on the terrace for a game of cat and mouse. But something had changed. As I sat on the parapet, they moved to the adjacent terrace and pointedly started playing without me. It was TS, a girl who lived in the flat above us, and her brother, who had led the others in excluding me. She liked picking on me and passing snide remarks about how I looked and talked. "What are you going to do when you grow up?" "I want to be a cop like Kalyani in Udaan." "You can't even catch a dragonfly, how will you catch dons?"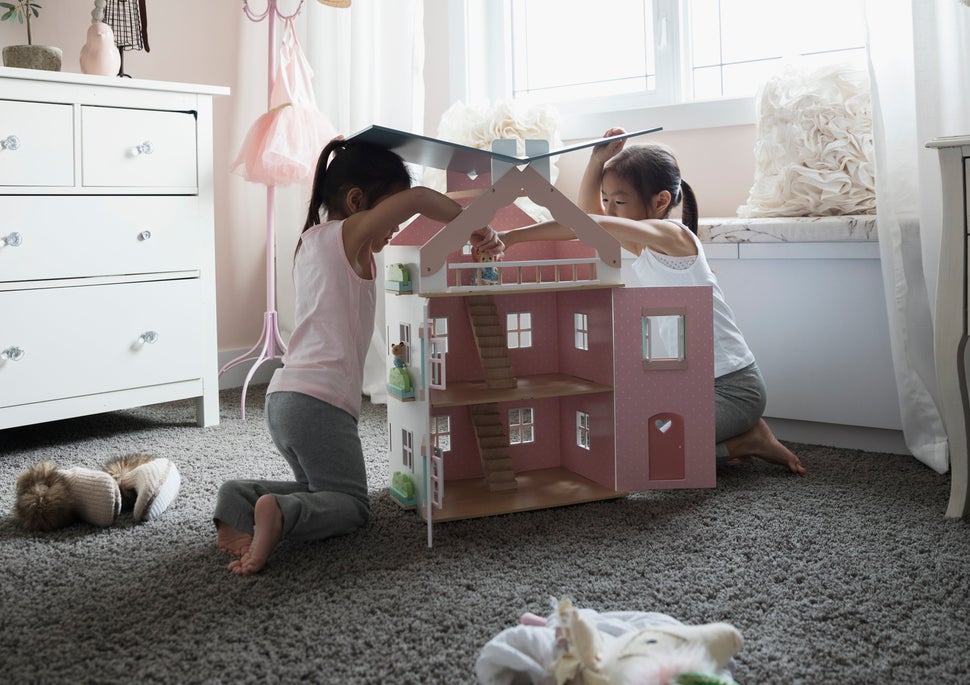 From the next evening, I stayed indoors. I spent all my free time making a dollhouse. I used a wooden shoe rack and imagined it to be a four-storeyed house with a kitchen, two bedrooms and a living room. I converted spare wooden switchboards and fruit trays into beds, where my doll slept with her eyes open. I used dinner table mats as carpets, and attached pocket mirrors to toy tables to make dressing tables. A miniature clock was kept on a table, just like a real house whose inhabitants paid heed to the passing of hours.
The relationship between dolls, exclusion and lonely girls has long been the stuff of literature. In Katherine Mansfield's short story, The Doll's House, the titular object becomes a symbol of class and a site for exclusion. The Burnell sisters receive a beautiful dollhouse which they use to gain celebrity status, showing it off to everyone, except the Kelvey sisters, who are poor. Pecola, the young black girl in Toni Morrison's The Bluest Eye, wishes for eyes like a doll because she thinks it will make everyone love her.
In Andres Barba's Such Small Hands, the bond between dolls and girls take a sinister turn. Inspired by a real incident that occurred in Brazil in 1960s, the book features seven-year-old Marina who has recently lost her parents in an accident and goes to live in an orphanage. She is small, delicate, carries a doll always and has a prominent scar on her shoulder, like the mark left if an angel's wing were removed. She is a mysterious and fascinating figure for the other residents, who can't understand the symptoms of her grief, her refusal to eat, her quietness. One day Marina invents a game in which each night she chooses a girl to play the doll. The girl is stripped naked, dressed in a scratchy outfit, and made up. Others tell her their secrets and play with her passive motionless body. On the night Marina's plays the doll, the inchoate passions of the girls turn loose and dangerous. "It was as though we'd suddenly gotten hungry, as if it were lunchtime and they'd said we were having fried ham and cheese, and we were overeager." They mutter their secret desires in her ears, "Dolly, I broke off your hands and legs and I buried you with the caterpillars." Marina dies and the girls play with her the entire night.
"Dolls accept everything," Barba writes in Such Small Hands. A doll's body absorbs acts of care as well as neglect and violence. In a starkly gendered world, it's often how women are treated. In Alfred Hitchcock's Vertigo, Kim Novak plays a living, breathing doll, who is dressed and re-dressed, her hair and appearance transformed by two men to fulfil their ends and fantasies. When the fantasy ruptures, she has to die. The shifting of roles between being a doll and a real person for many women is best expressed in Courtney Love's song Doll Parts. Written after her first meeting with her future husband and rockstar Kurt Cobain, who gifted her a porcelain doll, the song addresses the contradictory personality of a woman who has to wear masks, control appetites and hide feelings. She sings of a girl who has a doll face but bad skin, a doll heart that aches, she has a doll mouth but wants to be "the girl with the most cake".
My mother's first cousin was named Dolly because of her big round eyes. She and her elder brother were raised by my grandmother after their mother passed away. He was sent to a boarding school, after which he joined the Indian Air Force. Dolly, on the other hand, went to a local school in Ranchi and spent most of her time doing household chores. She was spirited, had the gift of the gab and a big, hearty, disruptive laugh. It irked my grandmother no end – Dolly refused to behave like her name. She was often forbidden from going out or interacting with men, her laughter locked inside a room. At 20, she was married to a man she had never met before. In a one-sentence story The Doll's Alphabet, Camilla Grudova writes, " The Doll's Alphabet has eleven letters: ABCDILMNOPU." Fewer letters, fewer words, fewer ways to articulate desire.
Jeanette Winterson's novel Frankissstein explores the male desire for women to behave like an obedient toy, in a futuristic, AI-dominated world. In the book, a businessman called Ron, who is about to launch a new generation sex dolls for lonely men, describes the traits of one, "Deluxe has a big vocabulary. About 200 words. Deluxe will listen to what you want to talk about – football, politics or whatever. She waits till you're finished, of course, no interrupting, even if you waffle a bit, and then she'll say something interesting." The rationale for a sex doll is that modern women don't stay at home like they used to. "Women aren't goldfish. They've evolved. But like my mum says, emancipation can be a problem for a man." These dolls range from blonde to brunette to busty to sporty. They are hygiene checked, bathed and perfumed. "You can choose one of four scents – musky, floral, woody or lavender."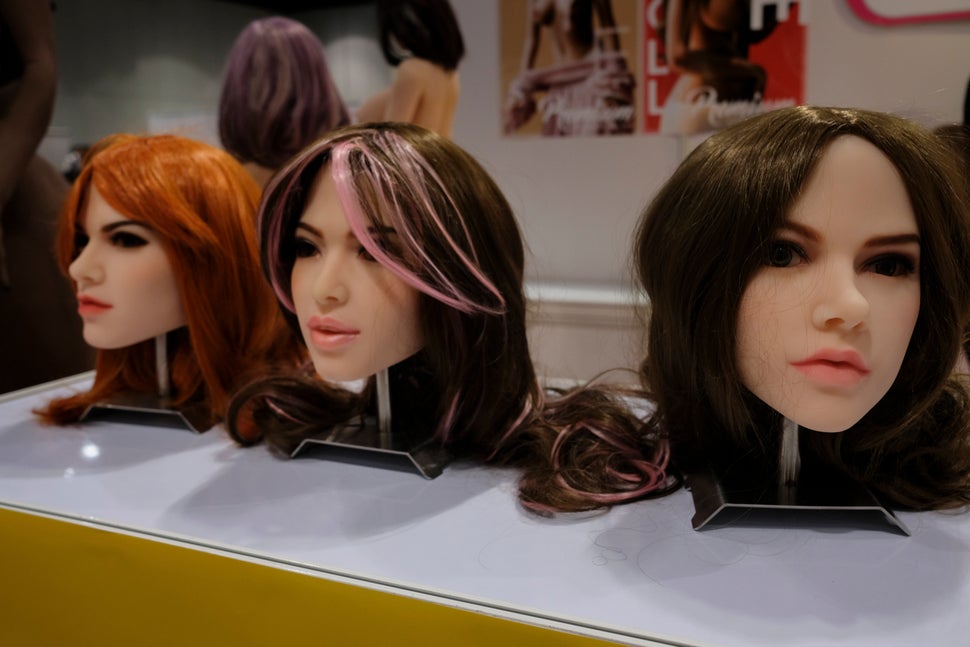 A month after I stopped going to play outdoors, my younger brother told me that he had seen my name chiselled on a playmate's wrist. When my mother was informed, she went to consult an aunt, and the news spread. TS visited my house and seeing me cry, confessed, "I asked my brother to bully you because you look so lovely, exactly like a doll." Instead of lovely, I heard weak and submissive. Over the course of months, I dismantled the dollhouse, gave away my dolls, and eviscerated the doll parts, the little life, that could have insidiously grown inside me.