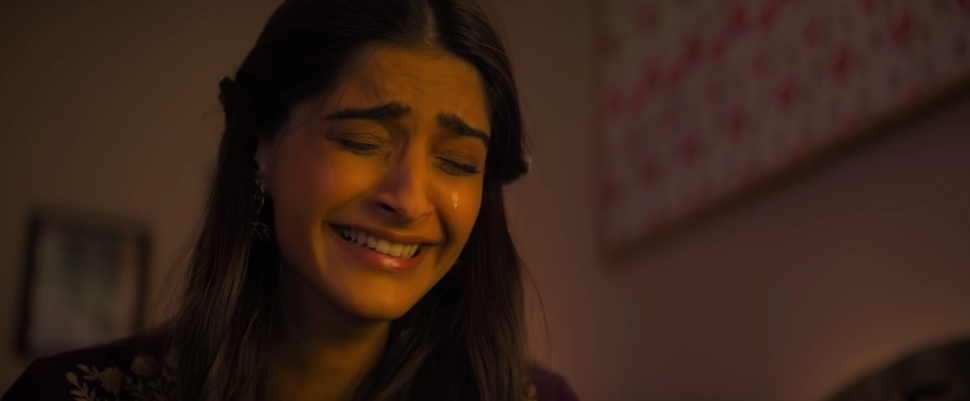 Embarrassing confession: I teared up a bit watching Sonam Kapoor's Ek Ladki Ko Dekha Toh Aisa Laga. But then, I tear up when that annoying kid goes 'Maa… maa' in Kuch Kuch Hota Hai and Rohan gets roughed by that bicep dude in Koi... Mil Gaya, so let's just say my lachrymal glands didn't upgrade like my wardrobe did since the '90s.
Now, I did not ruin my bucket of popcorn bawling like I did watching Kapoor and Sons— you've got to have a broccoli in place of your heart to watch Fawad Khan in pain and not bawl — but Ek Ladki Ko Dekha To Aisa Laga was ridiculously pleasant to sit through.
As a cis-gender, heterosexual woman, I'm not the right person to comment on the relatability of Sonam Kapoor's character Sweety — a small-town girl who's lesbian — and her travails. But I can say from my interactions with queer women that the film dramatically tones down the violence and resistance they face in real life. However, where it scores is in showing how the arguably 'nice' people—non-Khap type humans who care about the people they love—are also incorrigible slaves to patriarchy, making many lives miserable, including their own. Ek Ladki Ko Dekha To Aisa Laga, therefore, could be treated as a cautionary tale on how to not be a nice douche.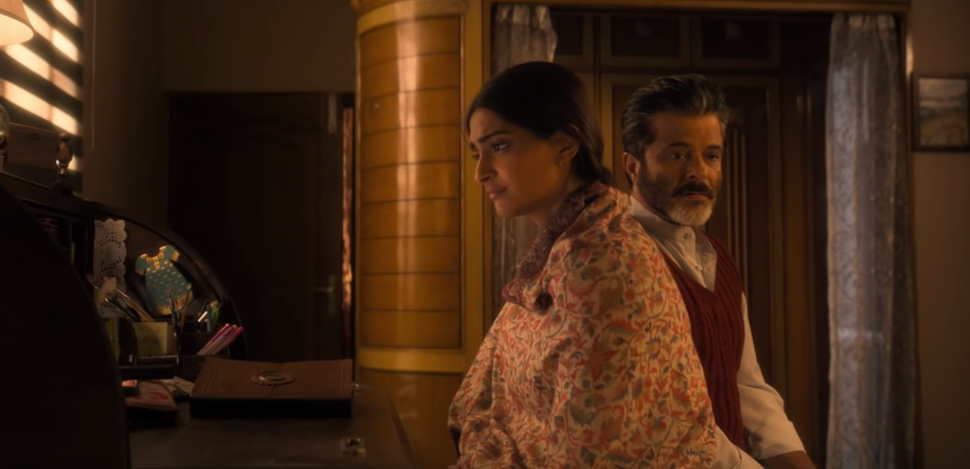 The film, written by Gazal Dhaliwal who also wrote Lipstick Under My Burkha, uses the familiar tropes of a Bollywood romance and spins them effectively around the love story of two women. So there's the typical Bollywood meet cute amid, of course, a Punjabi wedding sequence. There's dancing, hand-holding and a sappy romantic track. There's a family against the lovers, there are tears and angry dialogues, and then there's a sort of unrealistic, filmy happily-ever-after. Only, instead of boy-meets-girl, this is girl-meets-girl.
The story revolves around Sweety, who lives in Moga, a small town in Punjab. Her father Balbir (a very effective Anil Kapoor), is an affluent businessman. The first half of the film shows Sweety sulking most of the time while Sahil (played by Rajkummar Rao) falls in love with her after a chance meeting in Delhi and follows her to Punjab. Sweety's family, initially apprehensive of an alliance with a Muslim man, finally comes around and agrees to the match. However, Sweety then reveals to Sahil that she loves a girl. The rest of the film follows the conventional Bollywood track of how the lovers beat all odds to be together.
A small quibble I had with Ek Ladki Ko Dekha Toh Aisa Laga is the disproportionate amount of attention that Sweety and Sahil's story gets compared with Sweety and her lover Kuhu. It's almost as if the makers are trying to serve up the lesbian love story only after they have done justice to the heteronormative one. In the end, the film and Sweety both credit the man for 'saving' the women in love.
"A small quibble I had with Ek Ladki Ko Dekha Toh Aisa Laga is the disproportionate amount of attention that Sweety and Sahil's story gets compared with Sweety and her lover Kuhu."
That said, the film, without really barrelling it in, quietly and effectively points out how patriarchal biases work, and can hurt everyone, including men. Parallel to Sweety's love story, the film explores her father's interest in cooking. Balbir is constantly chided by his mother—an affable old lady, played by Madhu Malti — for being interested in the work 'women' do. Another is how Balbir wrestles with the idea of his daughter marrying a Muslim, though he eagerly declares he has no 'problems' with them as a community. In effect, the film draws a pretty accurate map of middle-class India's biases, often perpetuated by likable people such as, say, your own parents, making it difficult for queer folk to live in peace.
In 1998, I was 13 years old, had never heard the word 'homosexuality' and mostly read the Bengali newspapers that my grandfather subscribed to. One evening, as my grandfather and I sat hunched over pages of that day's Bengali paper, an anchor story caught my eye. It was about an attack on theatres because a film called Fire—which allegedly 'promoted' 'shomokamita' (Bengali for homosexuality) — was being screened. The accompanying picture of a poster mounted on a movie hall — showing Shabana Azmi, her head thrown back in laughter, and a smiling Nandita Das— hardly seemed like there was anything worth vandalising. So of course, I turned to the most industrious newspaper reader in the family — my grandfather — and demanded to know what 'shomokamita' meant. The article had used various synonyms for the word 'proximity' to explain what the film was about. My grandfather took one disinterested look and casually asked me to not pay attention to 'antel cinema' (arthouse films will be a close translation) and 'boroder jinish' (adult stuff).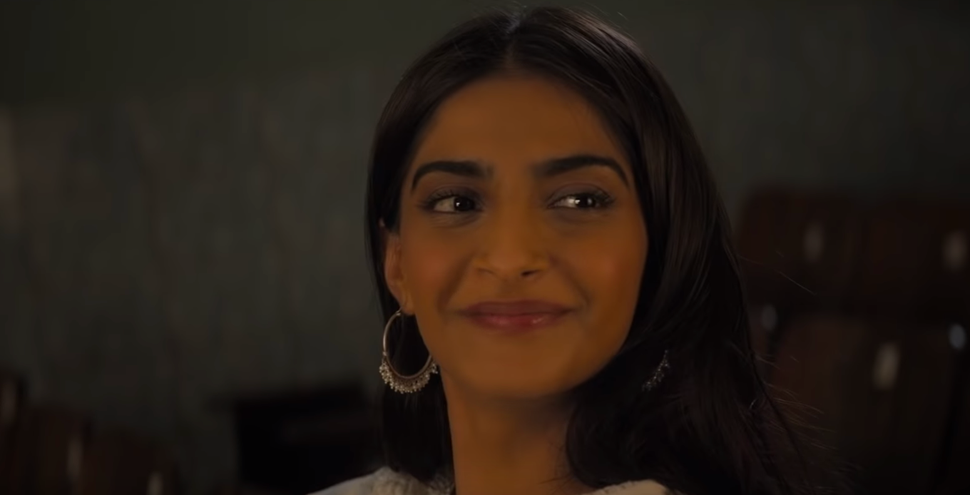 Two decades on, my father winced a bit when I asked him to watch Ek Ladki Ko Dekha Toh Aisa Laga with me, quickly adding that he would probably not be up in time to catch an early morning show. Just goes to show that despite the best, loudest, bravest efforts of the queer community, middle-class morality finds a dozen excuses to not reform or evolve. We, who consider ourselves allies, also often restrict our support to Facebook statuses, pride marches, parties and a small bubble of privileged, like-minded people, without really bothering to claw through the wilderness that lies outside it. A wilderness that queer folks have to actually deal with, sometimes affecting their mental health and physical safety.
Ek Ladki Ko Dekha Toh Aisa Laga, in all its familiar Bollywood glory, is the conversation starter that you shouldn't let slip. Sonam Kapoor is lovely as Sweety, though she only has to look as upset as any average Bengali battling acidity throughout the film. Also, her face, alongside Anil Kapoor's, is crucial for the film to not be dismissed as what my folks zealously avoid—'antel cinema'.
I have no patience with the frightening new remix factory that has turned my favourite tracks into song versions of the confounding quinoa biryani, but I'll cut Ek Ladki Ko Dekha Toh Aisa Laga some 'good cause' slack.