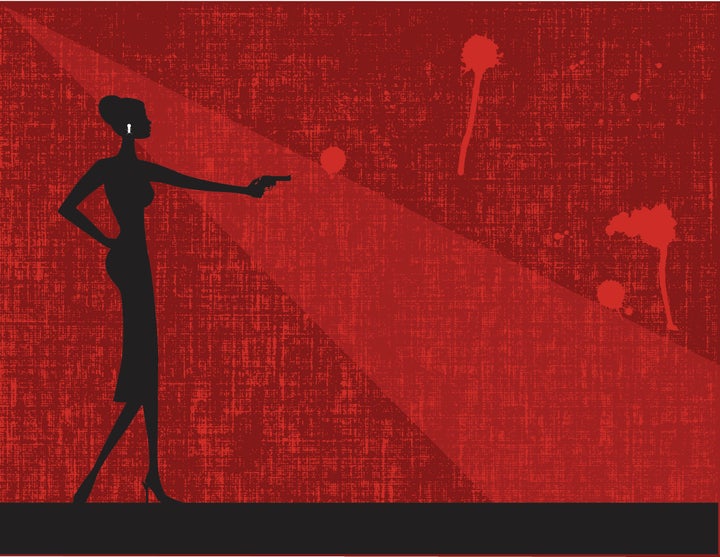 My crime thriller anthology, She Stoops to Kill: Stories of Crime and Passion, came about in the most unexpected way. A bunch of us were waiting at the Guwahati Airport on a cloudy and depressing winter afternoon after participating in a literature festival, and naturally, the conversation turned to murder. What the impetus was, I can't recall now. Maybe the terrible Sheena Bora case that was all over the news then.
We all tried to recall great Indian crime fiction stories that we'd read. With sensational murders bloodying the news pages and TV channels each day, surely there was enough meat to fire the imagination of our writers? But somehow, this is still a genre that Indian writers have, in the most part, been shy of.
This isn't to say that there aren't compelling options for the reader whose heart yearns for crime stories rooted in India,especially those written by women. Kalpana Swaminathan's Lalli series, and perhaps Madhulika Liddle's Muzaffar Jang series, where her detective is a 17th-century Mughal sleuth, are some of the most successful. Swaminathan's 60-something Lalli is a compelling mix of intellectual agility and empathy. As her creator says, Lalli is more interested in crimes that happen within the four walls of the house and always ready to consider its sociological implications.
Ambai, the well known and critically acclaimed Tamil writer, has also published a set of three detective novellas featuring Sudha Gupta, who has a flair for solving problems. A desi Miss Marple, Gupta began solving crimes while in college, and her scientist husband and college-going daughter support her unconventional profession. Unlike many thrillers featuring male protagonists, in Swaminathan and Ambai's books, the danger Lalli and Gupta face is frequently juxtaposed with the domestic situations they deal with, subverting established narratives.
That's why, when the idea of editing an anthology of crime stories by women was mooted, I knew I wanted to include tales that would not just recreate the same thrill I felt when reading thrillers late into the night as a child, but were also inspired by the same sense of subversiveness.
"Women writers have burrowed into the enigmas of identity and the deadly stresses of everyday life. Their plots are light on gunplay and heavy on emotional violence."
I began reading crime fiction early and have continued to discover and enjoy new writers over the years. Many of the 'classics' we read at school had, at their heart, darkness and crime, even if they weren't considered thrillers — Charles Dickens, Wilke Collins, the fabulous Russians writing of bleak brooding landscapes, Kafka and, of course, Conrad. Later, I added to this a steady diet of the established Western greats: Colin Dexter, Agatha Christie, Arthur Conan Doyle, Dorothy L. Sayers, Ruth Rendell, Sara Paretsky and PD James, and then more recently Nordic Noir, beginning with the startlingly popular Millennium Trilogy by Steig Larsson.
The explosion of domestic noir, after the stunning success of Gillian Flynn's Gone Girl, has also been an interesting phenomenon, given that this is a space dominated by women. These writers have burrowed into the enigmas of identity and the deadly stresses of everyday life. Their plots are light on gunplay and heavy on emotional violence. Death in these novels is often chillingly casual and unnervingly intimate.

These books brought murder and mayhem into the intimate space of the family, and familial relationships. Women writers often expose the dangers lurking in their most intimate, and often treacherous, spaces: family, marriage, and within friendships. And one thing that shines through is that violence, or the threat of it, is very real for women.
What started out as an effort to create an anthology of women writing crimes of passion in the 'domestic sphere' with murderous wives, revengeful daughters and bloodthirsty friends on a killing spree, turned into something more—a deliciously dark tribute to what women think about when they contemplate murder.
The eight women writers whose stories form this collection have created some memorable characters and locales while embedding their stories deep within the cultural complexity that is India. Each one brings to the telling her own peculiar talent, her own brand and persona, her own particular genius. They bring us strong feisty characters—a woman detective, a diva who chokes to death on a poisoned paan, a widow with murderous intent who refuses to be a victim—and a sense of place and atmosphere. What's unique about this anthology is that many of these women do not usually write crime. But once they did accept the challenge, they produced some wonderful work that I hope readers will enjoy as much as I did.
I read somewhere that reading crime novels is therapeutic. I don't know if that's the case for everyone, but I certainly find it relaxing after the perils of the day. So let's raise a toast to crime writing, may it continue to grow and flower in this land.
Preeti Gill is the editor of 'She Stoops to Kill: Stories of Crime and Passion', published by Speaking Tiger.