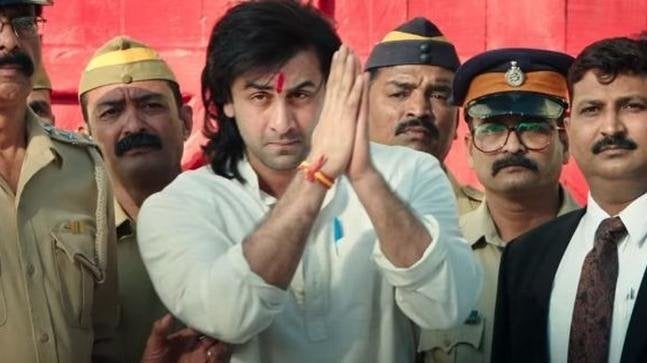 Given the number of movies, the Hindi film industry churns out in a year, it's impossible for good films to outnumber the bad ones.
However, 2018 turned out to be an exceptional year for Bollywood. Yes, like every year, we made some awful, awful films, along with some really good ones.
From a film that brazenly embraced a sympathetic narrative while telling the story of a convicted criminal to an action movie that legitimised a piece of fake news, below is a list of films, some of which were woefully irresponsible in their messaging while some were just plain torturous to sit through, despite having access to all the resources required to helm a reasonably good film.
Here is a list of the absolutely worst Hindi films of 2018.
As a wave of hyper-nationalism engulfs India, Bollywood isn't far behind in cashing on the problematic populist sentiment.
However, what Ahmed Khan did with Baaghi 2 was far more dangerous ― it legitimised a piece of fake news in its opening scene. Although there are several issues that make Baaghi 2 a film that shouldn't have been made, the opening scene showed Tiger Shroff's Army Man character tying up a stone-pelter on the front of his jeep and using him as a human shied to get through a lane of stone-pelters. "Patthar phekne tak theek tha, par tiranga ko nahi jalana chaiye tha," Shroff says.
While the scene obviously mirrored a real-life incident that occurred in Kashmir from April 2017, there was no evidence found by the cops to suggest that the man, Farooq Ahmed Dar, was a stone-pelter or someone who burnt the national flag (as was circulated on WhatsApp). Essentially, Baaghi 2, a film that fetishises jingoism, picked up a piece of fake news and gave it mainstream credibility. Sure, it's a fictional film, but in a climate when the truth itself is under attack, mirroring a real-life incident and subverting it to fit an ideological cannon is a deeply reckless thing to do.
Everything that could possibly go wrong with a film went wrong with Thugs of Hindostan, a monstrosity of a movie that defies any logic or explanation for its existence.
YRF bankrolled this ambitious pirate drama that was powered by top stars Aamir Khan, Amitabh Bachchan and Katrina Kaif.
It'd have been commendable if the amount of investment the makers made in every character's eye make-up was instead channeled towards the writer's room so they could come up with something, like, you know a plausible plot.
Generic action sequences, out-of-place humour, unimpressive performances, Thugs was so poorly directed, after a point, it felt like a parody of itself. Between Tashan, Dhoom 3 and Thugs, Vijay Krishna Acharya now has the rare distinction of directing some of the worst Hindi films of the 21st century, his latest film so awful two actors from the cast actually apologised for it.
Nobody was expecting Race 3 to be a good movie or even an average one, largely because Salman Khan was in it. And having Salman Khan lead a film about exploding SUVs isn't exactly the brightest idea one can come up with.
But could a film be so monumentally stupid without even realising how stupid it is? Just how can you have a dialogue/product placement that goes, "Ussey dil nahi, Dell khol ke dikhao," without any sense of irony?
While Khan's movies aren't quite known to offer any scope for critical analysis, films owe their audience some degree of accountability as far as entertainment is concerned. With an over-exploited template of menacing siblings excelling in backstabbing and double-crossing, the biggest casualty of Race 3′s laughable premise was the viewer's intellect.
At a cultural moment when men in power are being held accountable and are losing face for their past misdeeds, Rajkumar Hirani's Sanjay Dutt biopic revealed how tone-deaf and prone to sycophancy Bollywood remains as an industry.
Not only did Sanju, a woefully irresponsible film, recharacterise the events of Dutt's life to make him appear as a victim of unfortunate circumstances, blaming everybody but himself for his own actions, it also minimised the trauma of the women he wronged by depicting his moral transgressions comedically.
Hirani also misled the audience by depicting Dutt's character with a sympathetic gaze, instead of examining his follies with a critical one. As if that wasn't reprehensible enough, Sanju also brazenly attacked the media as the one responsible for the actor's real-life downfall.
Like we wrote in our review, "The unchecked privilege, the underlying victim syndrome, the consistent attempt to absolve Dutt of his actions, and then the media-blaming, make Sanju an ideal film for our post-truth times."