In the shadow of the Himalayas, an anonymous and sinister killer is stalking a contemporary saint who delivers a message of peace and compassion in an increasing violent world.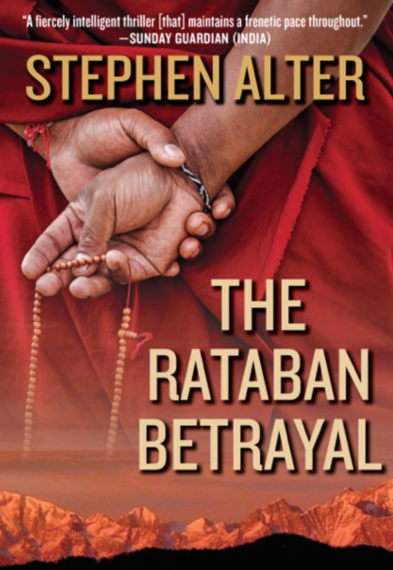 My new novel, The Rataban Betrayal (Arcade/Skyhorse January 2016), is an espionage thriller that revolves around a plot to assassinate the Dalai Lama. Though this book is a work of fiction, the fact that someone might conspire to murder the spiritual and political leader of the Tibetan nation in exile, is not beyond the realm of possibility. From time to time, articles appear in the press or on the internet, announcing conspiracies (usually hatched by Chinese agents) to eliminate the current Dalai Lama, Tenzin Gyatso. Of course, this would be an unthinkable act but in a world where our ethical moorings have been irreparably severed by terrorist plots of all kinds, anything is possible, even if it may be incomprehensible.
In 2012, His Holiness the Dalai Lama himself suggested that the Chinese government was attempting to assassinate him, using female agents disguised as devotees who would poison him with their touch when he bestowed his blessings upon them. Of course, the Chinese government issued denials and dubbed his accusations "a stunt," but his advisors immediately called for chemical detectors to be installed at his residence in Dharamshala. While much of this may be part of the paranoia and persecution that surrounds the Tibetan community in exile, the idea is not so far-fetched and there are historical precedents. For example, it is widely suspected that several of his predecessors died of poisoning, including the 10th Dalai Lama, Tsultrim Gyatso.
As a world leader, the Dalai Lama travels with a security entourage that includes a team from the Special Protection Group, India's elite security agency, as well as his own personal bodyguards and local police. The government of India has assigned him the highest "Z-Plus" level of security, which is reserved for VVIPs such as cabinet ministers. Like the pope and other religious leaders, he faces threats from fanatics driven by faith or politics, as well as the possibility of a random act of madness. He also has opponents within the Tibetan community itself, particularly followers of the Dorje Shugden sect, which he has denounced as heretical.
Buddhism teaches non-violence and compassion as well as self-abnegation. But despite their monastic traditions, many Buddhist leaders throughout history have engaged with society and were motivated by politics and power, even as they discounted these ephemeral realities as meaningless illusions. The current Dalai Lama is a charismatic personality, revered by many followers of different faiths. He is an inspiring speaker, whose humor and self-deprecating manner help frame a philosophy of compassion that is grounded in ancient wisdom but utterly relevant in the twenty-first century. Having won the Nobel Peace Prize in 1989 and being the author of bestselling books that teach profoundly simple truths, the fourteenth Dalai Lama remains a celibate monk even though he is also a global celebrity.
Choosing to write a thriller about a fictitious threat to the Dalai Lama's life was not an easy decision. My Indian publishers were so concerned about protests or lawsuits from the Tibetan community in India, they tried to persuade me to pick another target of assassination in the story. This was, of course, an absurd editorial suggestion that I quickly rejected. Neither am I advocating any such act of violence, nor am I trying to make a political statement. In fact, the novel presents a sympathetic and perhaps even heroic image of the Tibetan community in exile. Though I would never make any claims that this thriller offers new insights on the political, social or religious culture of Tibet, I would hope that through the medium of literary entertainment, some elements of the truth may be revealed.