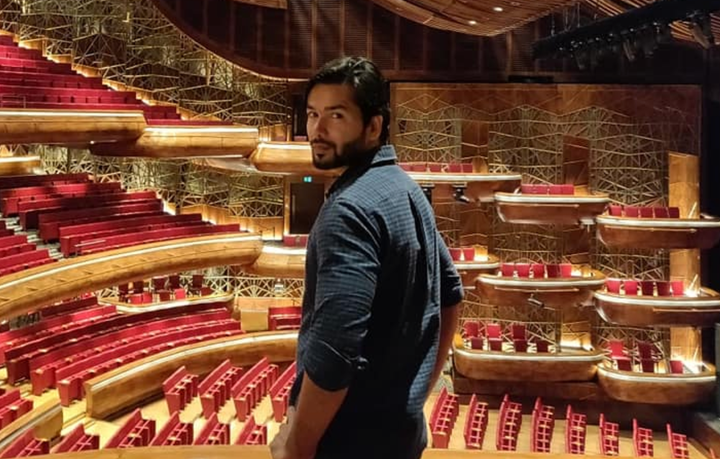 Raj and Krishna DK's The Family Man, a show that features a knockout performance by Manoj Bajpayee, has been earning raves ever since its debut on Amazon Prime. Other than Bajpayee, artists such as Sharib Hashmi, too are being applauded for their measured performances. One of the characters who is key to the show's compelling plotline is that of Sajid, played by Shahab Ali.
Ali, an alumnus of Delhi's National School of Drama, is best known for essaying the role of Salim in the Broadway-style musical drama Mughal-e-Azam, directed by Feroz Abbas Khan. In an interview with HuffPost India, Ali spoke about his role in The Family Man. His experience on the musical, the craft of acting and emerging opportunities for theatre actors in the streaming markets.
The character that you play in The Family Man, Sajid, is quite complex and has a dark shade. How did you prepare for this role and what were the key challenges that you faced?
When I was cast for Sajid's role, I was told that there is an evil streak in him and he isn't one of those people who will think twice before killing someone. But I tried to investigate the reasons behind that.
While there is little backstory to the character, I tried to expand his personal story to explore his past experiences and things he must have endured which made him so vengeful. When I was offered the character, I was told that he is a 'lone wolf'. This quality makes him a very strong character because he doesn't like to take orders from anyone and marches to his own tune. But Sajid is very different from me. I can never be so ruthless in real life. The biggest challenge was to come out of my own mindset and step into his.
How was the experience of transitioning from one medium to another with respect to the adaptations and modulations that you had to make within your skillset?
Both the mediums require a lot of homework but the preparations are different. The grammar for both the mediums is different. In theatre, you have to remember your lines. You are fully visible so you have to perform with your entire body. With a camera, it becomes imperative to communicate everything through the part that is visible in the shot. If only my face or hand is visible in the shot, even though rest of the body will not be completely relaxed, the focus will be to convey everything through that body part. So it becomes important to understand how that will come across. I feel that it is very important to carve a truthful moment on camera because it captures a lot and if you are not feeling the expression, it comes across easily. In theatre you can compensate with a dramatic effect. You can't do the same on camera.
Mughal-e-Azam, the musical drama, in which you play the role of Salim, has been a huge success. Being part of a spectacle as huge as that must've been quite an experience...
Being selected for Mughal-e-Azam was a turning point in my life. It is the biggest musical theatre show in India so far, given the scale of the production. It has the same dialogues and follows the same story as K Asif's 1960 directorial. The show has been so successful that even today, every show remains housefull. The character of Salim is iconic as it is but everything comes down to how you perform that role because if you perform it in a mediocre way, then it's an opportunity missed.
If you perform it well, it can be a game-changer. In fact, I got the role of Sajid for The Family Man because I had performed the role of Salim in Mughal-e-Azam. So, this role has a very special place in my life. The play has received tremendous exposure with many bigwigs from film industry having attended its staging. And there is a very big contribution of Feroz Abbas Khan in it, because his direction and his understanding of theatre has elevated this play to a new level. Mr. Khan has also helped me in honing my skills as an actor.
There was a time in the late 70s and early 80s when a lot of actors from theatre ended up finding substantial roles in television and films. Do you think web-series are enabling a similar discovery of theatre actors?
This is a very important question because I was thinking along the same lines recently. I feel that I am entering the industry at a time when a new medium is emerging in the form of web series and that too in a very different way. There has been a lot of dissatisfaction with the daily TV soaps and mainstream films, given their lack of realism.
There was a time when a different language of art was emerging from TV and films, one that demanded very specific kinds of actors. Theatre was the best source for meeting that requirement. I am very lucky to come at a time when this medium is fresh and has not been monopolised by big stars as yet. Soon enough they will arrive here as well, but till the time it doesn't happen, it's a golden opportunity for actors such as me.
Do you think web-series have also provided an opportunity for actors to explore diversity in range of performances?
An actor should be such who can change his acting style and approach according to the medium and genre. And thanks to online platforms, time is ripe for that to happen. In fact, in an interview, Raj and DK said that web series have given them the opportunity to work with actors who are doing good work in other mediums like theatre, but have been hitherto undiscovered.
Does your training in theatre help in essaying the role of a dark or morally grey character?
Definitely. Without the training that I have had at the National School of Drama (NSD) or the plays that I've done, I wouldn't have been able to justify Sajid's character. The feedback that I am getting is that my performance seems natural and genuine. I had to play it realistically without overdoing anything. For an actor, it takes a lot of time to develop a thought process where you look like you are living the character and not performing it.
And that thought develops through training. Many people are naturally gifted but if one has to establish a career, this process becomes important. You might play a few characters very well but without knowing what is it that makes you good, you might fade away gradually. Training is the most important because, at the end of the day, acting is a craft that needs to be honed.