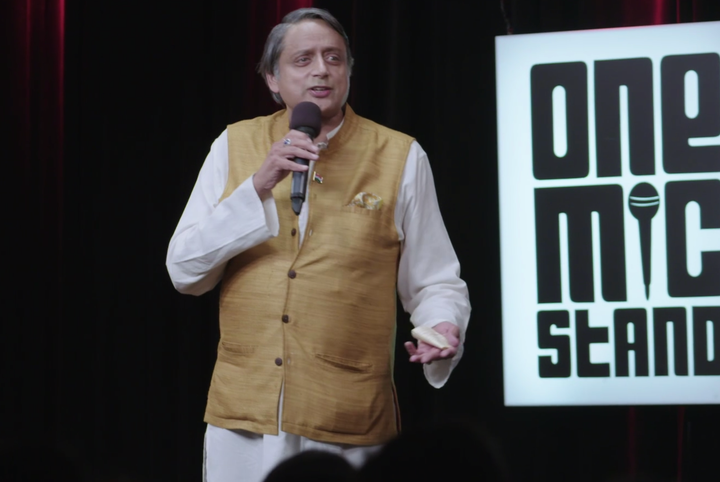 In a surprise move, Congress MP Shashi Tharoor signed up with Amazon Prime Video to perform a stand-up act for their new show, One Mic Stand. The new series, which dropped last night, sees one comedian paired along with one celebrity, performing in front of a live audience. Tharoor's 10-minute spot in an episode of 33-minutes was shot preceded with an opening set by comedian Kunal Kamra in Noida in June.
While Kamra took digs at Arnab Goswami (and generally had a weak, repetitive set than what he's capable of), Tharoor revealed that he once had a stand-up comic perform in the lawns of his house for a bunch of young leaders when his wife, Sunanda Pushkar, was alive.
Tharoor, it appeared, had a list of jokes written for him while some of his set was improvised. The politician, known for his sharp wit and exhaustive vocabulary, appeared confident and at ease, with constant encouragement from Verma and Kamra. But once on stage, his voice dried up as he tried to mould himself in a role he had no experience of.
From self-deprecating humour to digs at the BJP, here are some of the highlights from Tharoor's set:
1. A Dig on Yogi ji
"As you've been told, I am an MP and I represent Thiruvananthapuram. Because any other constituency with less than seven syllables would be a waste of my (pauses) linguistic skills... The fact is that I was looking for cities with longer names but Yogi ji was busy changing the names of all cities.
2. This Clever Jibe
When referring to a piece of paper for cues, Tharoor said, "I've got my Panama papers right here. 24 hours of preparation"
3. Peak #DadJoke
"When millennials find somebody attractive, they call them a 'snacc.' Now since when was it a compliment to say to somebody that you look like a sabudana vada?"
4. This burn on the BJP-Media nexus
"You get your news from WhatsApp? I don't blame you... Journalism has gone to the dogs, right? And what are dogs? What do chowkidars rely on when they fall asleep?"
5. Modi and Demonetisation
"They don't teach a word of colonial history in British schools. You can do A levels in history at the best schools in England without learning a line about colonialism. In fact, they mention colonialism about as often as Narendra Modi mentions demonetisation these days."
6. The Closing Clincher
"I hope you had a great time. And if you didn't, I will apologize. But after the British apologize for East India Company and Sapan apologises for East India Comedy. And even if those things don't work, you can learn from Narendra Modi and blame it all on Nehru."