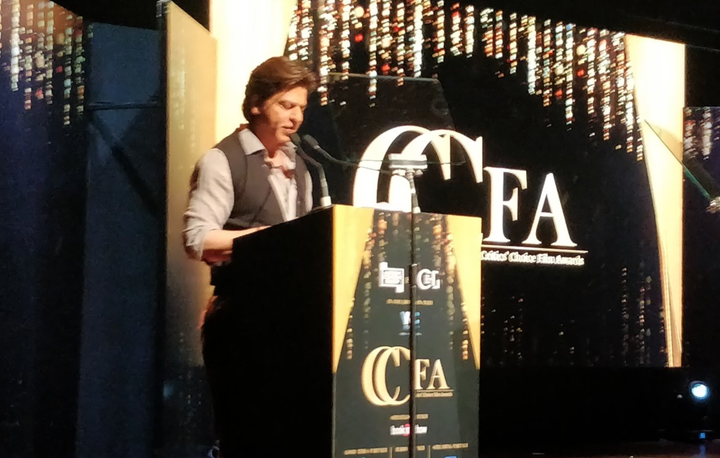 Shah Rukh Khan was the surprise guest at the recently-concluded Critics' Choice Awards held at Bandra's Rang Mandir auditorium where Sriram Raghavan's Andhadhun won the most number of trophies.
The actor flew down straight from China where he was present for the premiere of Aanand L Rai's Zero, the closing film at the Beijing International Film Festival.
In his speech at the ceremony, Khan roasted film critics and even took several digs at the verbose nature of film criticism ("pontificating on the exactness of a director's angle").
His speech, essentially, was written like a film review.
The actor also called out, in a stroke of genius self-parody, the 'star-system' ailing Bollywood. Eventually, it was understood that he was talking about the star ratings given by critics in their reviews as much as he was talking about the star-driven nature of Bollywood.
Present in the audience were several film critics such as Anupama Chopra, Rajeev Masand, Raja Sen besides several others.
Khan also appeared to be introspective.
He said, "We filmmakers have fought along to give more credit to constructive and jaded ideas. We search for art, we search for form without the essence of the stories. We find logic and disregard the free-spirit of story telling. We have to remind ourselves that truth is formless, only untruths are formed. We as film fraternity have to be truer to ourselves, to the stories we set out to tell."
He went on to say, "So I request all my critics friends here, please don't be like us Bollywood film stars, and get carried away by what Bollywood succumbed to many years ago - the star system. The star system cannot be the only way of summing up films by our critics. 3 stars, 3.5 stars, 3 and a quarter stars, 5 stars....It's a film, not a hotel for God sake. With critics sprouting all over, film critic is becoming an endangered species. Please let it not get replaced by consumer service."