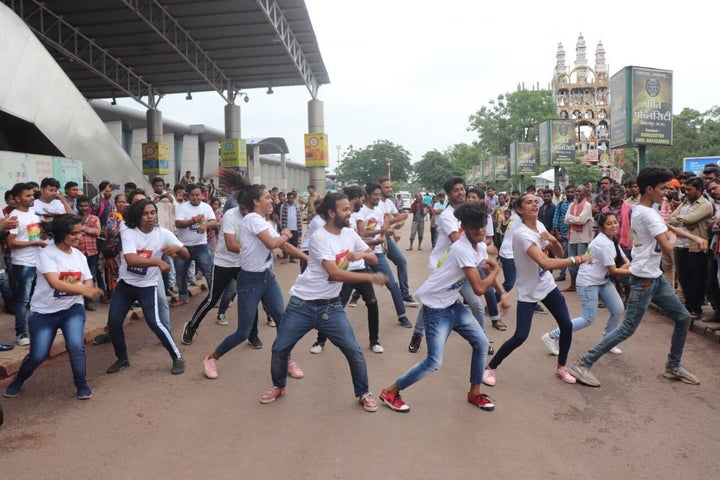 RAIPUR, Chhattisgarh —We had just stopped dancing on the road when I heard a man in the crowd ask another, 'Yeh kya chal raha hai?'. The second man shrugged and said, "Metro city wala pyaar."
This was in July this year and after weeks of wishing and then planning, we had managed to organise the first queer flashmob in Raipur, the capital of Chhattisgarh, where I live. It was eight months after the Supreme Court read down Section 377, we wore t-shirts printed with the slogan 'Love is Love'. Around twenty of us turned up at this popular lakeside in Raipur — locals call it Marine Drive — and danced for almost eight minutes to popular Hindi songs.
We had Chittiyan Kalaiyaan, London Thumakda, Udi Udi Jaye, Aankh Mare… we were a group of gay men, transwomen, transmen, and allies.
We edited the popular Bollywood hit, 'Main tera boyfriend, tu meri girlfriend' to 'Main tera boyfriend, tu mera boyfriend' to be the final song of the performance. We keep dancing to songs written for heterosexual couples, so we decided if no one's going to write songs for us, we are going to fix them for ourselves, what to do?
This may not raise eyebrows in a city like Delhi or Mumbai, but in Raipur, the queer community is as good as invisible. There is a large trans community with powerful leaders and the work they have done makes them visible, but except them, most identities are invisible here. It's not like people don't know we exist, but they don't want to acknowledge that existence, we ourselves barely managed to get together as an active community until very recently. If there's an effeminate gay man, they'd be called names on the street and abused and they will not know where to go and who to turn to for support or even share their ordeal.
"This may not raise eyebrows in a city like Delhi or Mumbai, but in Raipur, the queer community is as good as invisible."
When the judgment came out in September, various reporters from local and national channels probably used their personal networks and reached out to individuals — gay men, lesbian women, transfolk — to get their reaction. When we saw these names on papers, videos and social media posts, we tried to find them through networking sites — unlike in big cities, where people from the community know each other and how to reach out to each other, we had no clue that so many of us even existed, right here, in Raipur. And like those men in the crowd commented, queerness is dismissed as a big city phenomenon by most people here.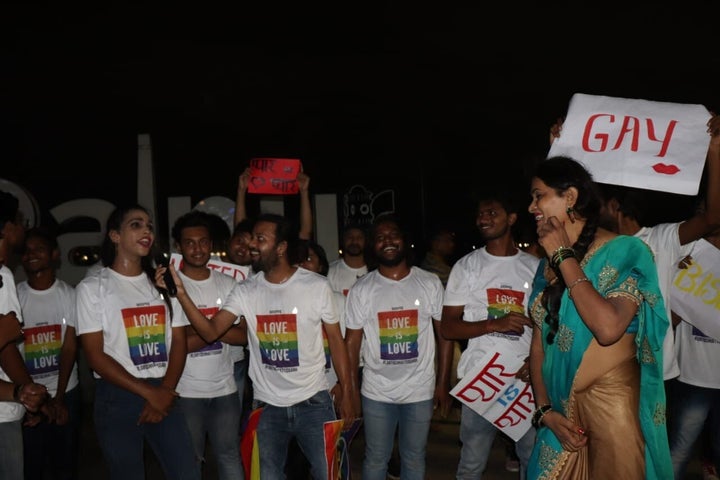 I studied fashion design in Bhubaneshwar and had always been fascinated by photos of pride walks in big cities. They were amazing, but they were intimidating too.
"We will never be able to pull something off like that in a small town," I used to think. It was true. I was born in Puri, Odisha and am the youngest in the family. I realised something was different when I was 12 or 13 years old. When my friends, who were boys, were checking out girls, I used to like being mostly around men and that excited me. Later, after searching on the internet secretly in cyber cafes, I realised I could not live in Puri all my life. What if what I was brought shame to my family? They loved me very much and I did not want to cause them embarrassment, so I moved to study in NIFT.
After graduating, I went to Delhi as I had heard how vibrant the queer community was. But I felt lost. It was like I did not belong there and the big city shenanigans dazzled and scared me. It felt like I was just losing myself in the crowd and it was scary. So I started looking for places close to home where I could go. Whenever you search Chhattisgarh on Google, it throws up photos of pretty waterfalls. So I found some work as a designer and moved here. Alas, there were no waterfalls in Raipur, they were all far away.
When I moved in 2014, the queer communities in big cities and even some smaller cities were thriving and at least lived in the knowledge that there was help and companionship around. Here, there were no events, no pink parties and fundraisers where people dance and mingle and let their hair down, the only way to find another queer person was through apps like Grindr and Planet Romeo.
Through Grinder some of us met and then around 2015, we started organising 'chai parties' — basically making a poster on photoshop and sharing with people on dating apps, asking if they'd want to hang out over chai. There were barely 8-10 people including 3-4 of us in the first one. After the judgment came out last September, these chai parties have 40-50 people wanting to come. We used to hang out at the lakeside sipping tea and chatting, now spontaneously every day people meet up in big groups. Most of them may not be out to friends and family, but they would be out to us.
"Five years ago, I used to think there are not enough people and we don't have the money needed to do a pride march. But here we are, planning Chhattisgarh's first pride march that will be held on 29 September."
In April, one of our friends, Akshay Mankar, wanted to celebrate his birthday by inviting people from the queer community to socialise and discuss our issues. We had no clue how to let more people know, and someone mentioned he had created an Instagram account a year or so back, had kept it private and basically had very few followers. We downloaded a random photo from the internet and spread the word about the handle on dating apps. We began with some 40 followers in April and it was a private account — mostly because we wanted to protect the identities of our followers, the people featured and make sure they were not exposed to bullying and attacks because they were following a 'gay handle'.
The handle 'LGBTQchattisgarh' now has 600 followers — a lot of people actually message us in direct messages, but are still scared to follow and comment, since we made it public. We lost many followers since we changed the privacy settings of the handle, just as we had feared — even following an Instagram handle can make you vulnerable to harassment in a small town in Chhattisgarh.
We made the account public ever since we started preparing for the Pride March and needed to reach out to more people. And though we lost 'followers' on the page, dozens of people messaged us just to say they were gay, with their questions about how to go about life, about laws, asking where they can meet more people 'like them'. I get them. When I was growing up in Puri, I did not know a single person who was like me.
This woman messaged us a few months ago and told us, she is lesbian and it feels good to know there are other women like her from the posts we put on our page. She is from Kota, a small town in Bilaspur district. We invited her to travel with us for a flashmob event.
"When we turned up, there were so many queer people who had just come to cheer — there were men wearing jewellery, lipsticks, make-up, short skirts. I had tears in my eyes. They'd change into 'normal' clothes and remove all the make-up while returning, but there, at that moment, we felt like we belong."
We have organised eight till now in Raipur, Bhilai, to spread the word about the Pride. She started hanging with us and finally revealed that she actually identifies as a man and is a trans man, only she did not think this was a valid identity before.
After a flash mob in Bhilai, five girls came up to us and said they were lesbian, or bisexual and were so shocked and happy to see us dance, openly in public like that. More women than men message us on Instagram.
A few weeks ago, we attended a mass marriage for trans men and women organised in Raipur. Word had been circulated on WhatsApp, Facebook and other apps. When we turned up, there were so many queer people who had just come to cheer — there were men wearing jewellery, lipsticks, make-up, short skirts. I had tears in my eyes. They'd change into 'normal' clothes and remove all the make-up while returning, but there, at that moment, we felt like we belong.
That said, life is still a struggle. Though I know if I had a partner, I wouldn't be penalised for it, but we may never be able to rent a home together and be 'out' as a gay couple. I set up a boutique with four other queer people and two women, but I often wonder what about people with regular office jobs?
We had a support group on WhatsApp with 10 people last year, after the judgment, it has 240 members. One of the recurrent patterns that come up in the discussions there is that people want to meet in cultural events, possibly far from home and workplaces, but do not know how to negotiate life beyond that.
We've realised Raipur and Bhilai have many gay people, and so many of them are married because they don't know a way out. The number of men like this is staggering in Raipur and Bhilai.
That's why the Pride March is so important, to say we are here for each other. And we are not going away anywhere no matter who is offended by us.
(Sidhant Kumar Behera is a 25-year-old fashion designer and a member of Chhattisgarh's relatively new queer collective Queergarh. He narrated this to Piyasree Dasgupta.)