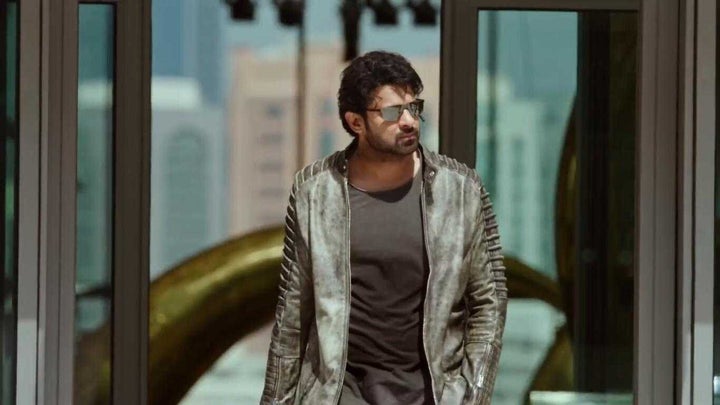 "What's a pretty girl like you doing in the police," Prabhas' Ashok tells Shraddha Kapoor's Amritha, early on. This is just one of the instances in a series of events that'd put Kapoor at the receiving end of sexist one-liners which are passed off as humour in Sujeeth's mega-budget snoozefest Saaho.
This is a film so stunningly stupid, the brain hurts. Allow me to elucidate.
Prabhas plays an undercover cop who has a fetish for breaking beer bottles. He's that insufferable know-it-all dudebro women usually keep a comfortable distance from. He mansplains Kapoor, makes a comment on a short dress she wears at a pub, and drops lines like "I'll die only by your bullet." It's surprising then that Kapoor doesn't shoot him for that line alone.
Although she's a cop, her incompetence is highlighted and mocked. If she's in a crossfire, she'll end up, well, accidentally dropping her gun, only to be saved by Prabhas' who jumps right in time to prevent her from getting shot. You see, he's got muscles. So he can't drop guns.
Prabhas, Kapoor and a bunch of others are on the hunt for a mastermind 'robber' who's out to get a 'black box' that's the key to 'lotsa money.' Meanwhile, in a fictional city, Chunky Pandey is plotting to inherit Roy Enterprises, a crime syndicate, after the death of mobster Jackie Shroff. Pandey is embroiled in an ego war with Shroff's actual son, Arun Vijay, who technically inherits the shady company. They, too, are after the black box. Although they operate out of dystopian-looking skyscrapers out of India, the black box is stashed away in Colaba. Sweet.
Thirty minutes into the film, you pretty much lose track of who is double-crossing who, as you are busy plotting your own escape from this hellhole of a movie. Although advertised heavily for its action sequences (apparently technicians from Game of Thrones, Transformers worked on it), barring a couple of chase scenes, nothing in the movie quite pumps up the adrenaline. Unless you count the rush you feel to get out of the theatre.
Despite having the resources to mount a great production, Saaho's execution is cheap, its dialogues laughably bad and the plot so contrived and laborious, it's clear that the makers have little idea about the story they're telling. In the second half, the film's colour pallette suddenly changes to resemble a tawdry, subsidised Mad Max: Fury Road universe.
There's absolutely no reason why a film like Saaho needed to be made. Neil Nitin Mukesh, who has done better films, is slowly getting typecast as the stock villain. Then there's Murli Sharma's bumbling sidekick stereotype who goes to a foreign country and says, "hey babes get me some biryani." There's also a tense-looking Mandira Bedi, whose expression of constant disbelief reflects the audience's shock that a movie such as this actually got greenlit.
Although she's supposed to be a 'tough cookie', it doesn't help that she runs for her asthma machine at the mere sound of gunfire or when a character gives her a menacing glare. It's also hilarious that the writers saw no irony in the fact that she sneaks into Mohammed Ali Road (where the black box is, at one point) carrying a Louis Vuitton when she's supposed to attract minimum attention.
While it's clear by now how exhausting the experience of Saaho is, nothing prepares you for the rage you feel at Prabhas and the smirk he carries with him all along. He voices his dialogues as if he's orgasming in slow motion and narrows his eyes in a bid to convey 'depth' and 'intensity.' It's not shocking then that Kapoor is constantly trying to kill him but the 'lonely' woman that she is, she gets easily swayed by his one-liners.
Although Kapoor appears to be a misfit, it's Prabhas' over-the-top performance that infuriates.
Pretty much like this entire movie.