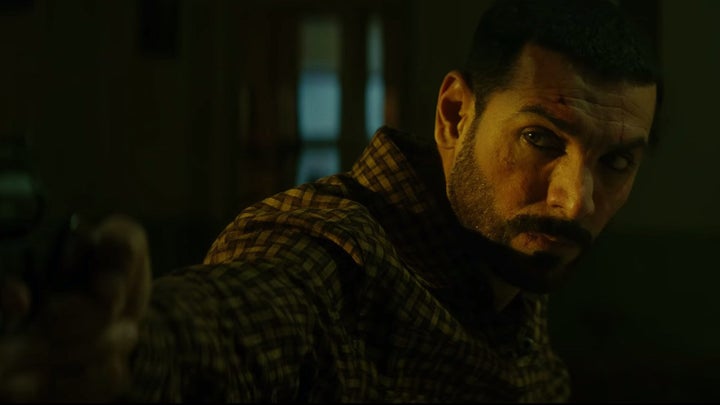 Robbie Grewal's RAW - Romeo, Akbar, Walter, an espionage drama, starring John Abraham is a painfully slow, wildly incompetent film which gets progressively silly.
Set in 1979, in months leading up to the liberation of Bangladesh, RAW chronicles the story of Romeo, the son of a celebrated army man, who works in a bank, but is recruited by RAW chief Srikant Rai (Jackie Shroff) for an 'undercover' assignment.
Romeo's assignment? To infiltrate the operations of a Pakistani arms dealer, who works closely with the ISI. Right from the onset, things often easily pan out for Abraham's Romeo, who operates under the alias of Akbar Malik. None of the obstacles feel actually threatening and unlike Meghna Gulzar's Raazi, which had a similar premise, the tension never peaks and the payoffs are usually underwhelming.
In a film about a spy working for a national agency, the techniques used by the characters - such as hiding messages in cigarette rolls and fruit peels - feel juvenile, unintelligent, and moreover, easy. A peek behind-the-scenes of RAW should inspire raw intrigue and wild curiosity, but thanks to an unimpressive ensemble and lacklustre writing, none of that impact is achieved.
The most interesting bit about RAW is how it deals with the religious identity of its protagonist - an Indian Muslim. Grewal consciously foregrounds his religious identity, which, given the current nationalistic climate in India, is a strong choice of characterisation.
As Muslims in India get increasingly attacked and cornered to prove their 'patriotism,' to have a Muslim character as an Indian intelligence spy working in Pakistan, aids in registering a dissenting point of view.
One of the characters in the film expresses concern about a 'Muslim working in a Muslim state' is promptly shut down by Shroff's Srikant Rai.
However, despite an interesting premise, RAW is led down by poor direction which is best illustrated in the way the romantic track between Abraham and Mouni Roy is handle - undercooked and unnecessary.
The film also has some laughably tacky CGI, especially the scene where Abraham and another character drop bombs on an enemy target.
Among the cast, Sikander Kher and Anil Geroge stand out as Colonel Khan and Isaq Afridi, especially Kher who is very convincing as a skeptical military man. John Abraham is awful. He overplays the act of being unreadable to the point that he appears like a guy reading lines of a teleprompter. His body language is convincing but of course it can't compensate for the lack of depth in his performance.
Mouni Roy, who plays a diplomat/intelligence agent, is completely one-note in a role that doesn't offer her much to do other than make frantic calls and look tensed. Roy's idea of appearing tense is to widen her eyes and make a face which looks like she wants to yell at you for something that could be her fault. Jackie Shroff
There's really not much to enjoy in RAW. With tighter editing and fast-paced screenplay, the film could've turned interesting but by the end, it joins an ever-growing list of yet-another espionage thriller that uses manipulative techniques to foster the idea of nation-loving.