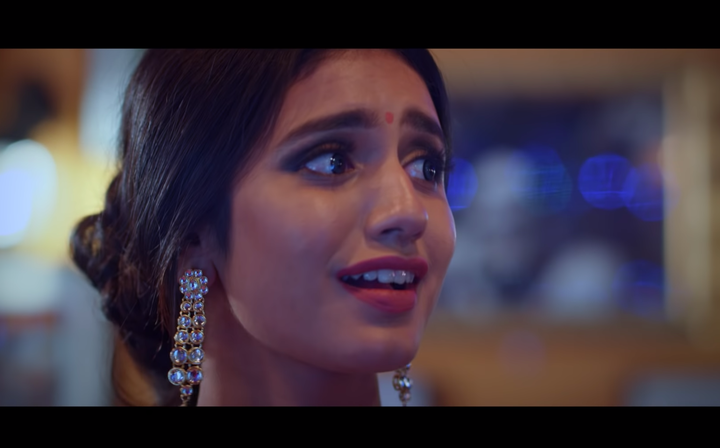 Actress Priya Prakash Varrier, who went viral in 2018 for her 'wink' in a song, is making news again, this time with the trailer for her Bollywood debut Sridevi Bungalow.
In the trailer, Varrier is seen playing an actress named Sreedevi who is so happy with her life that she tempts fate by musing out loud about her happiness. So of course, the doorbell rings and the lively background music suddenly becomes dramatic. The next few scenes show Varrier's character bawling in the shower, drinking a glass of wine at a bar and smoking on the streets of London before the trailer ends with a shot of legs dangling over a bathtub as an ambulance siren wails in the background.
Actress Sridevi passed away last year in Dubai after accidentally drowning in her bathtub.
While the film's director has called it a "suspense thriller", the overt visual references to Sridevi's death in the film (and, of course, the title) seem downright exploitative, if not distasteful.
The video, which has close to half a million views on YouTube, has received backlash from social media users for being disrespectful to Sridevi.
The comparisons were not lost on Varrier, who told Zoom TV, "That's the turning point of the movie, what gives curiosity to the people,"
The actress said she was "mentally prepared" for the response.
Called it the director's creativity and imagination, Varrier has left it up to audiences to judge what to make of the film. "You guys watch the movie and decide if it there is anything relatable to Sridevi ji in the movie," she said.
All the dialogues in the trailer are in English, and we only see Varrier's character on screen, possibly an attempt to cash in on her viral fame after last year.
Sridevi's husband Boney Kapoor has reportedly sent a legal notice to the film's makers.
"We received a legal notice from Mr Boney Kapoor last week. And we will face it. My film is a suspense thriller. I told him that Sridevi is a common name. My film's character also happens to be an actress. We will face it," director Prasanth Mambully told Cinestaan.
Varrier was in Mumbai recently for the release of the trailer and had posted photos with Bollywood stars such as Ranveer Singh, Varun Dhawan, Katrina Kaif and Vicky Kaushal on her Instagram page.
The 19 year old shot to fame overnight after her 'wink' scene in the song Manikya Malaraya Poovi from the Malayalam film Oru Adaar Love went viral in February last year. Initially meant for release in 2018, the film will now hit screens on Valentine's Day this year.
Varrier was the top searched Indian personality on Google in 2018.