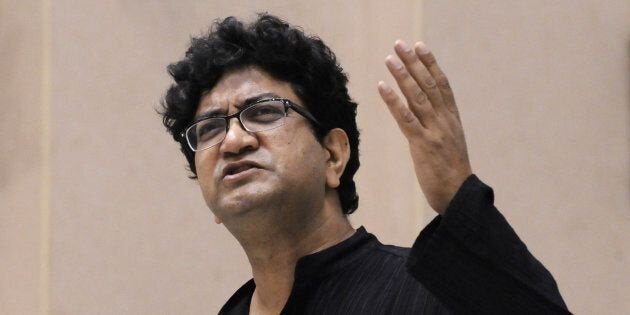 It was in the mid-2000s that Prasoon Joshi erupted on the scene with rousing, emotionally-stirring lyrics of Hindi songs such as 'Khoon Chala' from Rang De Basanti and 'Ma' from Taare Zameen Par, soon becoming the go-to lyricist for top Bollywood filmmakers.
Although he'd started his career much earlier, with Raj Kumar Santoshi's Lajja one of his earliest works, Joshi, who's now the CEO of American ad agency McCann India, broke through with big budget romantic fare such as Fanaa, Hum Tum and Delhi 6. In August 2017, he was appointed the chairperson of the Central Board of Film Certification, a position he's held since then.
However, it's Joshi's proximity with the current political dispensation that now gets more attention than his lyrics. From penning lyrics for government campaigns to conducting interviews with the Prime Minister that make some of our most pliable news anchors appear tough, Joshi remains, primarily, an adman. Whether it's Cola or Hindutva, Joshi's talent as a writer can sell anything. So it isn't surprising that he's developed a comfortable relationship with the BJP, a party that sharply exploits the soft power of pop culture to strengthen its ideological cannon.
In this interview conducted in Goa, Joshi spoke about censorship, his proximity to the BJP and his idea of India.
Since you took over as CBFC chairperson, your songs have been missed. Is the work consuming you too much?
Oh, yes. But I recently did a song for Swachh Bharat, another one I'm doing for a water campaign, then there's something coming up with A.R. Rahman. I'm in a different phase in life. This time, my work has a lot more social significance. But if you ask me about my film songs, yes, that has reduced. I'd easily do 1-2 films a year but that'll come back. I've changed track but I haven't stopped writing. I'm still doing a lot of poetry. My next book should be out soon.
Your tenure as CBFC chairperson has been largely free from controversy as compared to Pahlaj Nihalani's.
Other than the Ford V Ferrari issue recently. There wasn't even a discussion about blurring the alcohol bottles. It was proactively done by the makers. We didn't ask them.
But the CBFC has created an environment where producers preemptively do these things.
Those are two different issues. There are a lot of people who work hard here. This is an organisation which works under the law. One needs to respect it. I'm never not open to dialogue. We, as a society, are a work in progress as new technologies come into play. The tools we invent will need new methods too.
There is a constant fear that the claws of censorship will reach the Internet, which has so far been a free space.
But we're having a dialogue about it right now. In a democracy, such things can only be resolved through dialogue. Today, parents have been conscious about at what age they should introduce tech to their kids. So what do you do? Do you ration it to them? Do you use parental controls? So as we grow, discussions will happen and we'll device new ways to figure this out.
Over the past few years, you've carved a very political image—one that's very friendly to the current government. As an artist, how do you feel about this intimate relationship between art and politics?
Politics is a very big part of society, as is art. If you say you are insular, it cannot be possible. It'll reflect in art. As far as I go, I look at the positive things. For example, CBFC. I only look at how we can make the functioning of the organisation better. I extend my services to contribute to it as well as other things, like Swacch Bharat. Rather than critiquing it, I choose to write an anthem for it, which plays in every kuda-gaadi now. I like people to be motivated and join hands for the good of the country. Anything that works for the country works for me.
So then the things that don't should also make you angry. Shouldn't art also question the establishment? Your lines from Rang De Basanti come to mind… which was a staunchly anti-establishment film. It's great that you support a Swacch Bharat. My question is: doesn't that make you blind towards the faults of the same government?
I don't know. At this point, I want to… In Taare Zameen Par, we had an example of the Solomon Islands. They don't cut a tree there. They abuse it. They criticise the tree. And gradually the tree falls and dies. I think some of us have been doing the same with India. Always trying to find faults. Always saying 'we can't do it.' Yes, criticism is required. But it shouldn't be such that it paralyses you. We need constructive criticism.
Well, I think the space for criticism is shrinking…
No, I don't believe that. I think that's too much of a preconceived notion.
Well, you were part of the group that wrote a counter-letter to PM Modi saying that rise in lynchings are part of a 'false narrative.' I mean, these are events backed by data…
Again, I am coming to you and saying that as much as it's important to criticise what's not right, don't you think there should be voices that should appreciate what's right? Don't you want to increase the confidence and self-belief of the country? If I keep criticizing you all the time, talk about your physical appearance, about things you don't know, don't you think the self-confidence of a nation will decline? This country has seen a lot, we've a long way to go. I think we need to improve the hausla of this country. Let's try and do this one time? Right now, I am in a phase where I want to tell my country all that's good with us. I want to focus on it. Why can't we do that?
I think the BJP has a significant advertising budget which is spent only on that, no? What we don't have are actual policies when it comes to the rising lynchings, the murder of journalists, lawyers and intellectuals.
Every voice is important. Some people will focus on those things. And you need people who will focus on good things. I've chosen to focus on the good in the country and that's reflected in all the work that I do now. That's what I've chosen.
Even when it comes to remaining silent on serious social injustices?
There are many people who're doing it, no? Saahir saab, who was a romantic poet, wrote, "Tum parcham failana saathi, main parvat pe gaoonga." You go with the parcham, that's not my job. I still have to sing at the parvat. Now, somebody chooses one thing, somebody chooses another. I think we've spoken enough about this now.
If one were to ask you whether being in the good books of the BJP was a strategic decision on your part, what would your argument be against that?
Have you seen me do anything behind the scenes? If I like you, I will openly support you. At least I am transparent. I told you why I'm doing what I'm doing: I want to consciously focus on the things where I can contribute. As I said, India needs encouragement. This is a tipping point and our self-belief needs to be up. If we lose it, it'll take us years to recover, the way it did after independence. We have it. We can do it together.
That's a very pure thought. But it doesn't feel that this government speaks the language of unity. It thrives on being divisive.
But this is what my approach is. You are a journalist so you obviously look at things more critically and then analyse it. I've written all kinds of cinema. When I wrote Main Rahoon Ya Na Rahoon, Bharat Rehna Chahiye (a song for the BJP), I actually felt that. I believe in the universal truth, in the concept of one. I am a spiritual person. To me, there's no 'other.' It's like what Kabir said, "Prem Gali Ati Sankari, Tomein Do Na Samahi" (The lane of love is too narrow to hold two at a time).
Now, for whatever it's worth, we live in structures and geographically-divided places we call countries. That's how it's been. Now, we need to show some beliefs in those structures. We need to empower them for them to be able to work for your own benefit. If we keep dragging them down, then how will this concept work? Or you change the world. I think AI is going to change the world. It's going to link everything together. It'll be one consciousness. I'll be able to read your thoughts. We're going to enter a new world. There can't be boundaries and human beings will be able to access each other's emotions and thoughts. It'll be a different world but today it isn't. There are geographical boundaries and if you feel dedicated towards this set of people…. And not collectively feel good about it, it will collapse!
But we can't be so inward-thinking and insular.
Of course not, we've to be open but these structures are man-made, aren't they.
And hence their flaws must be acknowledged.
But only if it contributed to our benefit and not if it breaks us down. So let's just show some faith in them. I'm not undermining the power of criticism. The only word I will add is: constructive criticism. I will not criticise you to destroy you, I will criticise to make you better. Don't you agree?
I do. I love this country, I just don't recognise it anymore. It doesn't feel like the place I grew up in. Where one is constantly reminded of their religion…
If someone criticises me for the way I've written something, I'd try and write it better. It leaves me with hope.
It was one-sided and accusatory...very selective.
No, it was a cry for help.
If you write five bad things about this festival along with five good things, then it's fair. But if you focus only on the bad, then it's biased. I'll tell you what I tell my friends, in a fair world, you need to focus on both. Where are the good things?
Well, the Swacch Bharat etc that you mentioned, I acknowledge that fully. I think they're great. Now, will you acknowledge the bad? The communal violence, minorities living in fear?
Now, you are just jumping to conclusions. We are a work in progress. Wait and watch. I have great faith in this country and the consciousness of this country. Just by selecting a few things don't come to conclusions.
And what if it actually becomes a Hindu Rashtra as many fear? You'd obviously not endorse it, would you?
I believe in inclusivity. I love this country. I believe in the diversity of this country, it's very important for me. In my speech I said, why are only Bombay-bred people making films? They have a certain way of looking at life but we need people from all sorts of diverse backgrounds to come and make films.